Blond Computer Joke
by Roger
(That)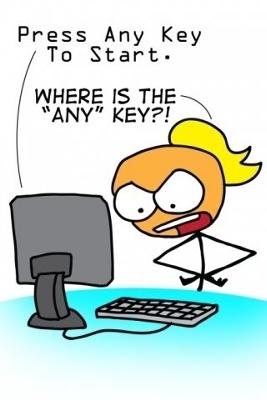 Blond Computer Joke
Here are a few really funny and cute blond jokes:

Computer to Blond: PROGRAM SUCCESSFULLY INSTALLED. PRESS ANY KEY.
Blond: Where is the ANY key???


and another just for good measure....


Two blondes were sitting on a bench talking in California, and one blonde says to the other, "Which do you think is farther away ... Florida or the moon?"

The other blonde turns and says "Well, Helloooooo! Can you SEE Florida?"


and another just to get it really off my chest...


The American said: "We were the first on the moon!"

The Blonde said: "So what? We are going to be the first on the sun!"

The Russian and the American looked at each other and shook their heads. "You can't land on the sun! You will burn up!" said the Russian.

To which the Blonde says: "We're not stupid you know. We're going at night!"

For more funny short jokes go: Here!

For funny one-liners go: Here!





FUN PRODUCTS

*Fun-Stuff-To-Do.com is a participant in the Amazon EU Associates Program, an affiliate advertising program designed to provide a means for sites to earn advertising fees by advertising and linking to Amazon UK/ Amazon GERMANY/ Amazon FRANCE/ Amazon ITALY/ Amazon SPAIN.*
*You can also find products on Amazon CANADA/ Amazon CHINA/ Amazon BRAZIL/ Amazon INDIA/ Amazon JAPAN/ Amazon MEXICO.*
It does NOT cost you an extra dime but sure helps us to maintain this site, so please support us by doing your Amazon shopping through our links - thank you!

RANDOM FUN

SOCIAL FUN