Funny Saying About Facebook
by Danielle899
(Jacksonville, NC, United States)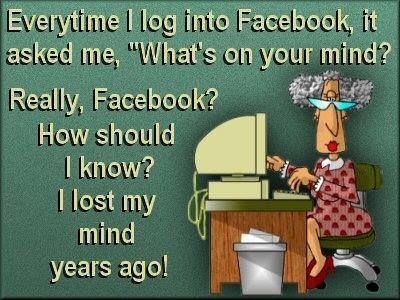 Facebook Funny
Facebook is like jail. We are friends with people we don't know, we get poked by strangers, we waste time, and write on walls.

You post all your drama on Facebook, then you get upset when people judge you. You must be a special kind of stupid...

Remember: Before Facebook no one cared what you had for dinner, they still don't.

When I die I would like someone to keep updating my Facebook status, just to freak people out.

I wish Facebook would notify me when people delete me, then I can "LIKE" it.

I forgot to post on Facebook that I was going to gym, now my whole workout was a waste!

There are people on Facebook who fail to grasp the difference between "What's on your mind?" and "You should see a therapist."

I am changing my name to "NOBODY" on Facebook so that when I like nonsense on Facebook it would say "NOBODY Likes This".


Join in and write your own page! It's easy to do. How? Simply click here to return to Funny Sayings.
FUN PRODUCTS

*Fun-Stuff-To-Do.com is a participant in the Amazon EU Associates Program, an affiliate advertising program designed to provide a means for sites to earn advertising fees by advertising and linking to Amazon UK/ Amazon GERMANY/ Amazon FRANCE/ Amazon ITALY/ Amazon SPAIN.*
*You can also find products on Amazon CANADA/ Amazon CHINA/ Amazon BRAZIL/ Amazon INDIA/ Amazon JAPAN/ Amazon MEXICO.*
It does NOT cost you an extra dime but sure helps us to maintain this site, so please support us by doing your Amazon shopping through our links - thank you!

RANDOM FUN

SOCIAL FUN