Funny Saying about Life-
by Amelia
(China)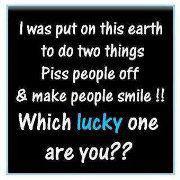 Life
Life is not a box of chocolates. Its more like a jar of jalapenos... What you eat today, will burn your ass the day after.

Other True and Funny Sayings About Life:

Life is like a party. You invite people: some come, some join you, some laugh with you, some don't come. But in the end, after the fun, there are a few who clean up the mess with you. Usually, those are the ones that weren't invited.

Life is like a multiple choice question, sometimes the choices confuse you, not the question.

Life is like a coin. Spend it any way you wish, yet you can only spend it once.

Life is like a mirror, frown at it, and it frowns back. Smile and it will return the greeting.

Life is like a grindstone, whether it grinds us down or polishes us up, is up to us.

My boss asked me to start a presentation with a joke... so attached my payslip to the first slide.

Life of a call girl - Things to do today:
1. Get up
2. Survive that
3. Get back into bed

Life was much easier when APPLE and BLACKBERRY were just fruits.

They say that whatever doesn't kill you in life makes you stronger. At this point I should be able to bench-press a truck.

I started out in life with nothing and still have most of it left.

Fact of life: After Monday and Tuesday even the calendar says W T F.

Every time I find the key to success in life, some dumb-ass changes the lock.

I'm so great in bed. I can sleep for days.

I'm usually all for LIVE, LAUGH, LOVE, DANCE in life but today it's more like AIM, SHOOT, FIRE, RELOAD.

When life hands you lemons, throw them at someone.

I would never have to go for anger management in life if people are able to manage their stupidity.




FUN PRODUCTS

*Fun-Stuff-To-Do.com is a participant in the Amazon EU Associates Program, an affiliate advertising program designed to provide a means for sites to earn advertising fees by advertising and linking to Amazon UK/ Amazon GERMANY/ Amazon FRANCE/ Amazon ITALY/ Amazon SPAIN.*
*You can also find products on Amazon CANADA/ Amazon CHINA/ Amazon BRAZIL/ Amazon INDIA/ Amazon JAPAN/ Amazon MEXICO.*
It does NOT cost you an extra dime but sure helps us to maintain this site, so please support us by doing your Amazon shopping through our links - thank you!

RANDOM FUN

SOCIAL FUN