My Favorite Name Plates
by Fun Stuff To Do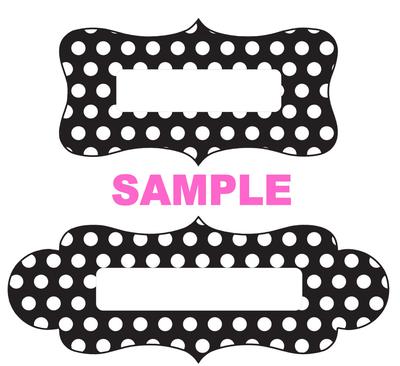 Label Sample - Black White Dots
Unique name plate tags and labels for your gift boxes, favor bags, food tables, banquet tables and books. Resize and personalize by following the tutorials for the colored sets that are for sale further down this page or use the free template to print and cut your own if you choose.

The free light silver grey and white color will match most colors. You can color co-ordinate them to match your theme with ribbon, string, or our free printable polka dot paper ribbon strips, there are MANY colors in the download.

Print the name plates on plain white card stock, cut and write a name on, then attach them with glue to gift boxes and books, thread a piece of ribbon through on one end and attach to favor bags or thread a piece of ribbon through both sides and tie around water or wine bottles.

The free template is a pdf download that you can print, cut and WRITE on. A small printable size name plate suitable for small gift boxes or any other items that you would like to add a small name tag to.

For high quality PNG formats that are large, fully customizable, re-sizable and text friendly, please scroll down.

To print the free template:

DOWNLOAD THE FREE PDF FILE IN LIGHT GREY



FOR YOUR CONVENIENCE, GET MY FAVORITE NAME PLATES IN
60 DIFFERENT COLORS IN PNG FILE FORMAT.



QUICK DOWNLOAD AVAILABLE DIRECTLY AFTER PAYMENT

JUST $5.00

AND YOURS TO KEEP AND PRINT FOREVER.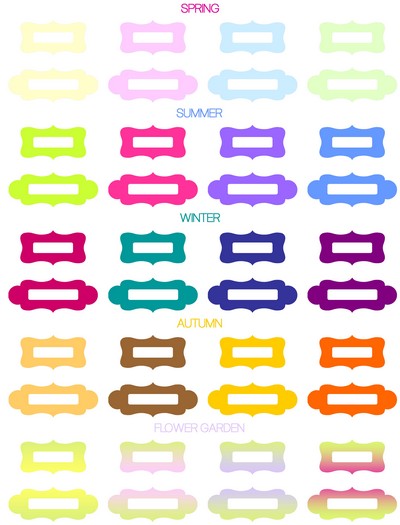 +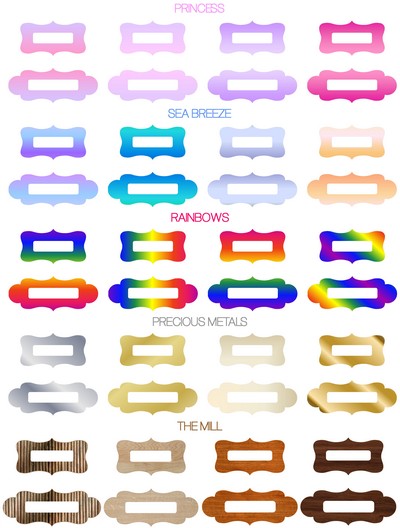 +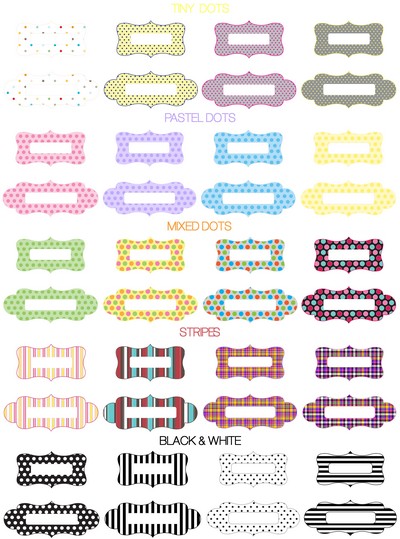 LARGE, RE-SIZABLE AND TEXT FRIENDLY. 120 NAME PLATES IN TOTAL. 300dpi HIGH PRINT QUALITY PNG FILE FORMAT: PRINT, ADJUST THE SIZES, INSERT TEXT AND PERSONALIZE THEM AS YOU WISH.
NEVER BUY PRETTY NAME LABELS, GIFT TAGS, CHRISTMAS TAGS OR SCRAPBOOK LABELS AGAIN JUST PRINT!
CLICK HERE TO GO TO THE "VIEW CART" BUTTON
What's so awesome about these name plate labels and tags? AS WITH OUR OTHER LABELS AND TAGS! You may not resell them as is but you may add a few little swirls and curls, dots, stripes or graphics and then resell them as your own! PLUS you help us to provide you with more FREE STUFF!
Plus we show you how to:

1. RE-SIZE YOUR LABELS

2. HOW TO ADD TEXT TO YOUR LABELS
The name labels are large, this mean you can adjust the size without any loss in print quality! Use the large size to attach to the back of chairs or for table numbers at weddings and functions. Reduce the size and use as food labels or water bottle labels for parties, reduce more and use them as gift, favor or book tags! Use them for scrapbooks, as office cubicle labels, door labels or print them on adhesive sheets and make your own stick-on labels!

*Fun-Stuff-To-Do.com is a participant in the Amazon EU Associates Program, an affiliate advertising program designed to provide a means for sites to earn advertising fees by advertising and linking to Amazon UK/ Amazon GERMANY/ Amazon FRANCE/ Amazon ITALY/ Amazon SPAIN.*
It does NOT cost you an extra dime but sure helps us to maintain this site, so please support us by doing your Amazon shopping through our links - thank you!