Wall Decalls
by Wendy-Lee
(Tampa Bay)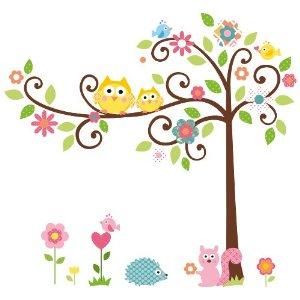 Owl in Tree Wall Decal
My favorite product is not only my favorite "fun stuff to do" choice, it is also my work! I decorate kids bedrooms for a living and no kids bedroom can do without wall decorations!

From babies to teens there are such a huge variety of wall decalls that will bring bundles of joy to every child's bedroom. This one with the owl in the tree is my absolute favorite for baby rooms.

The decalls that I use are the "reusable" type. This means you can take them off and alter the position if you want to make changes to the room or move the furniture around.


From Fun Stuff To Do:

Thanks for the entry Wendy-Lee!

View the wall decalls here:





FUN PRODUCTS

*Fun-Stuff-To-Do.com is a participant in the Amazon EU Associates Program, an affiliate advertising program designed to provide a means for sites to earn advertising fees by advertising and linking to Amazon UK/ Amazon GERMANY/ Amazon FRANCE/ Amazon ITALY/ Amazon SPAIN.*
*You can also find products on Amazon CANADA/ Amazon CHINA/ Amazon BRAZIL/ Amazon INDIA/ Amazon JAPAN/ Amazon MEXICO.*
It does NOT cost you an extra dime but sure helps us to maintain this site, so please support us by doing your Amazon shopping through our links - thank you!

RANDOM FUN

SOCIAL FUN