Water Trampolines and
Water Bouncers Are Different
The difference between a water trampoline and a water bouncer can be very deceiving, they look very much the same. Until you've seen both, it is hard to know the difference. Put them next to each other (we show you below!).

Be cautious, some retailers sell the bouncers as trampolines, cheating customers, the prices do differ greatly! The same amount of fun but the one will last much longer than the other. Guess who waddled through it the hard way!

Water trampolines and water bouncers ARE different. View the main differences and my favourite Water Trampoline below!
The Difference

Both are anchored in the water for the ultimate fun jump, but here are the main differences:

Water Trampolines have a jump surface supported by a steel frame and trampoline springs while the Water Bouncers have a jump surface supported by spring-less interlocking webbing connected from floatation tubes to jump surfaces. See image below. Don't be fooled by the confusing advertising term "Frame-less Trampoline", there is no such thing, if its FRAME-LESS it's a BOUNCER and you should only pay for a bouncer, not for a trampoline.

A Water Trampoline supports heavier loads on the jump surface and provides a higher jump than a Water Bouncer, which makes Water Trampolines more suitable for commercial operations. Unlike the bouncer, a water trampoline requires assembling the framed jump surface. An additional 30 minutes set-up time is needed initially.

A Water Bouncer is a great family recreational product and cost less than a water trampoline. Bouncer's support a good amount of weight and provides a short bounce. A bouncer does not require any assembly other than inflating and anchoring.

Don't forget to check out our fun trampoline games once you get yours!


Fun Water Trampoline

$2,323 +

Fun Water Bouncer

  $1100 +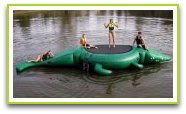 TA-DA-DA-DAA! My Favourite

TIME TO REVEAL MY FAVOURITE TRAMPOLINE AND WATER GAMES!

I present to you ladies and gentlemen…

The ONE (or two) and luckily not the ONLY…

RAVE WATER TRAMPOLINE!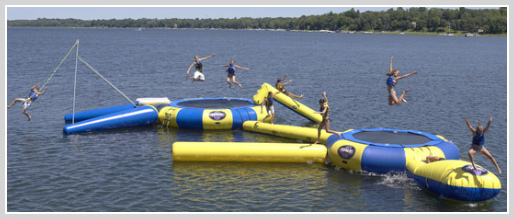 The above are TWO large Rave water trampolines connected with extras.

$2,799.99 for 1 Trampoline with Aqua Log and Aqua Launch (The Slide and Swing are Additional Extras).

Yep, you can get a Smaller Water Trampoline
or a Water Bouncer that will cost far less.

Water Trampoline Accessories

FUN PRODUCTS

*Fun-Stuff-To-Do.com is a participant in the Amazon EU Associates Program, an affiliate advertising program designed to provide a means for sites to earn advertising fees by advertising and linking to Amazon UK/ Amazon GERMANY/ Amazon FRANCE/ Amazon ITALY/ Amazon SPAIN.*
*You can also find products on Amazon CANADA/ Amazon CHINA/ Amazon BRAZIL/ Amazon INDIA/ Amazon JAPAN/ Amazon MEXICO.*
It does NOT cost you an extra dime but sure helps us to maintain this site, so please support us by doing your Amazon shopping through our links - thank you!

RANDOM FUN

SOCIAL FUN

Back To: TRAMPOLINE GAMES

Back To: HOME PAGE from Water Trampolines and Water Bouncers Are Different