ICE BLOCKING
by Edith
(Columbia)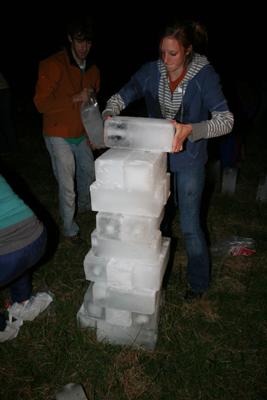 Ice blocks for ice blocking
Ice blocking is our way of having great fun when we are bored! It's so simple you slide down a hill on a solid block of ice. If you are prepared to get a little wet want to have real fun till the sun goes down then you have to try this. We laugh, we fall (no serious injury involved) and you are completely exhausted after a day of sliding down hills. Young and old won't know what they are missing if they have not tried this total blast at least once. We buy ice blocks from our local supermarket. Ice blocking is so much fun we do it all year round especially when there is no snow.


Fun Stuff To Do
- Oh YES!!! Super, super fun!
Tell us what you get up to with ice or snow...
FUN PRODUCTS

*Fun-Stuff-To-Do.com is a participant in the Amazon EU Associates Program, an affiliate advertising program designed to provide a means for sites to earn advertising fees by advertising and linking to Amazon UK/ Amazon GERMANY/ Amazon FRANCE/ Amazon ITALY/ Amazon SPAIN.*
*You can also find products on Amazon CANADA/ Amazon CHINA/ Amazon BRAZIL/ Amazon INDIA/ Amazon JAPAN/ Amazon MEXICO.*
It does NOT cost you an extra dime but sure helps us to maintain this site, so please support us by doing your Amazon shopping through our links - thank you!

RANDOM FUN

SOCIAL FUN