Charades
If you've never played Charades before, you've missed out on loads of fun. Fortunately, it is never to late to LEARN TO PLAY. It's a great fun game and easy to learn! If you are familiar with this awesome game, then we have loads of fun stuff for you along this page!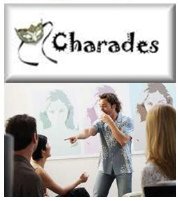 Charades Ideas
This hilariously funny team game that originated in France in the 16th Century is still an undoubted party favorite today! The perfect party word guessing game for 6 or more players of all ages.
There are a vast number of topics for this game and it's our happy task to provide you with charades ideas for as many of them as we can produce.
Adult charades is a sure way to fire up any fun night or dinner party with friends. Kids charades is a great game for birthday parties and any other time when you have to keep the kids busy. Charades is the ideal all-round party game. Also great to use as a fun teaching method!
On the following pages you will find Adult, Christmas, Kids, Silent, even Baby Shower Charades and more. Welcome to Charade World where you'll find a "host" of fun charades games for every occasion!
'You can discover more about a person in an hour of play than in a year of conversation.' ~ Plato
---
Need:
A timer.
A score sheet and pencil.
Charade cards.
Snacks & drinks and you are ready to GO!
The goal is to act out a word or phrase or to pantomime similar sounding words to your team members within a specific time frame. Your team must guess the word or phrase correctly by means of the signals or clues that you provide, before time runs out!
The RULES OF CHARADES are informal and can be adapted to group preferences a few basic rules apply and are generally agreed upon.
If your guests are familiar with the game, GREAT! If not, it is a kind gesture to provide them with one of these printable sheets with the most commonly used CHARADE CLUES, SIGNALS or GESTURES.
---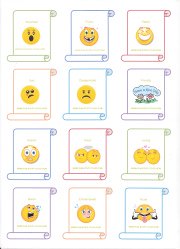 Kids Charades Cards
CHARADES IDEAS
The following charades ideas will help you to plan fun games for any event.
---
A FUN MEAL FOR A CHARADES GAMES NIGHT!
Spice up your Charade Night with a GREAT FAJITA RECIPE! There are literally hundreds, but this is my favorite!

Why? It's great in taste, allows me to work out exactly what I need to buy for the amount of guests PLUS guests create their own fajita's - more time to play fun games!
Don't forget the salsa, sour cream, freshly chopped lettuce and guacamole!
---
FUN CHARADES GAMES
---
FUN GAMES LIKE CHARADES
There are literally hundreds, these are recommended fun games that are based on this popular game, each with their own very unique twist.


Best Charades Games
GUESSTURES - High speed charade at its best. Get ready for hilarious family games nights. Ages: 8 yrs and UP.
CRANIUM - Cranium games are the most popular and best known charade games around, there are over 200 each with their own unique fun thermometer for every age.
TIME'S UP - Charade with optional 4th round rules, a cool electronic timer, rules for odd number of players.
HOOPLA - Charade with an extra 10-sided die and 3 wild tokens. A cross between party and card game. Ages: 13 and UP.
SNAPPLE - Fast-paced and refreshingly fun charades. Think of it as a bottomless bottle of snapple filled with facts instead of flavor.
ELECTRONIC CHARADES - Cranium's POP 5 and Cranium Turbo Edition as well as Electronic Guesstures are highly recommended.
FUN GAMES LIKE CHARADES - Amazon carry a huge number of charade games, check out all our top rated ones here!
---
Need Charade Ideas, Words, Cards, Clues, Suggestions or Rules?
This is the place to ASK and TELL anything and everything about Charades!


Do you have great Charades topics, words, phrases, clues or fun games and rules to share? This is the place to SHINE with your Charades Skills and Knowledge!

Do you need NEW charades ideas? Perhaps require suggestions for charade words or phrases for a specific topic or event? Do you need suggestions for gestures? Want to ask someone how they would act out or pantomime a certain word? Do you need clarification on a rule?

Whatever it is that you need to make your CHARADES GAMES fun and unique - this is the place to ask!

Are you a CHARADES MASTER? Please share your tips and charade ideas!
What Other Visitors Have Said
Click below to see other Charade ideas, questions, and answers.

'SEE YOU BACK HERE SOON FOR MORE ADDED CHARADE IDEAS!'
Adult Charades | Kids Charades | Silent Charades | Water Charades | Rules for Charades | Charades Gestures | Free Charades Cards | Fun Games | BACK to Charades | HOME from Charades