Kids Charades
Kids Charades is an easy, fun game that will entertain kids for hours. Any child should know how to play charades, now's a good time to learn and it's not even difficult. Great for kids to play when adults are having a dinner party, at their own parties and in the classroom.
Players: Six and more players
The Aim: To guess words or phrases correctly before time runs out by observing the acts of one of your team members.
Need: Charade cards, timer, scorecard
Did you know? There are loads of fun commercial games for kids available that are all based on the original game of charades that was invented by the French in the 16th Century. Play kids charades, if you enjoy it, you'll enjoy the latest CHARADES games for kids even more!
Here you'll find all the goodies and information you need for kids to play charades:
Printable Charades Cards for Kids (View below!)
Keeping score is easy, teams get 1 point for a correct guess before time runs out.
---
Charades Cards for Kids

Charades Cards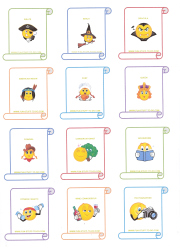 People
These charades cards are easy to understand with both pictures and simple day-to-day words. Easy for children to understand and it encourages word association.
---
Other Great Kids Games Like Charades:
There are so many wonderful games like charades that are based on the same principals as charades.
The all time popular favorites are:
The Best of Charades for Kids
- The best and most popular charades game, especially for kids. Ages 4 and UP.

Guesstures
- A very popular game like charades, there is also an electronic version. Perfect for the whole family from Age 8 and UP!
Kids On Stage
- Early childhood charades, no reading required - A GAMES AWARD WINNER! Ages 36 Months to 7 Years.
Don't Say It!
- Another great Charades game for teams and players Aged 6 and up.
Hedbanz for Kids
- Is a super fun NEW type of charades game for kids Aged 7 to 12 years!
Cranium Family Edition
- A bit of everything Cranium and Charades for the whole family!
Cranium Pop 5
- The electronic version of the most popular Cranium game - So much fun!



Adult Charades | Kids Charades | Silent Charades | Water Charades | Rules for Charades | Charades Gestures | Free Charades Cards | Fun Games | HOME from Charades