FREE PARTY DECORATIONS
After several requests for free party decorations, the happy hippy of free fun stuff finally sat down (for hours non-stop!) pulled out her design skills (or lack thereof!) and tried to honor the requests of her ever so faithful followers. I must say I am enjoying this so much I'm creating new templates for party decorations on a daily basis! It truly makes my heart happy to know that no one has to go without pretty party goodies. Let's face it it's easier to get someone to print a few pages for you than to find someone who will buy party stuff for you!
Some of the items may work on normal paper, most of the party decorations look best when printed on plain white card stock or mat photo paper. The files are all created at 300 dpi, we use a printer setting of 600 dpi when printing, yet this is not necessary.
So jump in, print, cut and glue your party decor together!

#1 Candy Stripes Free Party Printable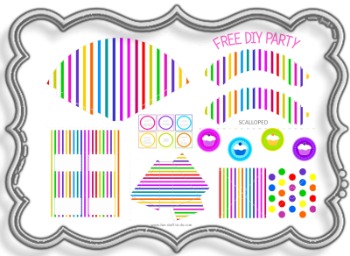 #2 Cute Ladybug Free Party Printable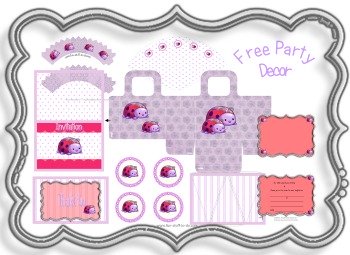 #3 Fun Polka Dots Free Party Printable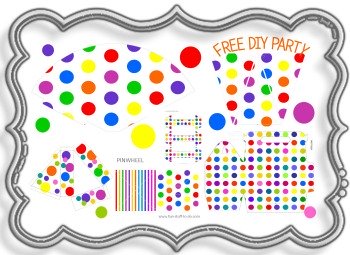 #4 Lucky Rainbow Free Party Printable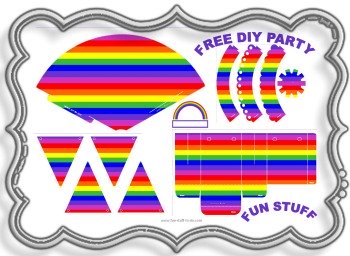 #5 Yummy Jelly Beans Free Party Printable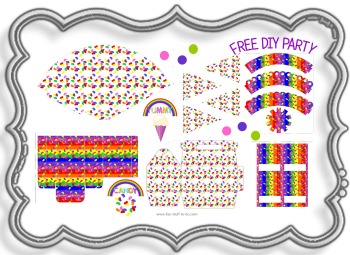 #6 Sweet Honey Bee Free Printable Party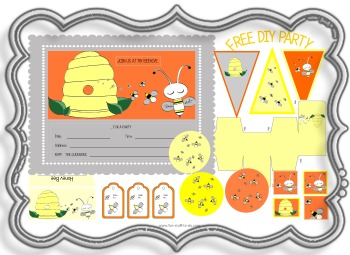 Here are a few cheap supplies that will make assembling your party goodies much easier:
I try to produce party goodies that are useful, fun and of good quality. If you have trouble with a download or something didn't quite come out as expected, give me a shout on our contact page or in the comments below. I will fix it if a computer or web worm got hold of it, otherwise check your PRINTER SETTINGS, it's the most common problem.
The downloads are 100% free, they are for personal use only you may not sell them to your next door neighbor or anyone else. You may not publish them or link directly to the download files, but you may link to and refer others to download them from this page for free.
Please come back to YOUR PARTY IDEAS and come show off your party creations. There are some wonderfully creative people out there and I hope some will produce real showstopper parties with our goodies, so please do come back after the party to do a post WITH PHOTOS, it's easy and fun to see your own goodies on the web and we need to know if our free creations are truly fulfilling a purpose!
MORE FREE FUN PARTY STUFF
FUN PARTY GAMES - Theme related free printable party games and more!

POLKA DOTS - Mix and match with fun Polka Dots, add your own flair!

FREE TEMPLATES - Make and add your own party goodies!

FREE TAGS - Need some more fun tags?

FREE LABELS - Free labels to add to anything else you want labelled!

PARTY DRINKS - Delicious Fun Fruity Punches



MORE FREE PRINTABLE PARTY DECORATIONS
#7 Star Wars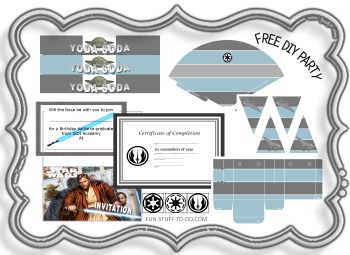 #8 Chocolate Cherry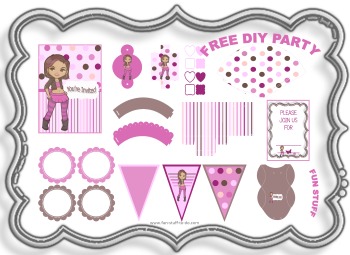 VERY CUTE PARTY DECORATIONS TO ADD ON
MORE FREE PRINTABLE PARTY DECOR COMING SOON!