DOLLHOUSE FANTASY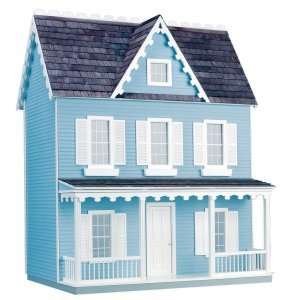 A dollhouse is every little girls dream. Amazing doll's houses for your little girl to play and pretend. Big girls often get invited to play or come over for tea! Enter the fantasy world of small girls at play with a fabulous collection of fun crafts, activities and ideas. If you have never built a doll's house before, give it a try, hours of fun and an end result that will provide a lifetime of play!


Collectors Dollhouse Haven
Victorian Mansion Build a beautiful doll sized Victorian mansion that any little girl will adore with the Fairfield dollhouse kit from Greenleaf. Your child will enjoy hours of play with this six room house featuring a wrap-a-round porch, four fireplaces and a tower chamber and so much more in true Victorian dollhouse style.
Click on Image.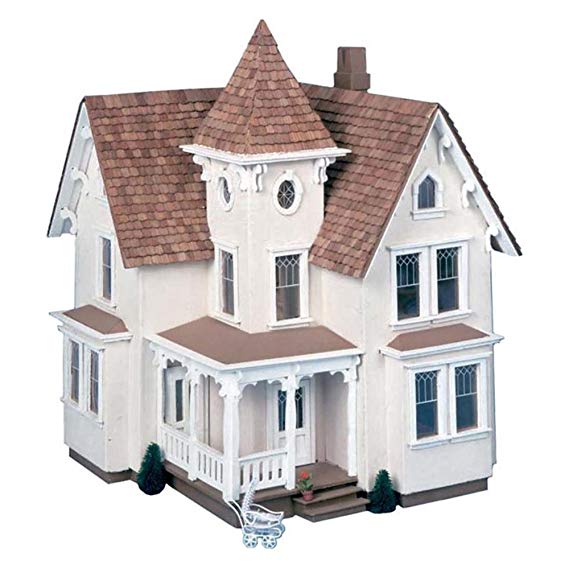 Designer Modern Dollhouse 
Every doll dreams of a little place of her own. This designer house ensures modern dollies have somewhere to stash their tiny shoes, entertain their plastic but fantastic tiny friends, and take long, relaxing baths without water. Fabulous colors and detail makes this hip little fantasy home the envy of every little mod girl. 3 levels, 5 rooms and an elevator that slides to all 3 levels + a pool are just a few of the main attractions.
Click on Image.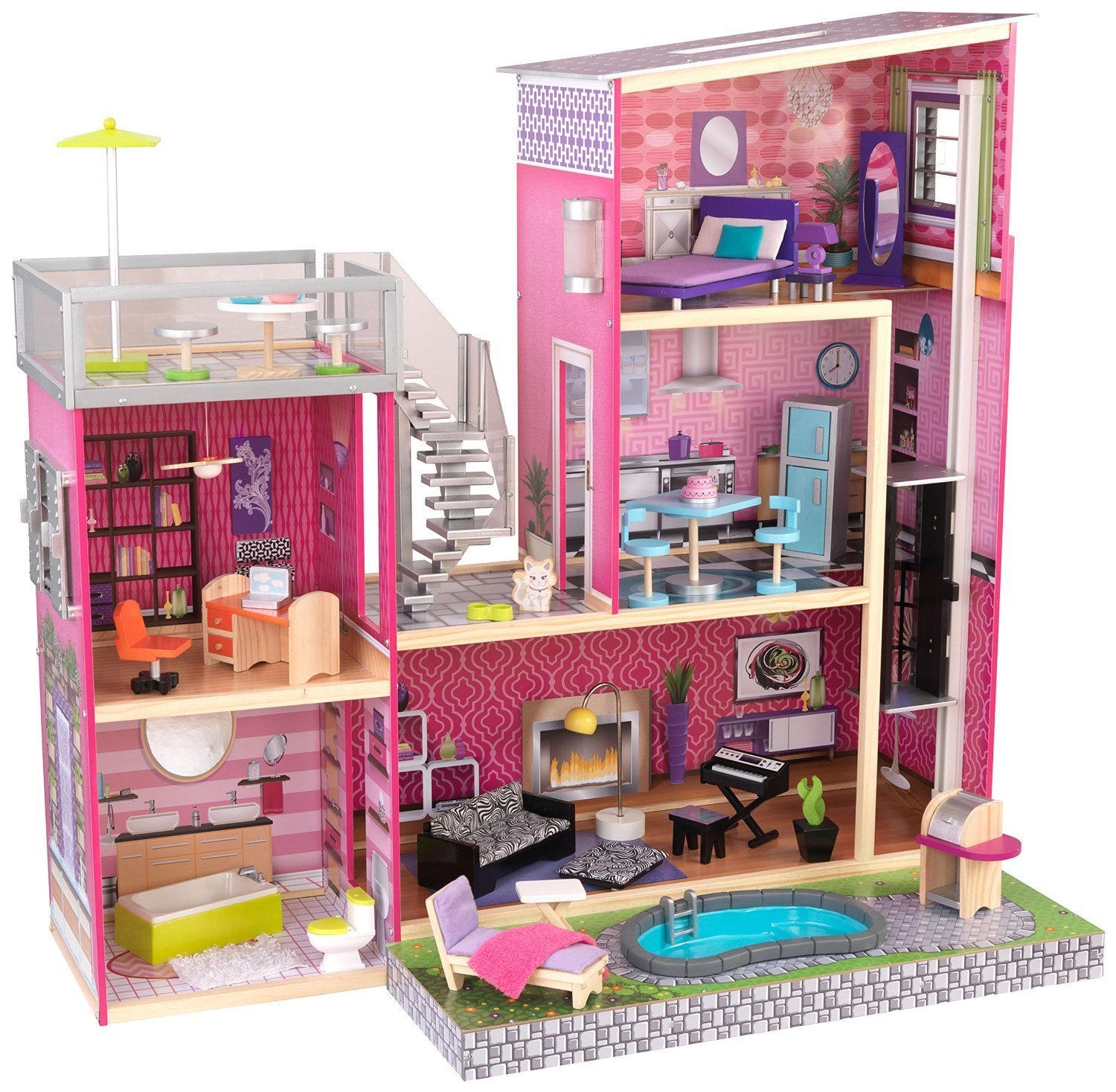 Laurel Dollhouse
QUALITY is the outstanding characteristics of these doll house kits. They are easy to assemble and offer excellent quality for a reasonable price. The dollhouses are fully scaled 1" = 1' with large rooms for ease in decorating. WIDE APPEAL - These kits are suitable for youths (ages 12 and up), adult hobbyists, and both beginner and advanced miniature collectors and just as much fun for little ones once built. The houses offer a good balance of simplicity, design, and detail. They can be assembled and enjoyed as is, or embellished with additional trim by the more serious doll's house enthusiast. EASY ASSEMBLY KITS contain all the pre-cut plywood and plastic window parts needed. They feature an easy tab and slot assembly requiring no nails, screws, or tools. Any wood glue or a hot melt glue gun can be used to assemble the kits in a few hours of building enjoyment. Click on Image.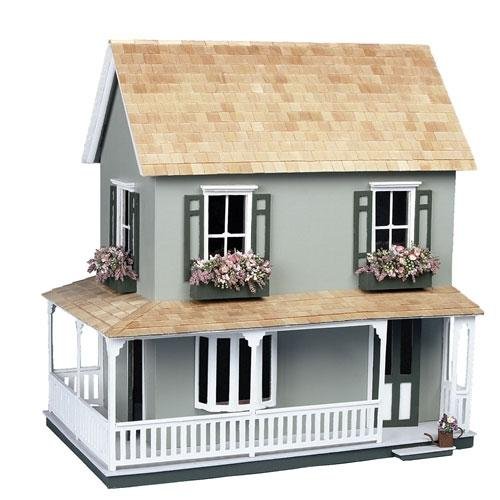 Shady Brook Cabin
Sweet dreams in a cabin in the woods! Another quality kit suitable for youths (ages 12 and up), adult hobbyists, and both beginner and advanced miniature collectors. Click on Image.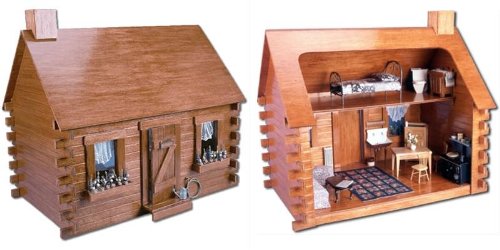 Lilly Dollhouse

Build your little girls very own "home sweet home" with the pink Lilly doll's house kit modeled after Victorian homes. Perfect for role playing with their little companions this kit includes everything you need to construct 7 ornate rooms while the open back and side allow for easy access.
Click on Image.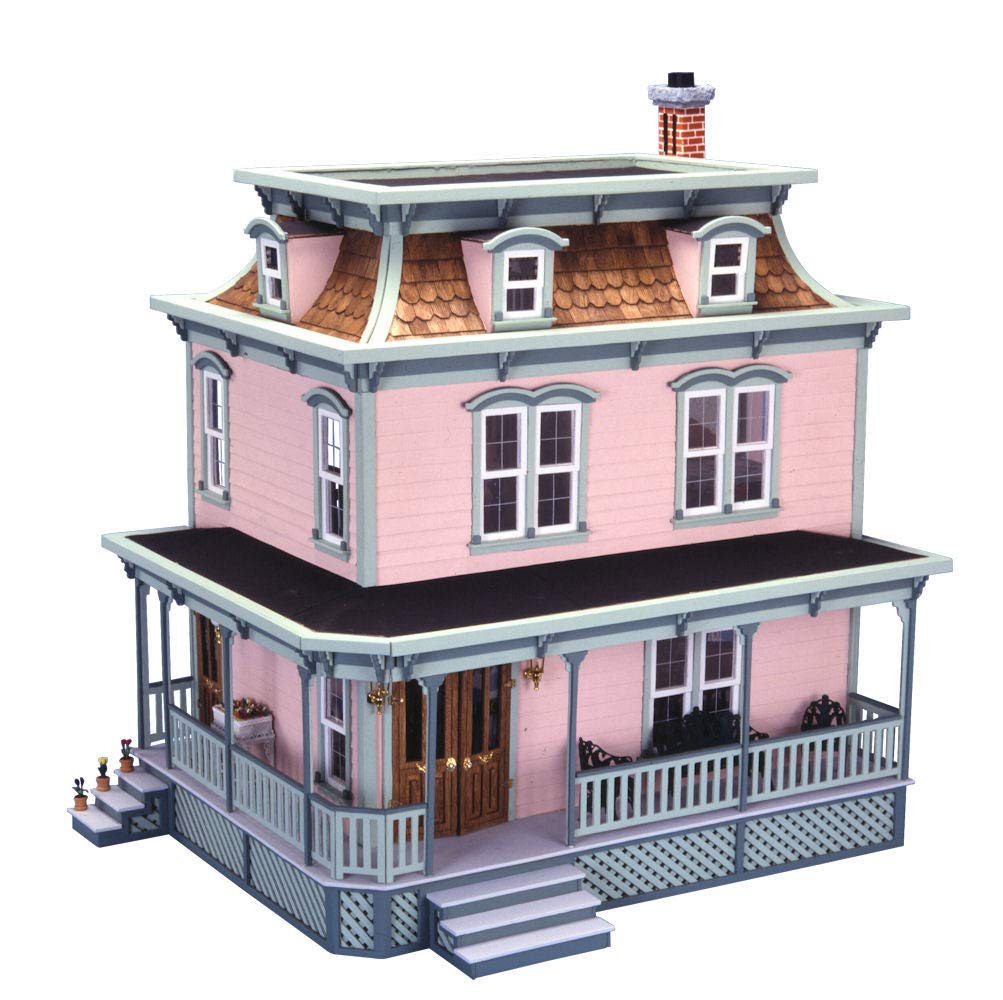 Christy's Cottage

Cottage charm where cottage-living dreams come true. A covered front porch, two staircases and a diamond-shaped attic window are just a few of the special features of this adorable cottage. More than two feet high and deep, its open side makes the rooms light, airy and easy to access for decorating and playing! This superior-quality dollhouse comes as natural, unpainted wood, and is ready to be assembled, shingled and decorated by its owner.
Click on Image.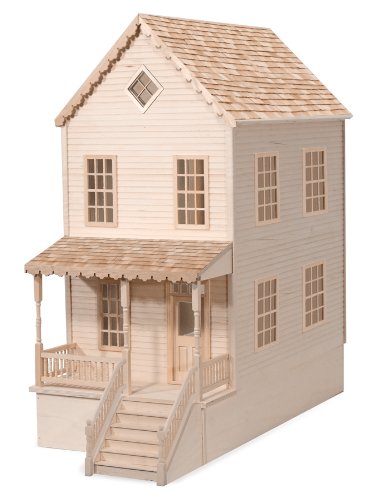 Creekside Cabin Dollhouse Kit

This versatile cabin is perfect as a modern home or a rustic country retreat. Using the built in fireplace as a focal point the spacious interior allows plenty of room for all your miniatures. Now featuring Coronas new interlocking corner system you will be amazed at how quickly you can assemble this beautiful home.
Click On Image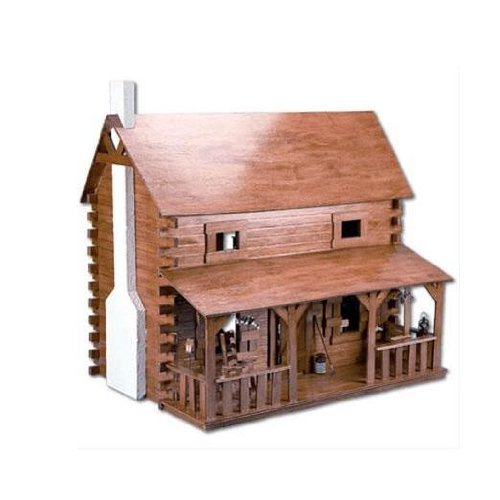 Youku DIY Dollhouse

This adorable cottage has two floors of living space and a full attic to decorate. A front porch and trim provide external charm while you provide the perfect interior design with an open back for easy decorating access. This superior quality dollhouse is ready to be assembled, comes with furniture, a car and music box.
Click On Image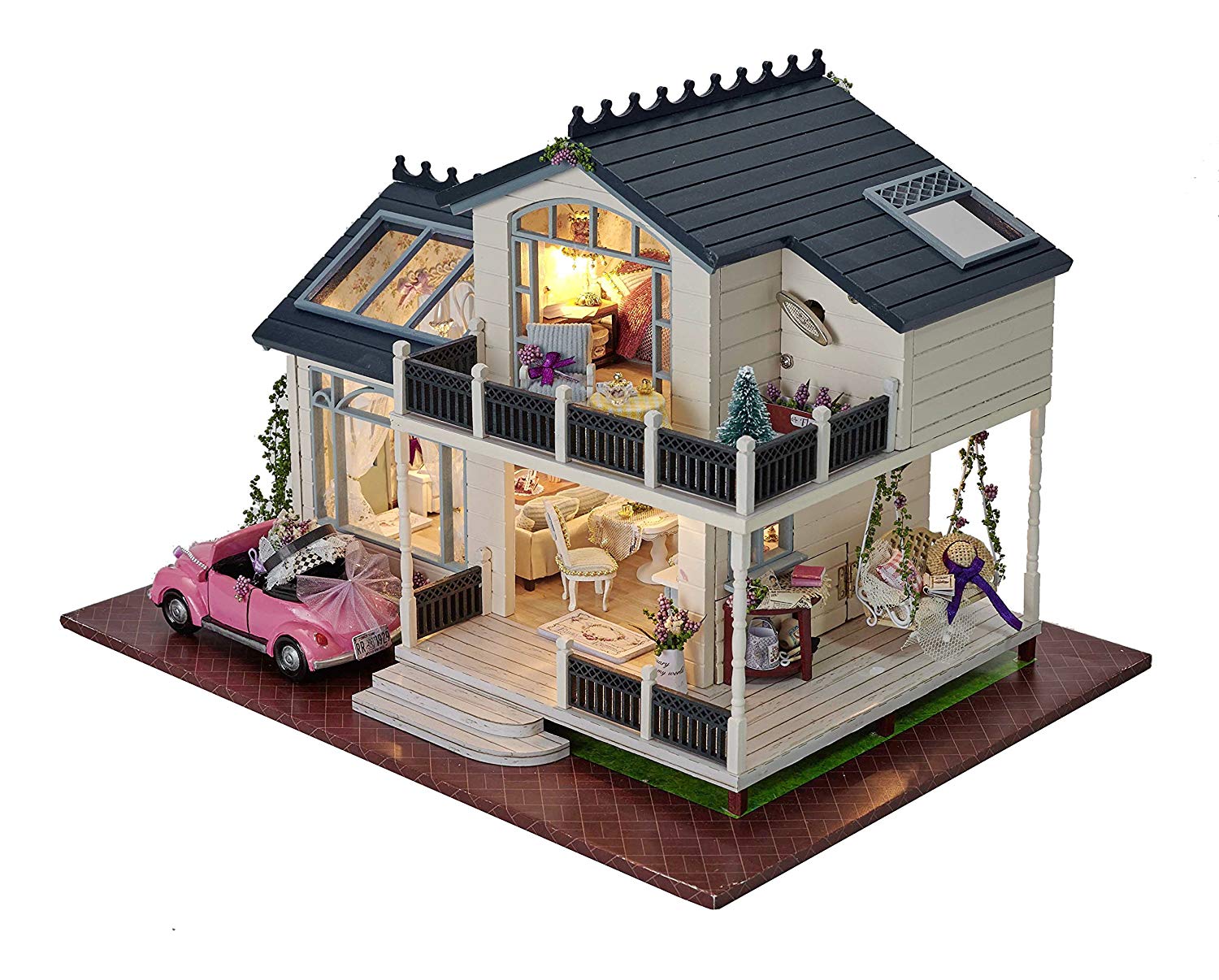 DIY Wooden Caravan Kit
This caravan is just adorable and will be your little boho girls' dream home. 
All furniture and accessories shown in the pictures are included. Led Light+ Music+Voice control
Step by steps pictures to show and help you to assemble.
Finished Product Size:13.8"x8.7"x8.7"; Weight:1.39kgs;  1:24 scale
Click to view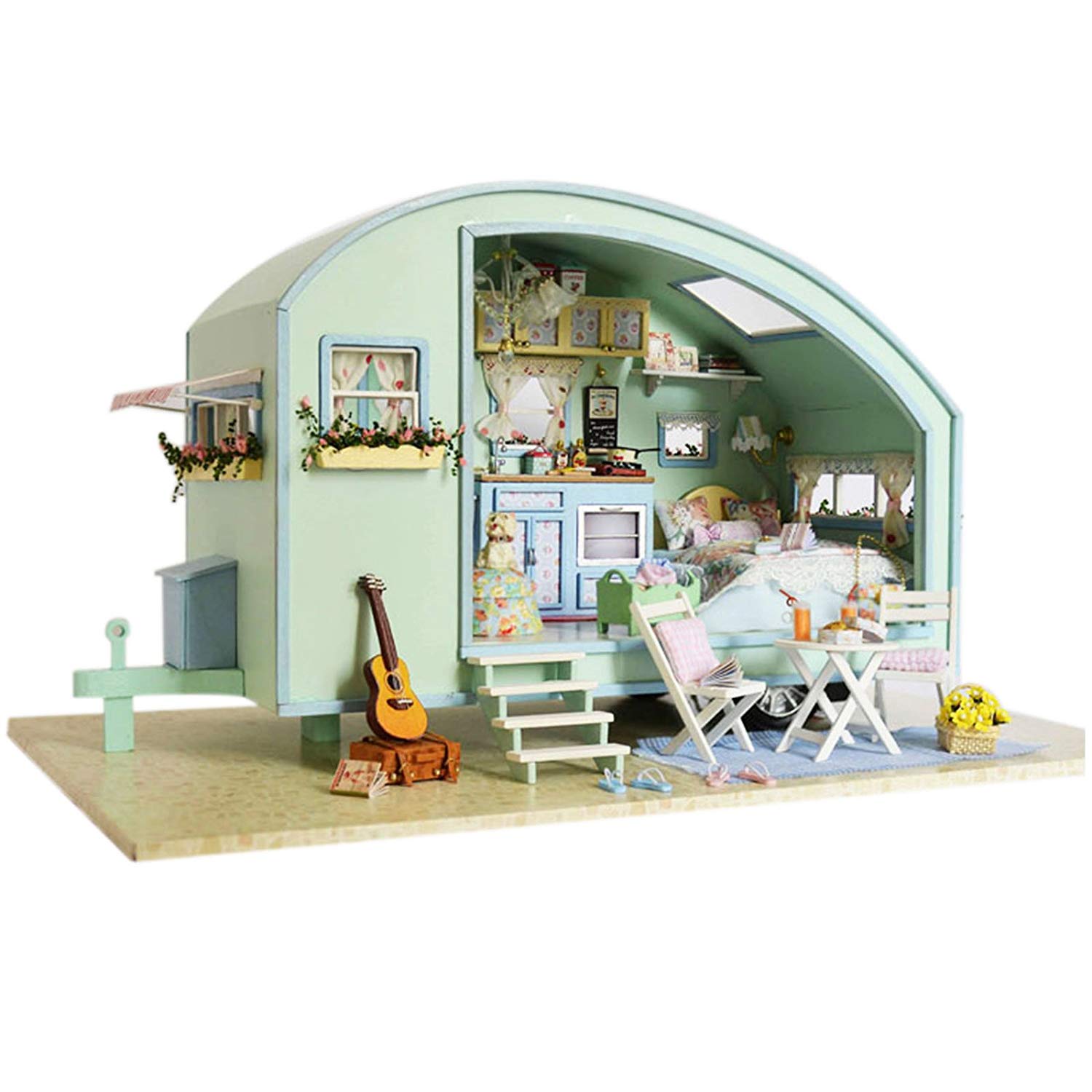 MORE AMAZING DOLLS HOUSES, CLICK ON IMAGE TO VIEW

MORE DOLLHOUSE IDEAS
You may want to have a look at this Dollhouse Pinterest Board of ours. It has lots of cool ideas for a dollhouse!
SOCIAL FUN

FUN PRODUCTS

Our recommendation lists makes it easier to find the perfect products to have some retail therapy and fun. There are more than 30 categories. Click on any image below to view.