CRAFT TOOLS & CRAFT MATERIALS

Craft tools and supplies vary for the four main types of crafts.

FASHION, TEXTILE, PAPER and DECORATIVE CRAFTS all require different crafting supplies.

The craft tools and materials below are mainly for PAPER CRAFTS and some DECORATIVE CRAFTS - the two most common craft types.


There are MANY different types of paper and decorative crafts, we are introduced to the basic paper and decorative crafts in preschool when we do things like handprints, 3D animals, cards for mom & dad and so forth, then we advance to more grown up versions!
Craft materials start with what we call a support, it can be (ex: paper, canvas, a mirror, old door) anything with a solid surface that will allow you to get creative and use it as a base. Followed by texture mediums, paints, solvents, special additions, finishes and sealers.
Craft Tools are used to apply texture mediums & paints to the support and can include almost anything from fingers to the most expensive sponges and brushes.
View the different Lists of Craft Items and Materials below:
The essential list of craft items for kids and beginners.
A more advanced list of tools and materials for the next level of crafting.
An unusual list of items in and around your home that you might not have considered for crafting!
---


1. A List of Craft Tools & Supplies for Kids and Beginners

Even the most advanced crafters use them regularly!
Craft Paper

- Different Types - White, Bright Colored, Tissue Paper

Cardboard

- 2 Sheets Thick and a few thin plain (in white, black, bright colors) and corrugated card board

Tracing Paper

Silver or Gold Art Paper

(normally sold in individual sheets) or use Tin Foil for embossing projects

Felt

Soft Pencil & Eraser
Pencil Sharpener
Sticky or Masking Tape
Glue Stick and Strong Glue
Coloring Pencils
Wax Crayons
Felt-tip Pens
Chalk Pastels

Paint Palette

Acrylic Paints

Watercolor Paints

or simply dilute Acrylic Paints with water

Paint Brushes
Scissors (Optional: Zig-zag or Pattern Scissors

are great for kids too young for craft knives)

Short & Long Ruler - Triangle Rulers

work well

Fountain pens

or Dip Pens

for decorative writing.

Bits and Pieces - Washers, press studs, sequins, threads, rope, paper fasteners, ribbon etc.
Toggle / Shaky Eyes

(To make faces)

Craft knife

for older kids and adults (Keep fingers away and old magazines underneath when cutting!)

Self healing cutting mat

(great for precision cutting and getting things straight, in line or well spaced)

Tooth brush (for paint effect and texture)
Bath or Kitchen Sponges (for paint effects and textures)
Craft Paper Punch

(small with a general art motive like a flower, circle, square or triangle for card & frame making)

Round Sticker labels and punch hole stickers (create instant eyes, noses, patterns & motives)
Metal Cookie Cutter

shapes (for instant print shapes & to make potato stamps)

Kitchen Paper Roll or Facial Tissues & Cotton Buds are great for spills and corrections
You can create an endless variety of crafts with the list of items above.

---
For Craft Kits, Craft Supplies, Bulk Supply Kits & Massive Savings
New! The Mega Craft Kit above provides endless activities and ultimate savings for you! Kit includes: 1 lb. Small Seashells, 100 Black Wiggly Eyes, 50 Sheets Colored Felt, 1/2 oz. Rainbow Feathers, 100 Assorted Pipe Cleaners, 300 Pom Poms, 4 oz. Sequins & Spangles, 150 Colored Craft Sticks, 500 Natural Craft Sticks, 50 Sheets Assorted Construction Paper, 1 lb. Multi Mix Beads, 1 lb. Assorted Buttons, 1,000 Fun Foam Shapes, 50 Sheets Tissue Paper, 6 Glitter Jars 3/4 oz. Each, 3 Jars Craft Sand and 500 Iridescent Fabric Shapes

Shop hundreds of craft items all with savings over 50% off retail!
---
Make Your Own Stencils
Stencils with motives are handy items and available in any shape, size and pattern to decorate cards, walls, personal belongings and craft work with. Although fairly cheap and available from most art & craft stores, they are simple to make out of cardboard or old X-rays. All you need is a stencil pattern (freely available on the internet), card board or old X-ray (this is our favourite!), cutting mat or old magazine, a craft knife (Rotary cutters work well too) and a photo copier if you wish to increase or decrease the size of the stencil pattern. Copy or trace the pattern onto the old X-ray, cut the motive out and you have your own high-quality stencil.
Shop for stencil cutting tools
- If you don't have a steady hand for cutting stencils, don't despair there are many tools to help you out!
Shop for pre-made stencils:
Stencil Mania
- A great selection of stencils where you are sure to find something special.

Stencils for Painting
- Decorate walls and furniture with motives of your own choice.

Stencils for Glass
- Windows, mirrors, vases and other glass objects with a touch of your own unique style.

Stencils for Embossing
- Simple art paper turned into awesome works of arts and cards with the easy method of embossing.

Stencils for Airbrushing
- Airbrushing can be used on so many surfaces including the skin - create nail art, non-permanent tattoo's and other quick art.

Stencils for Cakes
- The most professional looking designs for cakes and garnishing other foods, in an instant. Even the newest of bakers will look like they've been doing it for years! Good enough to start a business with!
---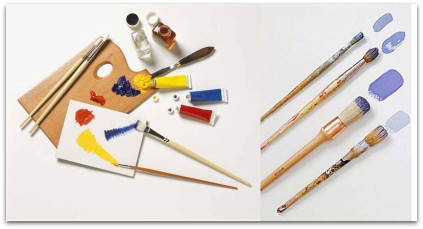 FREE CRAFT TIP 1: Always be on the lookout for things you may find in nature and in and around the home that you can use for crafts - Pebbles, seashells, bright colored autumn leaves, flowers, shiny chocolate papers, gift wrapping etc.
FREE CRAFT TIP 2: Grannies and Moms, craft tools are a lovely gift for kids of all ages and also wonderful to have when you spend quality time with your grandchildren or kids!
FREE CRAFT TIP 3: Those handy little rollers with patterns on and the shapes you get with kids play dough sets are also great for crafting - use them to draw shapes and print backgrounds with water based paints!
*****
Two of my new found favourite shops carry an extensive range of Art materials and Crafts tools and supplies that I often use, they provide great value for money (many items on sale at the lowest prices) and we enjoy their fast, friendly and personal service. They are BOTH not shy of amazing tutorials and inspiration and sharing templates and SVG patterns for free! Visit them online, you won't regret.
---
ORGANIZE YOUR CRAFT TOOLS
View: MAKE A CRAFT TOOLBOX FOR KIDS!
If you purchase a lot of paper and cardboard at once, you might want to make an additional bigger box (the boxes Boots come in!) are ideal to store these in! Otherwise you can store them in separate plastic folders in a file which can also be decorated to match the craft box! The craft toolbox is not ONLY for kids - it can be decorated for teens and adults alike.
To see how we use all of the above craft tools and materials and to acquire some basic skills and learn some techniques view our craft collection:
EASY CRAFTS FOR KIDS! All with complete instructions! Perfect for all BEGINNERS whether you are a KID or not.
Want to learn a new exciting craft? Wondering what to buy to get started? Don't forget to visit our CRAFT KITS section. Pick and choose from a wide variety of crafts, try them out.

****
Looking for complete HOBBY and CRAFT TOOL SETS?
- Look no more, here you will find all the craft tools you will ever need plus loads more, all in handy neat cases!
---

A VERY COOL ITEM TO ADD TO YOUR CRAFT SUPPLY LIST
MOD PODGE - GLOW IN THE DARK

This product adds a glow-in-the-dark effect to any craft project! Mod Podge is 40 years old, but this classic glue still has its cool! The latest fun formula will add glowing effects to Halloween, science fair, children's décor and other projects. Multiple coats create a stronger glow. Expose decoupage projects to a light source to recharge the glow effect. Quick-drying formula allows for multiple coat build up and projects dry to a glowing finish. Cleans up easily with soap and water. Certified AP non-toxic and water based.
Click on Link Below for the full range.
The MOD PODGE range includes over 100 fantastic craft supplies, view and shop the entire MOD PODGE RANGE here! This product is basically used to seal any type of art work, to protect it, make it durable and strong. It is painted on over the surface you want to protect, has a whitish colour and then dries clear.
---

View our other craft tool lists - click on one of the headings below!

Go to 2. ADVANCED CRAFTS TOOL LIST
Go to 3. UNUSUAL CRAFTS TOOL LIST

---

MORE HANDY FREE TOOLS
Geometric Shapes To Print - Here you will find 25 printable booklets with 2D and 3D geometric shapes, patterns and other interesting things in that will fill your crafting mind with ideas.

Geometric Shapes - Get ideas! See how basic 2D geometric shapes are used in designs the world over, to create interesting sequences and works of art. Get inspiration from the 3D geometric shapes collection for ideas to create stamps, stencils and loads of other crafts!

EMBOSSING, GIFT WRAPPING, POTATO STAMPING and ERASER STAMPING are all great crafts to use the above geometric shapes and printable pages for.


Return to Fun Stuff To Do: HOME PAGE


FUN PRODUCTS
Our recommendation lists to make all the choices a little easier.

RANDOM FUN
SOCIAL FUN