Easy Crafts for Kids - Project 3
MAKE A CRAFT TOOLBOX
Make a fun, easy CRAFT TOOLBOX FOR KIDS! All those great craft goodies in one tidy, handy box! Pack and go, great for travelling!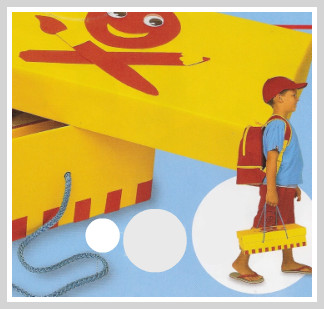 What you need:
A shoe box, scissors & glue
Wrapping paper, sticky tape
1 x A4 Sheet of thin cardboard (for dividers)
1 x A4 Sheet of colored paper (to make decorations)
A pair of toggle/shaky eyes. Buy some or Print eyes for free.
Some cord for the handles
Let's make it...
1.
A shoe box with a lid is ideal.

Tip: Find a shoe box that is big enough to fit A4 size paper in - once your craft box is completed you will be able to fit these sheets of paper on top of the stationary in the craft box.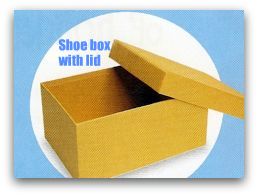 2.
Cover the box in bright plain paper. Wrapping paper works well.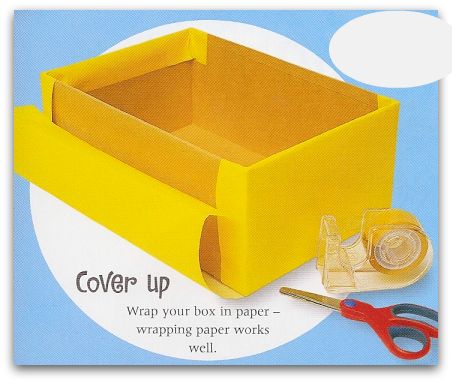 3.
Decorate the box with this design or make your own.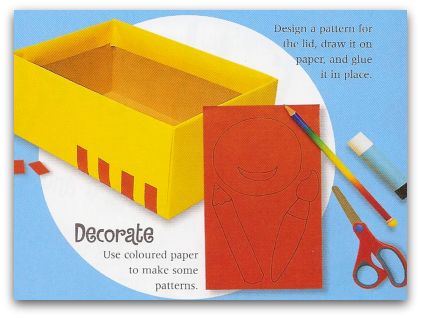 4.
Decorate the pencil, paintbrush and mouth with more shapes cut from the wrapping paper to add some color. Add some shaky eyes.
or
Be creative, design your own decorations, paint, draw or glue some pictures on and remember to send us a picture to show us!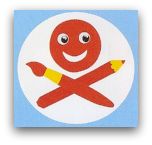 Draw these images on some colored paper.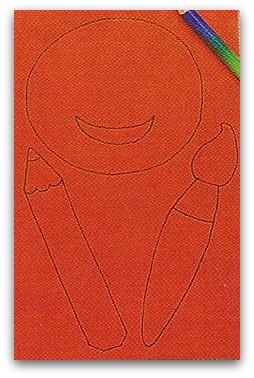 5.
Add the handles by making two holes on either side of the shoe box and threading the cord through the holes and knotting the ends on the inside. If you can't find cord, use shoe laces.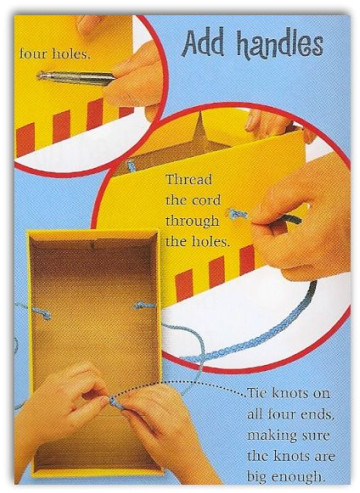 6.
Make the dividers for the inside of the box.

Tip: Decide what you are going to put into the box so that you can make the dividers according to the sizes of your stationary!

Need a wish list of goodies for your craft toolbox?
Visit craft tools & materials for kids for a handy list of great craft materials!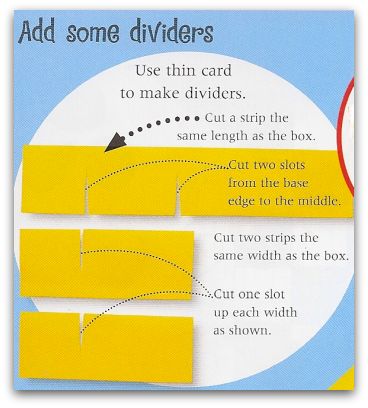 7.
Now slot the dividers into each other and slide into position in the shoe box.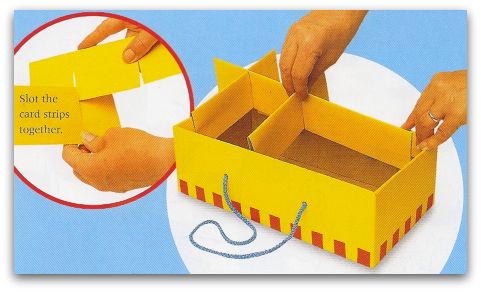 8.
Pack your Craft Toolbox with all your great crafting goodies.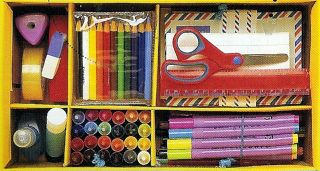 Find a list of craft tools for kids and beginners here, to ensure you have great goodies in your craft toolbox.

9.
Packed and ready to go!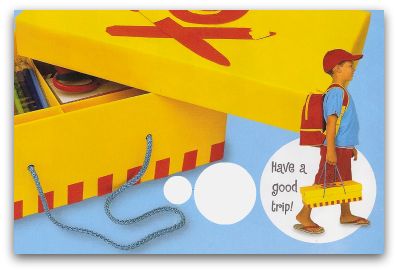 FUN CRAFT MATERIALS FOR THE CRAFT TOOL BOX! (Cheap-cheap!)

Did you have fun making this Craft Box? We value your opinion please let us know if you think this specific craft and the instructions were useful to you!
Contact us with your Ideas to improve this Easy Crafts for Kids page!


~~ MORE EASY CRAFTS ~~
Emboss | Make Pretty Paper | Easy Owl Mask |
Make Shiny Fish | Cute Pebble Crafts | Easy Picture Frames |
Kids Scrapbook | Potato Prints | Adorable Ladybugs |
Pebble Jewelry | Eraser Prints | Fingerprint Fun |
Fun Fingerpaint Recipes | Fun With Felt Creations |
Objects With Shapes | Fun With Shapes |
Free Craft Templates | Party Decorations


Return to EASY CRAFTS
Return to FUN STUFF TO DO from Craft Toolbox For Kids