Easy Crafts for Kids - Project 9
Colorful Ladybugs from Pebbles
Easy Crafts for Kids 9 - A great fun way for the little ones to pass the time at home, on holiday or at playschool!
In this project we turn ordinary pebbles into beautiful LADYBUGS - no hassle or major preparations - just quick fun!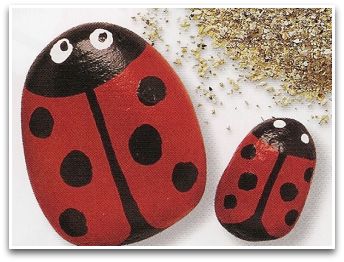 YOU WILL NEED:
Pebbles - as many as you wish - available in bags from nurseries if you are not near water! Paint & Paintbrush, a soft pencil.
OPTIONAL ITEMS:

None, just loads of creativity and colors!
OTHER IDEAS:

Use this technique to make interesting paperweights and doorstops!

Collect pebbles while on holiday and use this technique to create gifts for friends after your sea-side holiday.

Use this project to create useful 'Homemade' holiday gifts and add that extra personal touch by viewing this important page for ideas to make beautiful gift wrapping paper to match!

View all the Ladybug color possibilities in the picture further down.

A FEW SIMPLE STEPS:

The method to create this craft is simple and self-explanatory in the picture.
So we'll only offer a few tips and techniques!
Select pebbles with a fairly smooth surface - easy to paint.
Pebbles with a slight point will make a lovely little face.
Draw the shapes on the pebbles with a soft pencil.
Playschool Teachers can perhaps do this beforehand.
Acrylic paint works well on this type of surface, it is thick and waterproof.
Add a little bit of white paint to colors to make the paint less see-through when painting it on the pebbles.
You may need two coats of paint for the perfect finish - apply the first coat and wait for it to dry.
Wash the brush out between colors.
Allow different colors to dry before painting the next color.
Use the color ideas in the picture below to create different ladybug pebble crafts!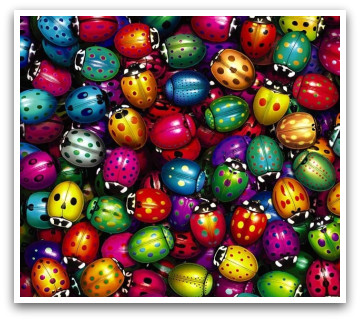 Did you enjoy Pebble Crafts? Try these other examples! There are loads more where they come from! Sign up for our free monthly FUN NEWSLETTER to receive these great toddler creations directly via email!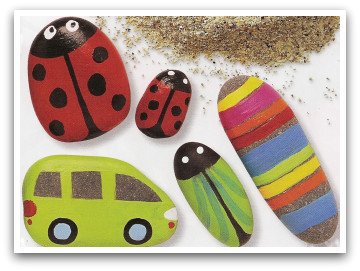 Did you have FUN with Project 9 of Easy Crafts for Kids? We value your opinion please let us know if you think this specific craft and the instructions were useful to you at the link below!


Contact us with your Ideas to improve this Easy Crafts for Kids page!


~~ MORE LADYBUG IDEAS ~~
More Super Cute Ladybug Crafts | Two very cute and easy ladybug crafts
LADYBUG Shoppe | Over 100 adorable items, Just Ladybugs!
Free Ladybug Party Printable | A huge free party printable!
Free LADYBUG Party Game | Cute free printable party games
~~ MORE EASY CRAFTS ~~
Emboss | Make Pretty Paper | Create Craft Toolbox For Kids | Make Shiny Fish | Cute Pebble Crafts | Easy Picture Frames | Kids Scrapbook | Potato Prints | Easy Owl Mask | Pebble Jewelry | Eraser Prints | Fingerprint Fun | Fun Fingerpaint Recipes | Fun With Felt Creations |
Objects With Shapes | Fun With Shapes |
Free Craft Templates | Party Decorations
Return to EASY CRAFTS
Return to FUN STUFF TO DO from Easy Crafts for Kids