Easy Crafts for Kids - Project 2
HOW TO CREATE TEXTURED PAPER
Need gift wrapping? Textured paper for a craft project? A beautiful wall design to frame? Simple and fun to make - create beautiful paper designs in a few easy steps! Add a personal touch to gift wrapping to compliment your creative gift ideas for someone special!



YOU WILL NEED:

Paper, Acrylic paint, paint brushes, wax crayons, cup of clean water
You can use normal Letter Size or A4 paper to practise the different techniques on and then go for the larger sizes of paper (A3 & A2).

Get Acrylic Paints & Brushes over here.
OPTIONAL ITEMS:

A cheese grater, plastic food wrap, small size paint rollers, water spray bottles, salt - depending on the technique you use.


EASY TECHNIQUES TO CREATE DIFFERENT DESIGNS ON PAPER:

Experiment with the examples given and create your own masterpieces!

Let's start with 4 basic techniques that you can use when you create textured paper:

1. Wax Resist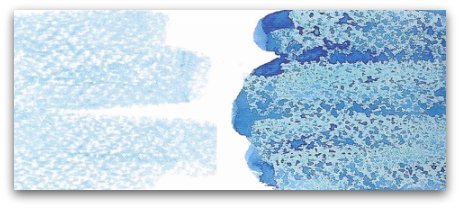 Rub the side of a wax crayon or a oil pastel over a slightly textured paper. Press quite hard as you rub.
You can add extra texture to ordinary paper by placing a texture provider like fine sandpaper underneath the paper before waxing or simply place the paper on an uneven surface.

Mix some water with paint and brush it over the paper, the wax will resist the paint, leaving the texture of the paper.
2. Painting Shapes

We've used swirly circles but you can do squares or triangles.
Dip a dry, broad paintbrush into thick acrylic paint once so that it covers the tips of the bristles.
Brush the paint around and around to create lots of individual strokes, pressing quite hard.
Dip the tips of the paintbrush into the paint again and make the next circle beside the first one. Do this again and again.

3. Paint Brush Strokes


Dip a thick household paintbrush in yellow paint, brush it in stripes across a piece of white paper.
Mix some red with the yellow to create orange. Brush it lightly diagonally across the yellow to create texture.
While the paint is wet, brush red in the opposite diagonal direction on top of the yellow and orange to leave more layers of texture as before.

4. Sponging Marks

Dip a piece of sponge into paint, then dab it onto a piece of paper. Dip into the paint each time you dab it on, leaving some white spaces.
Then dab a darker shade over the top of it, leaving some of the previous color to show through.
Leave as is or sponge a third contrasting color, gold or silver works well.
TEXTURED PAPER DESIGN GALLERY
| | |
| --- | --- |
| | This paper was made by dropping blobs of paint on wet paper and allowing the paint to run. |
| | This paper have been textured using the orange Paint Brushmarks Technique above. Try other colors. |
| | This paper was textured with the Wax Resist method above. Rubbing the side of a wax crayon then painting over. |
| | The Wax Resist Method was used over the large and the small holes of a cheese grater. Then painted over. |
| | This paper have been textured using a small paint roller to layer paint in different colors. |
| | Paint over a piece of plastic foodwrap. Lay a piece of white paper on top. Press lightly over the paper, then lift it off. |
| | All of these were created with a household paintbrush. Paint one shade of paint. Let it dry, paint on another shade on top. |
| | Spread some paint on an old saucer, dip a bottle top or cap into it. Use the bottle top to print several rows of circles. |
| | Long lines of flowing, joined-up writing with a white oil pastel or wax crayon across paper, then paint black water based paint over it. |
| | Create this texture by sprinkling salt onto wet watery paint. Allow time to dry, then rub all the salt off. |
Tip:
Acrylic Paints can be diluted with water to change the effect these paints have on paper. Use undiluted paint for prints and sponging and dilute the paint with water if you want the colors to flow.

Draw some pattern inspiration from these two pages:

You can use tissue paper to create other paper designs, if you like this paper craft technique you may want to purchase some the next time you visit your local arts & crafts store. This type of paper in white or a light color can be used to make beautiful designs as in the examples below. A few strokes of paint and some clear water to make the paint run, it will blend colors together instantly and absorb into into the paper. Then just leave to dry.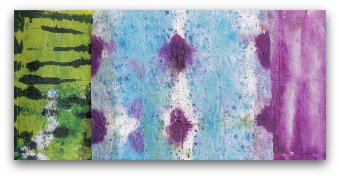 OTHER IDEAS:

Use these techniques to make Valentine's, Birthday, Christmas, Mother's or Father's Day gift wrapping! Decorate with a small relevant card (which you can make!) - a Heart or Balloon shape, Christmas decoration, Flower or better yet how about a FRESH FLOWER and some ribbon!
Textured paper techniques can be used to create different types of textured paper in complimenting colors, cut into blocks and make an abstract work of art to frame.
Save left over pieces, you can always use them for other craft projects, a few of our other projects make use of textured papers that we create ourselves.
OTHER PAPER CRAFTS
Did you have FUN with Project 2 - Creating Textured Paper?
We value your opinion please let us know if you think these specific craft techniques and the instructions were useful to you at the link below!

Tell us about your ideas to create textured papers!
~~ MORE EASY CRAFTS ~~
Emboss | Easy Owl Mask | Create Craft Toolbox For Kids |
Make Shiny Fish | Cute Pebble Crafts | Easy Picture Frames |
Kids Scrapbook | Potato Prints | Adorable Ladybugs |
Pebble Jewelry | Eraser Prints | Fingerprint Fun |
Fun Finger Paint Recipes | Fun With Felt Creations |
Objects With Shapes | Fun With Shapes |
Free Craft Templates | Party Decorations
SOCIAL FUN

FUN PRODUCTS

Our recommendation lists makes it easier to find the perfect products to have some retail therapy and fun. There are more than 30 categories. Click on any image below to view.

Return to EASY CRAFTS
Return to FUN STUFF TO DO - HOME PAGE