Your Fun Ideas
Your creative fun ideas and party ideas LIVE on Fun Stuff To Do!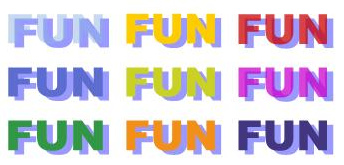 Use MY POLKA DOT MAKER, or our FREE PARTY DECORATIONS or some of our FREE CRAFT TEMPLATES or better yet come up with YOUR OWN IDEAS, this page is a celebration of YOUR CREATIVE CREATIONS. The hippy of free fun stuff and her readers would love to see how creative you are. Please share your ideas with us.

SEE ALL THE FUN IDEA POSTS AT THE BOTTOM OF THE PAGE!

Tell us about your parties and other fun things you make, how you do it and most importantly SHOW US by posting some photo's (it's very simple, you just type and select the photo from YOUR FILES, this gadget will do the rest to turn it into a webpage on our site!)


Here at fun stuff we are always on a mission to provide people like you with:
• FREE FUN IDEAS
• CUTE AND FUN STUFF TO MAKE
Please help us live this dream by contributing your fun stuff, ideas and party ideas to the world.


What other people look for if you want great responses to your posts:


FREE STUFF!
All kinds of party stuff - decorating ideas and themes, Kids' birthday parties and ideas, Baby shower ideas, Birthday cake and cupcake ideas, Gift basket ideas, Christmas decorating and ideas, Halloween parties and ideas, Kids craft ideas, Party craft ideas, Party games and activity ideas, Easter Ideas, Ideas for Thanksgiving, Fancy dress ideas and masks, How to make all kinds of nice stuff – from chocolate to sushi, toys to arts and crafts, wreaths to fireworks. Activities and games for toddlers to teens (age appropriate), All kinds of party foods from appetizers to desserts (the yummy and good looking), the list goes on as long as it's related to fun parties, fun ideas and fun stuff to do.


Your Posts


When you post your free ideas, please keep in mind, we dedicate an entire page to your post, your post should be at least 300 words long and because we have an immense love for VISUAL arts, crafts, party ideas and other fun stuff to make, please include pictures or photos.


Website or Blog Owners


If you have a blog or website, yes you MAY PLACE YOUR DETAILS in your post, provided you include comprehensive information AND some pictures of your free ideas in your posts. Unrelated pages and URL's will be removed.


SHOW US THE FUN!


FUN STUFF TO DO by: YOU!
Add your great fun ideas to this site now and view other posts below!
YOUR FUN IDEAS!
Click below to see contributions from other visitors to this page...

For Loads Of Other Fun Ideas


VISIT THE FUN STUFF BLOG
VISIT US ON FACEBOOK
VISIT US ON TWITTER
SOCIAL FUN

FUN PRODUCTS

Our recommendation lists makes it easier to find the perfect products to have some retail therapy and fun. There are more than 30 categories. Click on any image below to view.

Shop Fun Ideas

Return to Fun Stuff To Do:  HOME PAGE