FREE TEMPLATE

A free template for every party decoration, invitation, box, hat, card, tag or embellishment that you may need to start you off on a high note with

and to ensure that creating your party decorations and cards will be FUN!
MY POLKA DOT MAKER© printable paper templates are fun, colorful polka dots that will ensure that ordinary party decoration, craft and card templates, like the ones below, turn out to be awesomely beautiful with minimal other embellishments required!
DO IT THE EASY WAY! It is simply super easy, fun crafting and fun parties at its best. You print the polka dot paper template, then print the template of your choice below, glue the two printed sheets together. Then cut, fold, glue and you have beautiful, cost effective decorations, tags and cards.
---
FREE TEMPLATE #1 - Scalloped Card and Envelope
This template is so versatile, use it for invitations, thank you cards or greeting cards. Both the envelope and card will look beautiful if you use two different sizes of polka dots on both sides of the template or you may want to opt for a dotty side and a plain side and do the card and envelope in different sizes of polka dots. If you opt for two polka dot sizes, glue the first polka dot sheet onto the template, cut the template and polka dot sheet out. Then glue the other polka dot size sheet on the other side and cut out. If you opt for polka dot and plain, simply print the template below on colored paper, glue polka dot sheet on the other side, cut, fold, glue, DONE!
---
FREE TEMPLATE #2 - Easy Cake Slice Box
You can use these cake slice boxes to send a lovely piece of cake home with each of your guests!
Or you can build an entire 1, 2 or 3 tier cake with it! If you want to build a tiered cake you will need approximately 11 cake slice boxes in different sizes. The first tier of the cake will be the largest, use this template. Then reduce the size of the template on a photocopier for the next tiers. If you want to do this but struggle, contact us, we can help out with more templates in different sizes. Contact Us

---
FREE TEMPLATE #3 - Interlocking "Thank You" Card or Invitation
This easy-to-make card looks great with different sizes of polka dots on the inside and outside. Cut out one of our FREE LABELS and FREE TAGS for the center inside. Our labels can easily be extracted to Microsoft Word or any other word processing program to add a text box for text with "thank you" notes or invitation details.
---
FREE TEMPLATE #4 - Party Hat
We all need party hats - sooner, later or all the time! Create them stylish, fun, hip, in candy colours or pastel. A party HAT says: "IT'S A PARTY, TIME TO CELEBRATE!" no matter what the age or occasion is! It is honestly SOOO much easier to create them yourself than to go on that long dreadful road of finding the perfect ONE!
---
The other box we all need sooner or later. A party box, gift box, favour box, pretty box, storage box, little toy box! Here is the BOX! You have to print this template TWICE, fold, glue the tab onto the other printed template and then fold your way around the rest. Looks complicated, simple once cut and folded on the lines. Best printed on card stock - always plain card stock decorated with MY POLKA DOT MAKER! :-)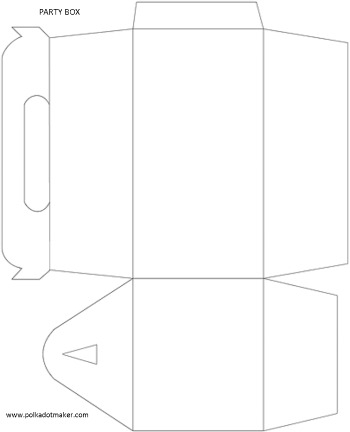 NEW TEMPLATES TO PRINT!
Share your new templates, we're sharing ours! It's easy and fun. Just type, insert your template picture, this gadget will do the rest! Have a website? Yes you may place a link to your site in your post!
Want to print the templates below?
Right click on the image, choose print or save - simple!
HERE ARE THE NEW TEMPLATES!
Click on the links below to view the latest templates!


MORE CHEAP TEMPLATES BELOW!
Create the perfect party keepsakes and crafts with this huge variety of box and envelope templates that are sure to fit any occasion. Super easy to use, just trace onto craft or scrapbook paper, cut and fold.
There are so many of these durable stencil template shapes - coffin box template, triangle template, mini mailbox, carrot box, card, mini pizza, truck, bon-bon box template, mini milk carton template, heart box template, cone treat hanger, cupcake box template, scalloped bag template, pedestal box template, dress box template, petal template, hexagon box template, boot template, bucket template, heart purse, oven-shaped box templates, mini bowling bag template and a magnitude of design tool kit templates. Full instructions. Sizes vary, we display only a few.

CLICK HERE TO VIEW THE FULL RANGE


YOU MAY ALSO LIKE:
3D Geometric Shapes to print. These templates are print-ready and free to download. A variety of clear and colored shape nets are available.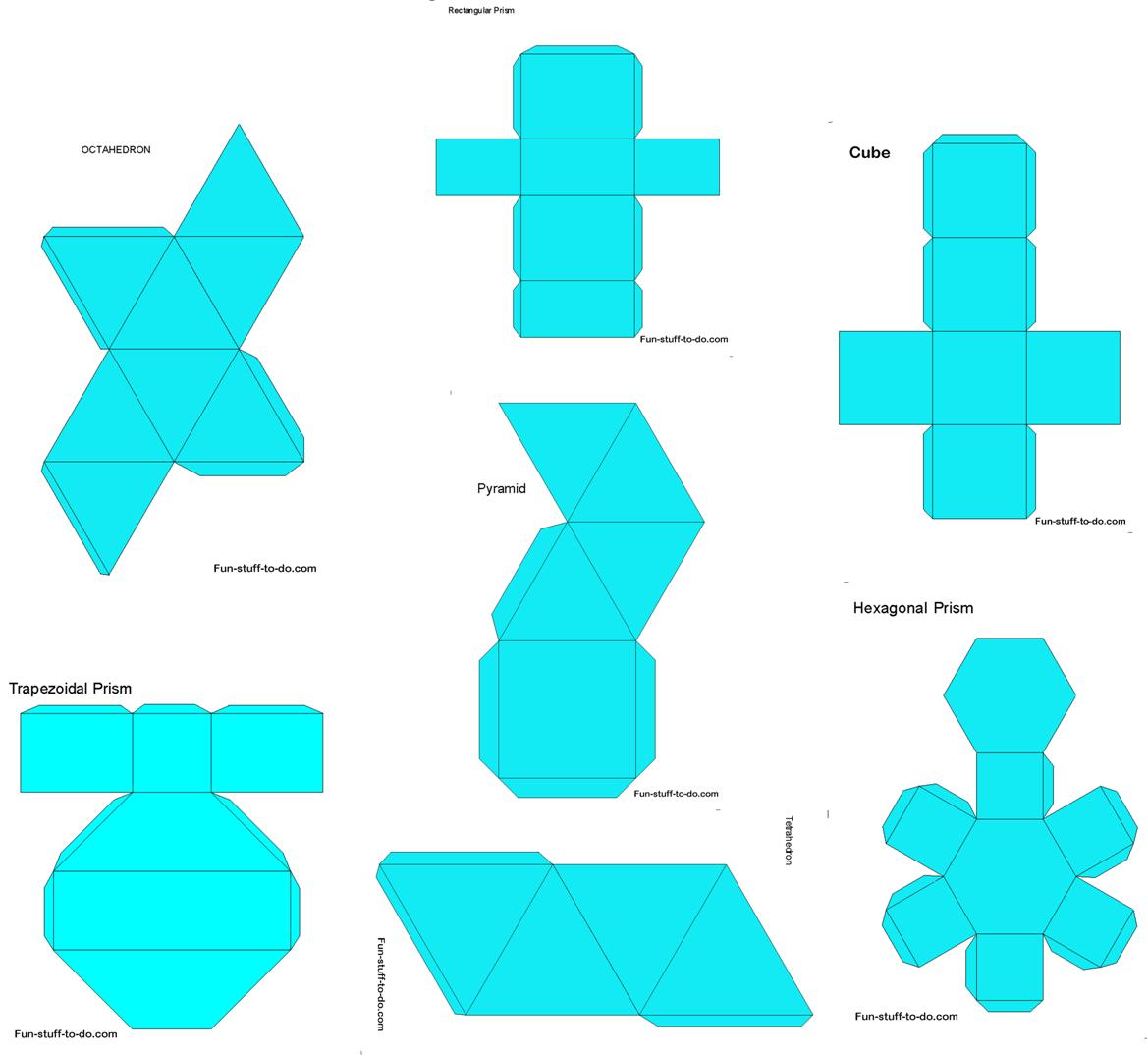 RANDOM FUN
More than 25 000 fun ideas posted over the years, including but not limited to: free printable goodies, party ideas for old and young, fun games, amazing arts and crafts, funny stuff, free templates and so much more - LOOK HERE! + follow us!

Want to know what we create next? Sign up for our monthly newsletter!

Free Tags | Free Labels | Fun Ideas | Polka Dot & Stripes Paper | Bright Polka Dots | Candy Color Polka Dots | Pearl drop Polka Dots | Trendy Polka Dots | Pastel Polka Dots | Custom Made Polka Dot Templates | Polka Dot Size Chart | Back to My Polka Dot Maker |
Return to Fun Stuff To Do:  HOME PAGE