Size Chart For My Polka Dot Maker
The polka dot size chart shows how the dots are placed across a normal A4 size page and what you can expect when you order polka dot templates in different sizes.

Included here is a visual dot size chart as well as some goodies that were made with different sizes. Using polka dots in a variety of sizes creates a beautiful look and feel.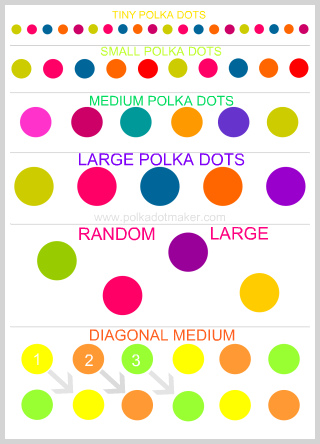 Various Sizes Of Polka Dots On Normal A4 Printer Paper.



TINY POLKA DOTS
20 tiny polka dots across an A4 page.
Drink parasol, cellophane wrapped candy, inside of invitation

SMALL POLKA DOTS
10 small polka dots across an A4 page.
Drink parasol, napkin rings, favor bag
MEDIUM POLKA DOTS
6 medium sized polka dots across an A4 page.
Polka dot dangler, Outside of Invitation, cellophane wrapped candy

LARGE POLKA DOTS
5 large polka dots across an A4 page.
Party hat, flower place mat

RANDOM LARGE POLKA DOTS
Large polka dots placed randomly all over the page.
Cake slice box, Rectangular A4 size place mat

DIAGONAL MEDIUM POLKA DOTS
3-4 different colors of medium sized polka dots alternating and placed diagonally across the page.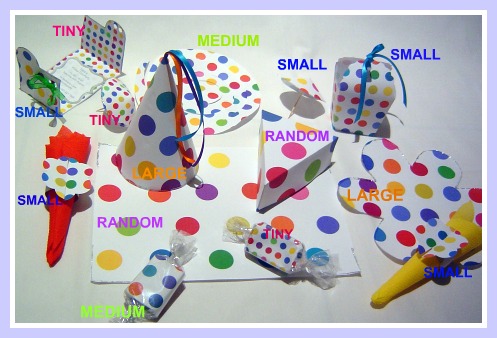 Party decorations made with polka dots from
MY POLKA DOT MAKER
We used normal A4 printer paper - just to show you can :-)


FREEBIE!
We love to give away free stuff! When you order two or more polka dot templates from us, we'll throw in a set of free templates to create the party decorations in the picture above, plus a few more!
GO TO:

Custom Made Polka Dot Templates | Bright Polka Dots | Candy Color Polka Dots | Pearldrop Polka Dots | Trendy Polka Dots | Pastel Polka Dots |
Back to My Polka Dot Maker |
Back to Fun Stuff from Polka Dot Size Chart