FUN PARTY DRINK IDEAS
A party is simply not complete without some fun party drink ideas. Get creative with one or more of our non-alcoholic or alcoholic fun party drink recipes. Serve up a selection! Once you see what goes into our favorite yummy drinks you won't be able to stop… creating and drinking that is!
Drinks don't have to be boring you can 'up' just about any drink to fit a King or Queen with little effort. Add fun fruity cocktail flair fit for the Caribbean or dress your drinks table up with sophisticated cherry charm. Which ever way you choose – guests feel truly special when served with delicious out of the ordinary drinks that say: "I've made this especially for you!"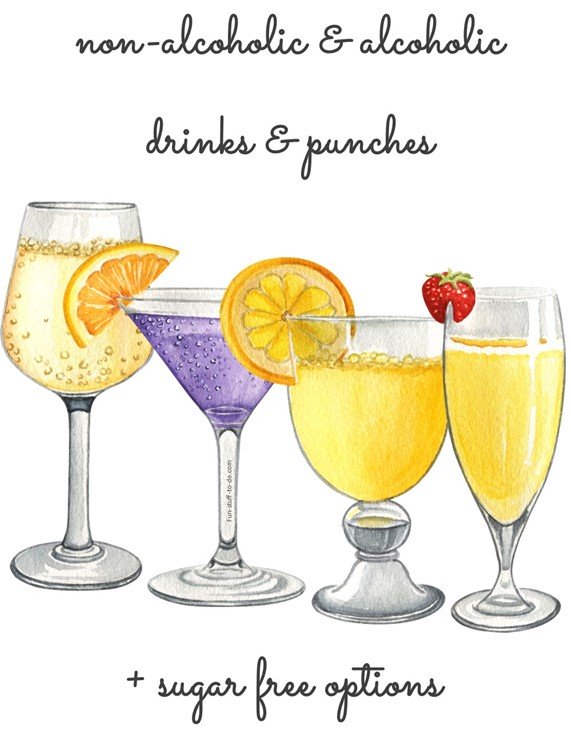 Fun Drink Recipe Download Available Below
---

1. EASY NON-ALCOHOLIC PARTY DRINK IDEAS
These fun party punches, mocktails and mixed drinks are suitable for kids, teens, non-drinkers, and some are sugar-free for the health conscious! Start your parties off with inviting punch bowls filled with delectable fruits, blocks of ice and juices ala Island Style!
Citrus Cooler (Sugar Free)

5 lemons
5 limes
5 oranges
3 quarts water
1 ½ cups Equal®
Ice cubes
Fresh fruit slices

Squeeze the juice from the lemons, limes and oranges. Pour into a gallon container. Stir water and Equal® into juices; mix well. Refrigerate covered until ready to use. Serve over ice. Garnish each drink with a different colored fruit slice, if desired. (16 Servings)

Holiday Punch (Sugar Free or Not)

A tropical party drink idea that everyone will love.
2 cups white grape juice
1 ½ cups fresh lemon juice
1 bottle ginger beer (sugar free)
1 cup pineapple juice
1 cup mango juice
2 super ripe bananas mashed
¼ cup finely chopped mint
1 pkt washed and drained raspberries or sliced strawberries
1 bottle plain club soda (Use Sprite if sugar is not a factor)

Mix fruit juices, soda, ginger beer and banana and chill for a few hours. When thoroughly chilled add berries, pour into punch bowl. Add shaped ice cubes and mint sprigs. Stir and serve. (10-12 Servings)

Summer Splendor (Sugar Free)

Ripe figs
Mint leaves
Blocks of Ice
Plain Club Soda (or Sprite)

Cut the ripe figs into quarters (1 per glass). Arrange ripe fig quarters, large mint leaves (about 5 per glass) and ice blocks in tall glasses. Top up with club soda or sprite.

Pink Lemonade

A super fun and refreshing party drink idea!
2 cups white sugar
9 cups water
2 cups fresh lemon juice
1 cup cranberry juice, chilled

Combine all the ingredients. Stir to dissolve sugar. Serve over ice.
Garnish with a lemon slice perched onto the edge of the glass or with a few mint sprigs.

Guava Punch

½ cup sugar
½ cup water
1 ½ cups of guava juice
½ cup orange juice
1 ½ tablespoons lemon juice
½ cup pineapple juice
1 teaspoon grated orange rind
1 bottle ginger ale, chilled
Ice

In a saucepan, combine sugar and water and simmer for 3 minutes, allow to cool.
Stir in cold fruit juices and orange rind. Chill.
Before serving, add in the chilled ginger ale and ice cubes.

Banana Punch

6 bananas
6 cups of water
4 cups of sugar
46 oz of pineapple juice
4 large bottles of ginger ale
1 small can orange juice
1 small can lemonade

Boil water and sugar together for about three minutes and set aside to cool.
Mash bananas until smooth; add pineapple juice to the mashed bananas.
Add orange juice to lemonade and freeze.
Remove from freezer in time to make slush with ingredients prepared above (around 60 minutes).
Add ginger ale and serve.

Tropical Punch

1 large bottle pineapple juice
1 large bottle orange juice
1 large bottle sprite
½ cup sugar
1 cup water
1 large bottle ginger ale
Orange slices
Cherries
Strawberries sliced

Stir sugar into water until dissolved.
Combine all ingredients, except the ginger ale. Refrigerate.
Add ginger ale before serving.


---

2. EASY ALCOHOLIC PARTY DRINK IDEAS & PUNCHES
If you're going to drink alcohol, why not make it beautiful and delicious? Why torture yourself when there are some great easy-to-make cocktails and mixed drinks that are fit for fairies, just too beautiful to resist! Delicately sipping on fun drinks with a bit of 'oomph' does not mean you have to give up on style when the Dom Perignon is a touch out of reach!  Do check out our glass garnishing ideas too!

Black Cherry Champagne

A sophisticated fun party drink idea.
1 bottle champagne
Black cherry juice
Black cherries with stems
Superfine sugar

Wet the rims of champagne glasses in water and gently touch the rim in a saucer filled with sugar, leave to dry completely.
Pour 1/3 of chilled cherry juice and top each glass with champagne.
Garnish with a whole cherry. (Serves 4-6)

Red Rum Punch

Make this punch at least 3 hours ahead of time to allow the true flavors to surface.

1 bottle of Don Q Cristal rum (or similar)
½ bottle red wine
6 oz. fresh lime juice
6 oz. triple sec liqueur
6 oz. syrup - made of half water, half sugar simmered for 3 minutes and cooled.
2 limes sliced in thin wheels
2 oranges sliced in thin wheels

Add all ingredients together in a large punch bowl and refrigerate at least 2 hours before serving.
Serve on ice.

Blissful Berry Rosé

An awesomely beautiful fun party drink idea for weddings, bridal showers and any other day you feel special and in need of a fun drink!

1 bottle Rosé wine chilled
1 bag frozen blueberries
1 container frozen pink lemonade (or make your own see recipe above and freeze)
1 liter lemon-lime soda
Fresh blueberries to garnish

Mix the Rosé, frozen blueberries, and frozen pink lemonade together.
Refrigerate for an hour allowing the flavors to marry.
Top with lemon-lime soda.

Refreshingly Fun Pimm's

1 Part Pimm's No.1 (or Campari)
3 Parts Chilled Lemonade

Add some mint, cucumber, oranges, and strawberries cut up in larger pieces to the bottom of a tall glass before pouring the drink.
Or substitute oranges with pineapple and strawberries with cherries

Liquid Lust

A deliciously fragrant fun party drink idea!
½ bottle Rosangel Tequila (Pink tequila infused with the hibiscus flower)
½ bottle white wine
½ cup white sugar
1 oz. orange juice
2 oz. cranberry juice
2 oranges sliced
1 lemon sliced
1 lime sliced
1 bunch of grapes sliced
1 apple diced
½ liter of club soda

Mix the tequila, wine, sugar, and fruit juices in a punch bowl, stirring until sugar is dissolved.
Pour over ice into flute glasses to compliment this stunning drink.
Garnish with fresh fruit, including a few small berries.

Tropical Delight

1 Part Pimm's No.1 (or Campari)
1.5 Parts Orange Juice
1.5 Parts Cranberry Juice

Add slices of oranges, pineapple and strawberries either to the rim or in the bottom of of a tall glass.

Five Green Brothers

Here's one especially for the guys to try! So, beer can punch? I'm not sure what kind of 'PUNCH' this is!

1 Can Mountain Dew – A Citrus Soda Drink
1 splash of Bud Light Lager
2 oz. Blue Curacao Liqueur
2 oz. Malibu Coconut Liqueur
5 oz. Bacardi rum

Pour the Bacardi, Blue Curacao and Malibu into a Collins glass half filled with ice cubes. Stir well.
Fill with Mountain Dew to taste. Stir briefly. Add a splash of Bud Light and serve!

Strawberry Kissed Champagne

1 packet fresh strawberries (approx. 2 cups full)
1 teaspoon vanilla essence
1 teaspoon fresh lemon juice
2 teaspoons sugar
Champagne or Sparkling Wine

Wash and hull strawberries. Put the strawberries in a blender.
Add vanilla, lemon juice and sugar to the strawberry puree.
Fill champagne flutes half full of the puree mix.
Top with champagne. Stir gently. Garnish with a slice of strawberry on the edge of the glass. (Serves: 4)

Watermelon Wave

A super refreshing party drink that can be made ahead of time!

4 oz. tequila
3 oz. orange liqueur
3 oz. maraschino liqueur
20 oz. fresh watermelon juice
(Remove seeds and rind from a ripe watermelon and place in blender)
2 oz. pomegranate juice
2 oz. fresh lemon juice
Slice watermelon wedges to garnish

Mix all ingredients together, stir well.
Strain the mixture over ice.
Garnish with watermelon wedges perched onto the glass rim.

Winter Warmer

1 Part Pimm's No.1
3 Parts Warm Apple Juice

Add a slice of apple and orange either to the drink or to the rim, if you choose the rim, you can even add a sprinkle of cinnamon to the slices before placing onto the glass.
Serve in Glass Mugs.


---

3. FUN COFFEE IDEAS
All those amazing coffee recipes found in popular coffee shops, create these fun party drink ideas in the comfort of your own home! Go Here!
You can find all these wonderful ideas there:

Amaretto Coffee
Coffee Punch!
Caramel Iced Coffee

Served with this deliciousness available there too!

Espresso Biscotti



FINALLY, A WINE GLASS THAT FITS ALL MY NEEDS!
The Wine Bottle Glass makes the perfect gift for any wine lover that enjoys a bottle or two every now and then.
The entire bottle fits in this one glass! Fill her up once and you are good to go for the night.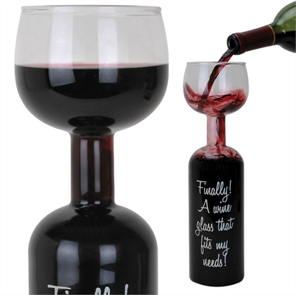 SOCIAL FUN

FUN PRODUCTS

Our recommendation lists makes it easier to find the perfect products to have some retail therapy and fun. There are more than 30 categories. Click on any image below to view.

RANDOM FUN
More than 25 000 fun ideas posted over the years, including but not limited to: free printable goodies, party ideas for old and young, fun games, amazing arts and crafts, funny stuff, free templates and so much more - LOOK HERE! + follow us!

Want to know what we create next? Sign up for our monthly newsletter!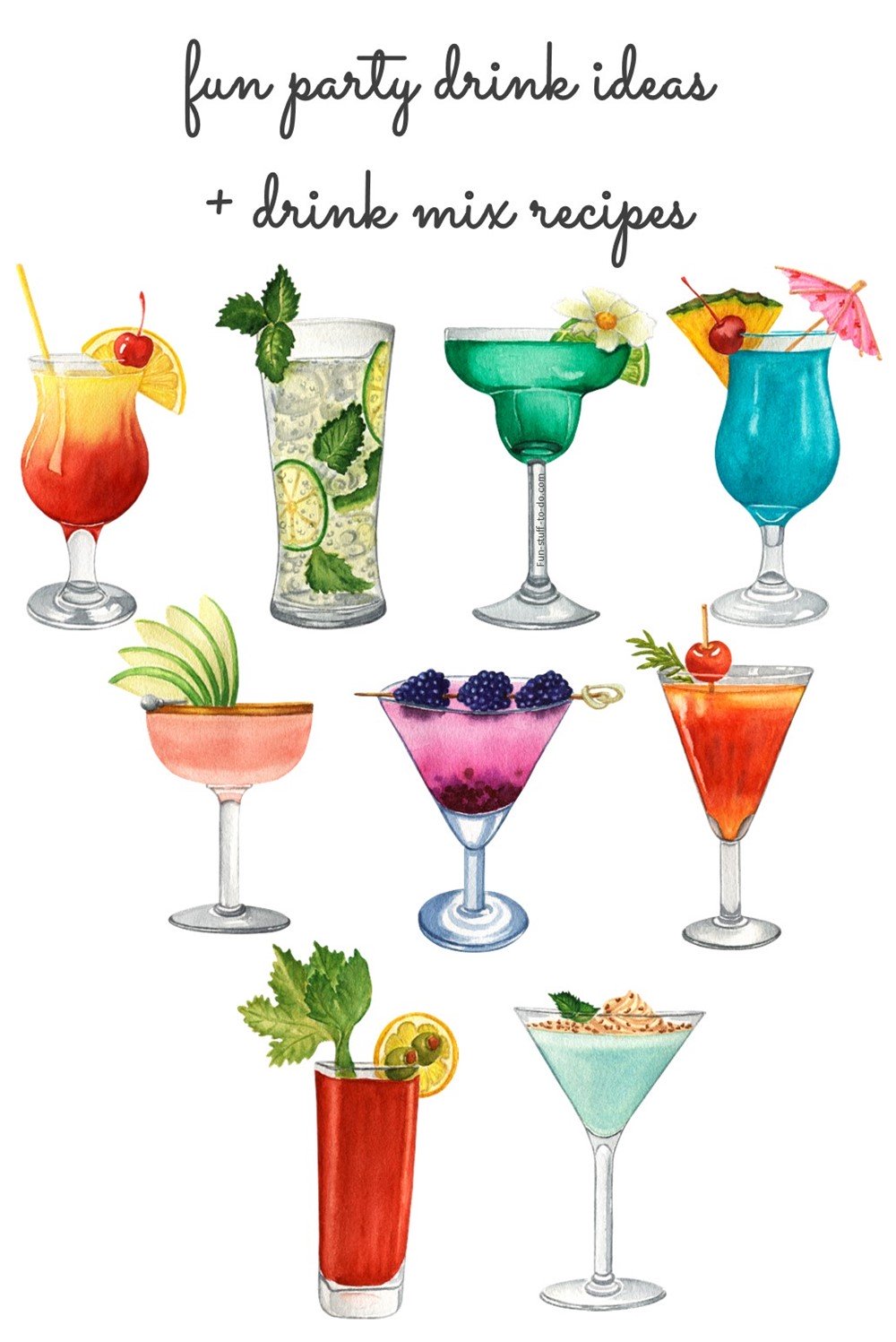 Image Credits: If you love the images used in this post, you can get them here!

If you would like to download these recipes for your recipe book: