PICNIC IDEAS
Fun picnic ideas that will have everyone rosy-cheeked out in the fresh open air in a flash! Things becoming a little crowded, impersonal or boring at home? Find the best ways to get them all to play fun games, to interact effortlessly and away from all those impersonal gadgets that cluster our high-tech lives! Breathe some fun-loving nature-nurtured life into your fellow couch-obsessed inhabitants…
Here you'll find picnic ideas for summer, winter, fall and spring! Fun outdoor picnic games and other fun stuff to do that will guarantee unforgettable days out in beautiful mother-nature!

Breath-in some fresh air, smell the wild flowers, become part of picturesque landscapes, listen to all the amazing sounds that only nature can produce! Run after a butterfly, imitate a wild bird, relax your feet in a cool crisp pebble stream…

Grab your favorite picnic blanket and come picnic with us!

OUTDOOR PICNIC IDEAS
Let's start with the easiest…
Picnic's that won't require a lot of encouragement…
Spring and Summer Picnics!


SPRING MAGIC PICNICS

Spring must be the most refreshing time of the year for a picnic! The weather is ideal, not too hot and there is nothing that awakens the senses like the fresh smell of spring blossoms, dewdrops, new grass shoots, a mixture of chirping birds, sunshine, cool breezes, tall trees and long and winding little roads into green pastures WITH GREAT FOOD of course! It is the time of year that you certainly don't need a lot of encouragement to whip up a cool picnic lunch, refreshing drinks and rush off to go wander about in the crispy clean fresh air. Spring is a great time for a picnic at the beach, long walks along the shore, finding a secret little hide-out between the rocks where you can enjoy lunch and fiddle around in the little rock ponds. If you are not lucky enough to be by the seaside, there are loads of other places like botanical gardens, bird parks, animal farms, short hiking trails and waterfalls that will provide a superb setting for the ideal spring picnic.

My favorite 'picnic gear weaknesses' usually surface in spring when the colors are bright, fruity and a delight for the eye. No one can tell me it's not a great time of the year to give an overworked picnic basket a spring clean and a face lift! Update the glasses, plates, serviettes and find a few great little gadgets and picnic utensils to 'help' make opening that basket more fun.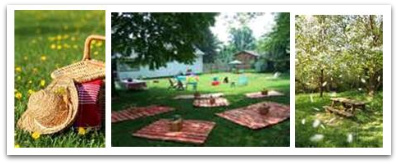 SUMMER HOLIDAY PICNICS

This is the time of year when your own garden is probably the most beautiful setting and just the way YOU like it! There isn't a more perfect time of the year to scatter picnic blankets, fun games and fun activities across your own lawn for a summer holiday picnic! Think about it – family, friends and all those great outdoor games that are usually a schlep to carry around; all in your own picture perfect setting without hassle! The food can be super easy and ready in an instant when you prepare a selection of summer salads and a fish grill over the coals! You can go all fashionable with a great Salmon recipe in tinfoil or simply get the catch-of-the-day from your local fish market. Dessert is never easier (or more in demand!) than with a selection of ice-creams, cones and delicious toppings! Are you adventurous, make your own ice-cream, you'll be amazed how super easy it is! Want to be all dainty and serve cheese, biscuits and wine, why not? You don't even need chairs… these are the picnic blanket guys to visit!
Fall and Winter Picnic | Picnic Activities | Indoor Picnic Ideas | Picnic Games | Picnic Resources | HOME from Picnic Ideas |

SOCIAL FUN

FUN PRODUCTS

Our recommendation lists makes it easier to find the perfect products to have some retail therapy and fun. There are more than 30 categories. Click on any image below to view.