Make A Tipi Tent
* Wigwam, Teepee or Tepee *
Build your own American Indian tipi tent to camp or play in! We show you how, plus it is loads of fun!

This type of tent is a portable, cone shaped tent that the Native American's live in. Tipi, Tepee and Teepee are all accepted ways of spelling. A tipi is often incorrectly called a Wigwam. Some people refer to all Native American dwellings as wigwams, probably because the word rolls of the tongue so nicely, but a wigwam is completely different (see the photo below).

There are a great variety of other American Indian homes, all different in shape and size, used for different purposes, seasons, regions and weather conditions - with different names!
This tipi tent for children is really simple, easy and fun to make! You may need an adult to help with the construction, not because it is difficult, only because adults are taller!
Form your own tribe, create your own den or shelter and join in the adventure of living in a tipi like a real American Indian!

Get your horse, feathered headdress and tools, let's go build a teepee, wowowowowowo...


HOW TO BUILD A TIPI.
View the illustrations below!

The most important things you will need:

Bamboo Sticks
String
An Old Bed Sheet (Flat sheet)
Scissors
Tape measure or ruler

Other things you might want to add:

Paint & paint brush
A weight or brick
Additional floor sheet
Elastics


INSTRUCTIONS

Tie 6 long bamboo sticks securely together with elastics or string, about 30-50 cm from the top.
Spread the bamboo sticks on ground level to form an apex.
Tie 5 shorter bamboo sticks in a horizontal position around the mid-section of the apex, to secure the structure. Leaving one space open for the entrance. Use elastics to hold them in place, before

securing them with string. Only cut these to size once the apex is standing, cut them a little longer so that they cross over the main structure sticks, leaving enough space to tie them onto the main structure.
Tie the sheet securely around the top of the structure, making sure the sides of the sheet join over the opening for the entrance.
Wrap the sheet around the entire structure.
Secure the sheet onto the structure with string at the bottom and in the mid-section by cutting two small holes into the sheet at each pole, threading string through and tying the sheet onto the pole.
Do the same near the edges of the sheet at the entrance to enable you to open and close your tipi tent.
If you are in a windy area - secure the tipi tent with a weight (a brick and string will do) tied on the inside in the center at the top and placing the brick on the ground. If you have more than one brick, you can tie bricks with string to the bottom of the main structure poles on the outside if you don't want anything hanging on the inside in the centre.
You can place a floor sheet on the inside, if you are not on a nice thick grass patch.
Paint your tipi tent with some motives in bright colors.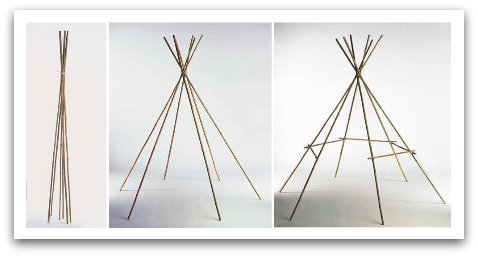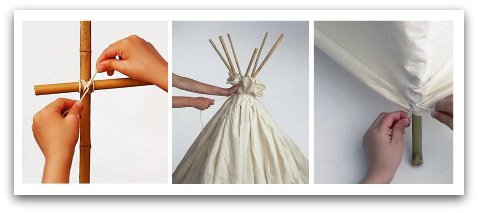 Tipi Tips:
It is easier to paint your tipi BEFORE you tie the sheet to the main structure. Lay the sheet out on the ground, paint and let it dry while you build the frame for your tipi tent! You can use fabric paint or acrylic paint (add a little water and mix well, to make it thinner). Another simple alternative is to use thinned down black drawing ink - a lot of 'Real life tipis are painted with black motives!
Want to add some real American Indian Style to your tipi? Hand sew the top part of your entrance closed with a leather string and add some long grass shoots and long feathers to the top of your tipi!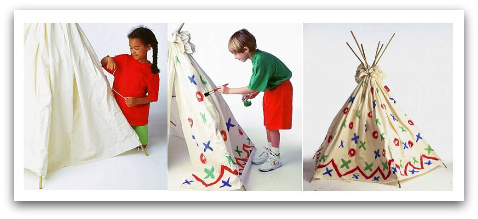 ---
TIPI COLORING PAGE

A Tipi Coloring Page! Use this coloring page to plan the painting patterns of your tipi or simply color it in for fun once you are living in a tipi!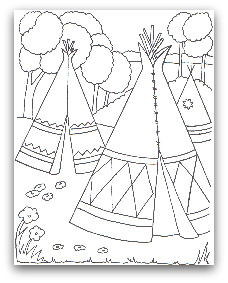 View full version or Print the Coloring Page


---
TOO MUCH WORK?
You can buy a Tipi Tent but it is expensive!

---
AMERICAN INDIAN QUOTES & PROVERBS

When all the trees have been cut down, all the animals hunted, all waters are polluted, when all the air is unsafe to breath - only then will you discover you cannot eat money. ~ Cree Prophecy
Certain things catch your eye, pursue only those that captures your heart. ~ Ancient Indian Saying
Treat the earth well, it was not given to us by our parents, it was loaned to you by your children. We do not inherit the earth from Ancestors but borrow it from our children. ~ Ancient Indian Proverb
How smooth is the language of the whites, they can make right look like wrong, and wrong look like right. ~ Black Hawk, Sauk
Give thanks for unknown blessings already on their way. ~ Native American Saying
When white man discovered America, Indians were running it. No taxes, no debt, woman did all the work. White man thought he could improve on a system like this. ~ Old Cherokee Saying
Lose your temper and you lose a friend; lie and you lose yourself. ~ Hopi
When we show respect for other living things, they respond with respect for us. ~ Arapaho Proverb
---
It is great fun to have an American Indian Party with Tipi Tents, Head dresses, Bon Fires, Music & Dancing and Food!
Dress Like An American Indian - Boy

Dress Like An American Indian - Girl

American Indian Gear & Paraphernalia
The flutes, the flutes, oh the flutes!
Great American Indian Music & The Best Reading
American Indians, misunderstood or simply lied about? This fabulous collection of books and music reveals the truth.
---
NATIVE LANGUAGES.org - An interesting place to learn more about the different types of Native American Homes: Wigwams, Longhouses, Tipis, Lodges, Adobe houses and more.

REAL LIFE-SIZE PLAINS TEPEE PATTERNS - Find real life-size patterns, construction tips and ideas to build a Plains Indian Tepee.

This picture shows the difference between a Tipi and a Wigwam.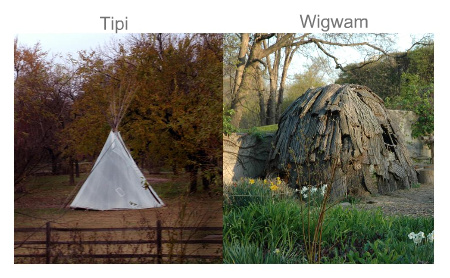 You may also like: Camping Games

Go to: HOMEPAGE from Tipi Tent & Wigwam