Original Milk Carton Box Template
Original Milk Carton Box Template
by Fun Stuff To Do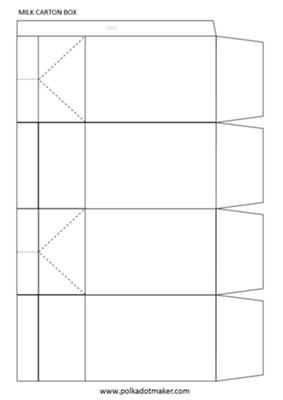 Milk Carton Box Template
When you have the TIME and pretty paper, few templates will beat the beauty and decorating possibilities of the original milk carton box template.

I make it sound harder than it is, it's actually very easy as long as you score the top sides of the template inwards.

A few people (like myself ;-) find folding this template for the first time quite a daunting task. Therefore I have included an example of an open folded sheet of the template in the download. Do it once and you will find it's no big deal.

If you still feel it's too much work or are pushed for time, you can try the "new milk carton template" also available in our free template section. A very easy template without the top side folds.

To print the original milk carton box template:

DOWNLOAD THE FULL SIZE TEMPLATE HERE

You will need a pdf viewer like Adobe Reader to view and print the files. Get the latest FREE DOWNLOAD of Adobe Reader here.

If you use another viewer the page may not print in full A4 size. When using Adobe to view and print, select in page properties: "portrait" and under page scaling: "fit to printer margins".






SOCIAL FUN

FUN PRODUCTS

Our recommendation lists makes it easier to find the perfect products to have some retail therapy and fun. There are more than 30 categories. Click on any image below to view.

RANDOM FUN
More than 25 000 fun ideas posted over the years, including but not limited to: free printable goodies, party ideas for old and young, fun games, amazing arts and crafts, funny stuff, free templates and so much more - LOOK HERE! + follow us!

Want to know what we create next? Sign up for our monthly newsletter!