Watering Can Party Box
by Trish
(SA)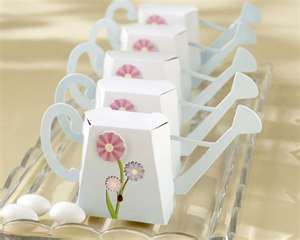 Watering Can Gift Box
Emily recently had her 6th birthday and we had a flower garden theme party for her.

I loved the free candy stripe party decorations from Fun Stuff To Do and I used every single item in that party pack, it sure looked awesome printed on gloss paper. Just so that you know they ARE used and a big thank you for all the free party decorations and your generosity.

You may like the little favor boxes that I made for the party and thought I would share them here. It is a little watering can party box, the template is included if anyone else would like to make them.

I used scrapbooking card stock and glued some pretty flowers on. (Started this project before I found the lovely free party decorations!)
How about including papers in the party decorations, in case we want to make additional items like this?

Hope you like them as much as Emily did!

FUN STUFF TO DO:

Hi Trish, thanks for the template and submission it is great, although, it is not the same template as in the photo, perhaps just an err but I'm sure readers will find the current watering can template useful.

I did consider adding additional papers but the file sizes were getting a bit large. If anyone would like some of the papers of a particular party theme, they are welcome to email me via the contact page, I can forward it via email.

P.S:
If you want to print the watering can template, first click on the thumbnail picture to open the larger picture, then right click on the large picture, save to your computer or choose print.

SOCIAL FUN

FUN PRODUCTS

Our recommendation lists makes it easier to find the perfect products to have some retail therapy and fun. There are more than 30 categories. Click on any image below to view.

RANDOM FUN
More than 25 000 fun ideas posted over the years, including but not limited to: free printable goodies, party ideas for old and young, fun games, amazing arts and crafts, funny stuff, free templates and so much more - LOOK HERE! + follow us!

Want to know what we create next? Sign up for our monthly newsletter!