CANDY PARTY DECORATIONS

Candy party decorations in fun candy color stripes, ideal for any Candy Land, Ice-Cream Parlor and other fun party themes. Free do-it-yourself party decorations ready to download and print on card stock!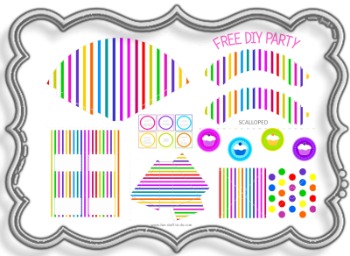 What is in this candy party kit?

A candy striped cake slice box, perfect for slices of cake or bits of candy wrapped in cellophane and placed inside the box. Leave the box as is, or dress it up with ribbons, tags and labels. You can even create a cake slice box CAKE with them by placing 10-12 cake slice boxes in a circle.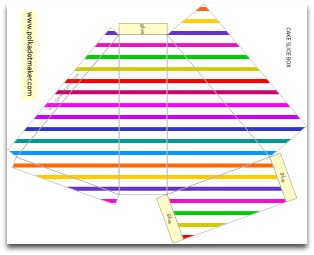 Cute candy colored cake toppers that shouts: "It's FUN time!" Glue to a food pick. You can also cut a few out and scatter them on the birthday table or glue them to water bottles.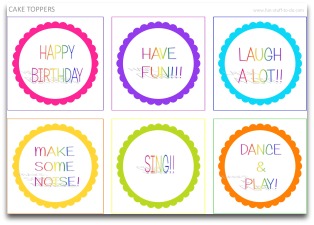 Cupcake sleeves to compliment the cake toppers. Cut out, cut a tiny slit on the one side and insert the tab or simply glue the sides together for a much easier fit.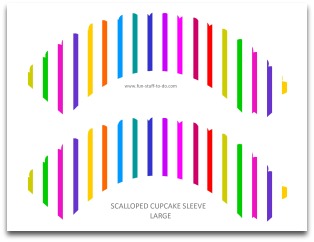 Simple to make party hats! Cut out, make a cone shape, insert tab, make two holes on either side of hat and attach string of elastic to fit around the face. Want to dress them up a little? Tie a knot at the end of a few colored ribbons and thread the ribbons through the top hole, let the ribbons swing freely. View example here. You can also use this template for cute cone shaped favor packets. Fold the cone shape a little tighter, so that it is smaller, glue the side closed, stuff with candy and wrap in cellophane. Tie the ends of the cellophane with a ribbon at the open end of the cone shape.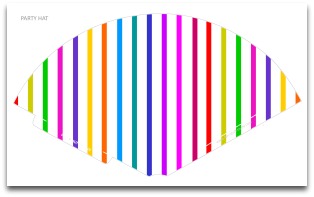 Make these sweet pinwheels as decorations or fun party toys to entertain little guests or use them as party favors. These look great against a wall as a backdrop for a treat table. Full assembly instructions included.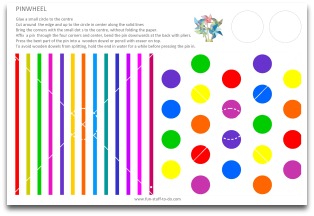 Standing table place cards to mark out your seating plan. These cards can also be used as gift tags or as THANK YOU cards by simply writing "Thank You" in the open space on the front, and a short message inside. They can also be used as food labels, placed in front of your treats on the table.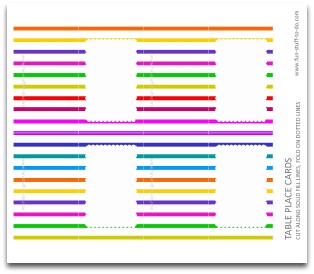 Cute tags with cupcakes on. Scatter on table, attach to gifts, make napkin rings by attaching a plain or colored strip of paper to go around napkins.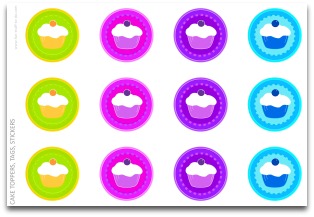 DOWNLOAD THE CANDY PARTY DECORATIONS PACK (1.62 MB)
Add Some Candy To You Party

Candy, Cake & Cupcake Plates, Holders & Stands
More Fun Stuff To Do & Explore For Your Candy Party

FUN PARTY GAMES - A cute flower party game in candy colors!

POLKA DOTS - Mix and match with Candy Polka Dot Printable Paper!

FREE TEMPLATES - Add a sweet invitation and envelope!

FREE TAGS - Need some free fun tags?

FREE LABELS - Free labels to add to anything else you want labelled!

PARTY DRINKS - Delicious Fun Fruity Punch Recipes and more.
CREATE YOUR OWN PARTY DECOR - Add your own designs to these fun transparent templates.

RANDOM FUN
More than 25 000 fun ideas posted over the years, including but not limited to: free printable goodies, party ideas for old and young, fun games, amazing arts and crafts, funny stuff, free templates and so much more - LOOK HERE! + follow us!

Want to know what we create next? Sign up for our monthly newsletter!