Party Tips For Toddler Parties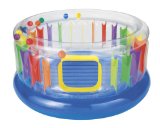 You want this special day to be great fun and to avoid tears. Here are a few party tips for toddler parties that will help you while you are planning your little ones fun day.


USEFUL PARTY TIPS FOR TODDLER PARTIES

Large numbers of guests can easily make little one's feel overwhelmed, limit the guests to small intimate groups. You may even consider having two separate events for friends and family if the group is too large.
Have the party in the morning or at lunchtime, to avoid nap times.
A few baby toys, like play tea sets, pull along toys and shape-sorters are handy on the side.
Older siblings may come along - have quiet activities like play dough, colouring books or building blocks at a special little table for them.
A special room for nappy changes, feedings, naps and quiet time for the other babies and toddlers are helpful. Remember parties can be just as overwhelming and tiring for other tots and babies.
Most moms limit the intake of sugar for babies and toddlers at this early age, therefore a normal meal or finger foods would certainly be more appreciated than loads of sticky sweet foods before the birthday cake.
Babies and toddlers do get tired quickly with all the action going on. Rather than the more usual 2 hour birthday parties, you may want to limit it to 1 ½ hours. This still gives you ample time for free play, a few fun games or activities, as well as the birthday meal.
You don't need party bags for babies, if you want to, you can include a piece of birthday cake in a tiny box or a gingerbread man or even a little biscuit (that you can make yourself) cut into the shape of the child's initial. Most toy party favors are not suitable for babies, therefore a tiny little soft toy with a cute thank you note, colourful baby cup, first building blocks and even bouncy balls are more suitable. Don't put in sticky sweets, balloons, anything that gives off colour or that could be harmful to other babies. Remember: If it can fit through the inside of a toilet roll, it is dangerous and a choking hazard for small children under 3 yrs of age.
Another fun idea is to have little paper gift baskets ready together with a colorful pull-string piñata. They can then collect some of the treats and toys from the pinata to take home. Here is a template for an easy paper candy gift basket and you will find great pinatas for this age group in our PINATA SHOP where we show you how to get your Pinata at the best price.
-~~~~~~~~~-
Here is a simple example of a Party Time Frame Planner:
This will give you an idea about the number of games or activities that you may need, it's good to have game ideas ready, the last thing you want is bored, crying little babies but as we've said before, experience has taught us that this age group prefer free play and these natural little entertainers can easily send all your rigid game plans out the window.
12:00
Guests Arriving

12:15 – 12:45
Mix of lively and quiet games, including the Happy Birthday Serenade

12:45 – 13:00
Free play, nappy changes, washing hands

13:00 – 13:30
Party Tea with finger foods, birthday cake, candles and song/music

13:30
A lively circle game to end.
Free play can continue while parents finish their drinks and get ready to leave.
You may prefer a morning party from 10:00-12:00 for little ones, if you don't want to interfere with their nap times and provide enough time to settle down after all the action. Don't be surprised if your own won't nap, lots of gifts and treats create enormous excitement and it is just natural to want to play with all the new goodies.


It's THAT easy!
-~~~~~~~~~-
OTHER PARTY TIPS FOR TODDLER PARTIES
Gift Tip:
Little ones often receive so many gifts, it's a good idea to put a few away as surprizes and entertainment for later. This will help them to truely enjoy each and every gift without feeling they have to play with everything at once.

Fun and Games:

Fun and games for your toddlers party is high on the list, we have grouped a few fun suggestions and ideas for ages 1 and 2 years old. For 3 - 5 years old view our pre-schooler party games.

Foods you may want to consider instead of sticky sweets:
These are just some examples of foods that are a fun and healthy alternative for sugar loaded treats, which other parents may appreciate.
Raisin boxes or any other type of dried fruit parcels, small cheese pizza squares, bran muffins, bread fingers and bread shapes, cocktail sausages, small sausage rolls and quiches, slices of fresh vegetables and fruit as well as fruit shapes pressed out with cookie cutters (melons and the variety of colours are great for this), vegetable crisps (sweet potato, butternut etc.). You may also find some wonderful ideas on our Healthy Snacks page.

-~~~~~~~~~-
Hope you found some useful party tips for toddler parties!
HAVE FUN PLANNING YOUR TODDLER PARTY!
Toddler Party Games | Fun Games | Home from Party Tips for Toddler Parties