Preschooler Party Games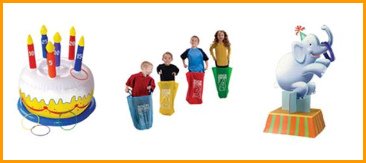 The preschooler party games in this section are for kids aged 3 – 5 years old. These fun little kids' games are divided into individual age appropriate groups of ideas for 3, 4 and 5 year old children and promise loads of fun and entertainment for your small guests.
We have included a selection of musical games to get the party going, lively active games that will keep everyone happy and the energy levels well regulated and controlled as well as some calming quieter games to tone things down when needed.
Simply scroll down to the fun party games of the age group that you are looking for. These are merely age appropriate suggestions, mix and match them as you please.
Don't forget to take a look at our very cool selection of other fun preschooler party games after the age groups and visit Party Tips for Preschooler Parties for a simple party planner, helpful hints and more.

Preschooler Party Games Age 3

Parties for this age group tend to work best with a small group of 6-8 children that your child plays with on a regular basis. While still prone to tears, winning games and game prizes for one should be avoided. A better alternative is to hand out something small for all, just for taking part in play or to simply applaud the winner. Another alternative is a Lucky Dip Box filled with small inexpensive toys after the games. Each child gets a chance to take the lucky dip by picking a packet from the box with their eyes closed. You can wrap and decorate a suitable box according to the theme of the party.
Musical Bumps
The children all dance to the music but when it stops they sit down as fast as they can on the floor. The last one to bump down on the floor each time is out and can join the adults to be a judge spotting the next one out. The last child standing is the winner.
Lively Pat The Balloon
Line the children up and give each one a balloon. When you shout 'GO!' they all have to pat their balloons to the other side of the room, keeping them up in the air. If they drop their balloon or pat someone else's balloon they must go back to the start. The first one to get to the other side of the room is the winner.
Calming Wobbly Sweets
All the children lie on their backs, on the floor. Go around and place a small wrapped sweet on each child's forehead. When every child has a sweet, ask them to do things that might make the sweet fall off. If the sweet falls off, the child is out and can eat the sweet. The last child with the sweet still on his forehead is the winner. Things you can ask them to do while lying down: Raise feet in the air, Shake their arms, Touch their noses, Stick their tongues out, Bending knees, Sing Baa Baa Black Sheep.

Preschooler Party Games Age 4

At this age kids look forward to their parties with great anticipation and excitement. Energy levels reach a high and you may want to add some additional out-of-the-ordinary entertainment to keep this active group happy.
Face Painting
Face painting is very popular at this age. You can hire a professional to paint their faces or allow kids to experiment with face crayons. If you are brave enough or artistic enough, you can attempt some easy characters, flowers and twirls yourself.
Bounce Houses, Jumping Castles and Inflatable Games and Toys
Active as they are, this is a real solution to keep these energetic little people out of harms way and happy. They love to bounce, slide, climb and swing. Whether you choose to rent or invest in an inflatable toy, there are a huge number of great bouncing, jumping, swinging and sliding fun inflatable toys and games available for this age group, the fun will be so worth your money with this no-fuss preschooler party game idea.
Musical Statues
The children all dance to music. Instead of sitting down as in musical bumps, they now have to stand as still as they can when the music stop. Anyone that moves, wobbles or make a sound is out of this fun preschooler party game and helps to spot the others that move when the music stop.
Lively Toy Hunt
You need a number of small toys like bouncy balls, tiny teddy bears, plastic animals, toy rings or bangles. Hide the toys around the sitting room while the children wait outside. Let the children in to start searching once you are done. If they go near a hiding place call out 'Getting warmer, getting warmer, getting very hot!" When they move away from a hiding place, call out 'Getting colder'. Whoever finds the first toy, gets to hide the toys for the next round with an adults help. Make sure you have a little toy for each child and let them pick a little toy after the game.
Calming Mask Parade
You need a paper plate with eye holes cut out and a piece of elastic attached around the back for each child, coloring pens, glitter pens and a selection of stick on items like plastic jewels, sequins, wool, uncooked pasta or feathers. Sit the children at a table or on the floor with a sheet of news paper to work on and give each a mask to decorate. When they are all finished, let them parade their masks around the room.

Preschooler Party Games Age 5
Now in the full swing of the party thing, these little ones are use to parties at this stage and ready for more children and more action at their parties. If you invite a whole class, consider hiring an entertainer or make use of a safe party venue, it makes games and play so much easier.
Musical Cushions
You will need a cushion for each child. Lay down two rows of cushions on the floor. The music starts and the children march around the cushions. When the music stops, each child must sit down on a cushion. Remove one cushion after each round. The child who does not get a cushion is out. Remove cushions until there is one child left – the winner. This alternative is a safer preschooler party game than the conventional game played with chairs.
Lively Pass The Balloon
Line all the children up in two rows. Make sure the children are well spaced apart. Give the two children at the start of each row a long (sausage shaped) balloon to hold between their knees for this super fun preschooler party game. On the word 'GO!' they have to waddle up to the next person in their line and pass the balloon to them, not using any hands! That person then turns around and waddles over to the next child with the balloon between their knees. If anyone drops the balloon, the balloon goes back to the start of the line. The last child must waddle back to the starting position. The first team that get the balloon to the starting position without dropping it is the winner.
Relays and Races
Egg relays and sack races are extremely popular with this age group. They enjoy a little competition and there are some great inexpensive items available for this. View these on our Cool Preschooler Games page.
Calming Pin The Tail On The Piggy
Draw a large picture of a pig without a tail on card board or piece of polystyrene and mark the spot where the tail should be with a cross or small circle. Make a spiral tail for each child out of card board with their names on. Stick the picture of the pig up at a height that the children can easily reach. Sit the children down on the floor. Call one child at a time, cover their eyes gently with a soft blindfold, spin them around once and position them in front of the picture blindfolded. Ask him to stick the tail on the picture where it should go. Remove the blindfold and call the next child up. The winner of this preschooler party game is the child who has stuck the tail closest to the marked tail spot. Use press stick, mirror tape or sticky tape on the back of the tails for this age group and not the pins that are normally used.
Dress-up or Costume Parties
This age group simply loves to dress up as Fairies, Princesses, Super Heroes, Animals and more! Choose your party theme and incorporate a few fun face masks, hats or a few fun costumes, let them make fairy wands or pirate swords, anything relevant to the party theme that will make them feel as if they are an important part of the theme. You can also ask children to come dressed as their favorite characters.
Magicians or Clowns
Magicians are a lovely way to entertain this age group. They are simply awestruck by disappearing and re-appearing things. It is also a fun way to calm children down after active play just before it is time for the birthday cake. Clowns provide loads of laughs with all their crazy fun stuff and tricks.
Party Tips for Preschooler Parties | Parachute Games | Trampoline Games | Fun Games | Home from Preschooler Party Games
SOCIAL FUN

FUN PRODUCTS

Our recommendation lists makes it easier to find the perfect products to have some retail therapy and fun. There are more than 30 categories. Click on any image below to view.

RANDOM FUN
More than 25 000 fun ideas posted over the years, including but not limited to: free printable goodies, party ideas for old and young, fun games, amazing arts and crafts, funny stuff, free templates and so much more - LOOK HERE! + follow us!

Want to know what we create next? Sign up for our monthly newsletter!