COOL PRESCHOOLER GAMES FOR PARTIES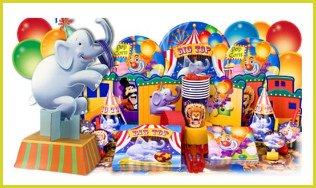 Cool preschooler games for your small child's party and lots of other fun-stuff-do to entertain groups of small kids. In this section you will find an array of suggestions, activities, entertainment ideas and more party games for your special little guests.
Lively Active Games

Here are some action-filled preschooler party games if you prefer to keep them entertained with more lively active games. Ring toss, trampoline games, sack race, the tree frog game, tenpin bowling, egg relays, the can toss game and parachute games are all huge hits with little people. See anything you like in the pictures below? Just click here!


PRESCHOOLER GAMES FOR BOYS
There are many blindfold and pin games such as pin the donkey's tail, the cowboy game, the pirate party game and another favorite is the Pirate Party Treasure Hunt Game and don't forget the punch balloons! Click here to go to these games and to find more games like this.
 PRESCHOOLER GAMES FOR GIRLS
The girls will love the Ladybug, Princess, Cat, Hello Kitty and many other blindfold and pin games like these. Click here to go to these games and many others like this.

PARTY FUN FOR ALL
Don't forget the PINATAS
Everyone loves it when it starts to rain toys and candy! These fabulous piñatas will have everyone jumping with joy. The ultimate cool preschooler game for loads of fun and laughter. Click here to find one that will fit in with your party theme and tick another fun party game off your list. While traditional piñatas are broken with a stick you may find draw or pull string piñatas more suitable for this age group.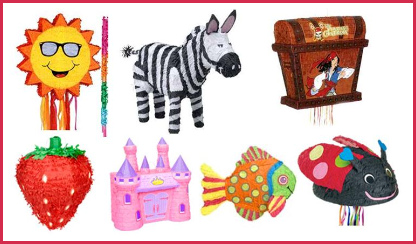 PARTY FAVORS FOR PRESCHOOLERS

Need party favors, small party games or fillers for your piñata? Choose from the amazing collection below and click here for favors
.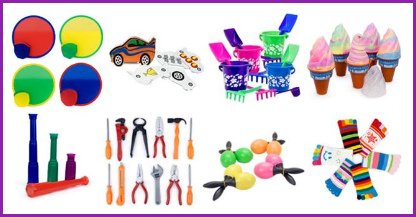 KEEPING PRESCHOOLERS BUSY

Let them make something easy and awesome!
Sun Catchers, Hand prints, Puzzles, Fun Bracelets, Candy Sand Figures, Shrink Art, Party Hats, Masks, Crowns and Tiaras are just some of the easy things to make that the little ones will love! Get some of these great ideas featured below by clicking here for fun crafts.
PARTY BAGS
Preschooler Party Games - Party Bags
3 - 5 year old children will be delighted to receive a party bag to take home, filled with small cool party games. A few little eats-and-treats like a cup cake, lollipop, few loose sweets, a cute small toy or game, bubbles or a balloon inside are just perfect. Click for a variety of boxes & bags
.

SOCIAL FUN

FUN PRODUCTS

Our recommendation lists makes it easier to find the perfect products to have some retail therapy and fun. There are more than 30 categories. Click on any image below to view.

RANDOM FUN
More than 25 000 fun ideas posted over the years, including but not limited to: free printable goodies, party ideas for old and young, fun games, amazing arts and crafts, funny stuff, free templates and so much more - LOOK HERE! + follow us!

Want to know what we create next? Sign up for our monthly newsletter!

Preschooler Party Games | Preschooler Party Tips & Ideas |
Kid's Party Games | Toddler Party Games | Parachute Games | Trampoline Games | Fun Games |
Home from Cool Preschooler Games