Healthy Snacks for Kids
On The Move
Food Shapes taste so much better! Who said: "Don't play with food?"
Well ... HERE WE DO but we make and eat our healthy snacks too!

The rule: Eat what you build!

Perfect after-school, road trip, Saturday lunch, holiday or sports field snacks for kids that are both yummy and nutritious.
Free healthy snack list to download below.


Food Shapes


Food shapes are simple to create:

Use cookie cutters to press out shapes from
cheese 

sliced cold meats

bread
Cut veggies in strips and slices to decorate.

Use the off-cuts from cheese and cold meats mixed with cream cheese and whip up a savory dip - too thick, add a little milk.

Add loads of freshly sliced fruit, seeds and nuts, oat bars, cheese straws, whole wheat pretzels and walaa....
You have healthy snacks that your kids will love to create fun pictures with AND eat at home!


Snacking On The Road


On the road?

It's great to stop on the side of the road to snack under a tree but what if you don't want to stop and the kids get hungry in the car?

A quick lining of plastic wrap over a small tray will provide space to build creative healthy snacks on-the-go that won't slide around and (plus point) catch all the crumbs up - all ready to roll up and dispose of in an instant!
Bite-sized healthy snacks packed up in little airtight containers are just right when you're peckish - baby carrots, peas in the pod, cherry tomatoes, nuts and dried as well as fresh fruits are all quick and simple to pack.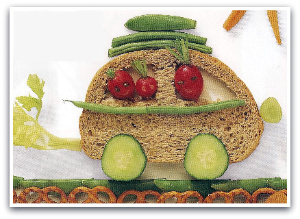 List Of Fun Road Trip Foods To Pack

Homemade is always best:
Mini Hamburgers
Hot Dogs
Small Quiches
Dips & Pâtés
Boiled eggs
Spring Rolls
Cocktail Meatballs
Sausages

Mini Pies
Beef Jerky or Smoked Meats

Mini whole-wheat bagels with cream cheese & salmon slices or cream cheese & salami or goats cheese & roasted red onions.

Sandwiches with old time favorites like ham and cheese or try something new: Thin pear or fig slices & Camembert cheese on rye bread.
Mini foods encourage kids to eat; large big portions often overwhelm them. Allowing kids to build, select and try their own fun creations will encourage them to eat.

Freeze fruit juices and water in bottles for a refreshing drink or an  ice-pop to cool down! It also helps to keep perishables in the cooler bag cold and fresh.


More Healthy Snacks For
On-the-go Nibblers + The Fresh Factor


Other healthy snacks to nibble on:

Whole-wheat Pretzels
Vegetable Crisps (Beetroot or Butternut)
Baked flavored rice cakes
Oatmeal cookies and rice crackers
Snack-size dried fruit (such as raisins, fruit sticks, mango slices)
Hummus
Frozen grapes and other berries when it's hot weather
Nuts and trail mixes
POP CORN!! and off course more popcorn

Handy Items
Two cooler bags, one for refrigerated and another for non-refrigerated items.

A few plastic shopping bags to use for garbage keeps the car tidy.

Wet wipes and/or napkins
A few plastic utensils and a roll of kitchen towels
Wet wipes and/or napkins
A few plastic utensils

Small containers or sachets of salt, pepper, relish and mustard will spice up any meal. (Collect them from take-out meals and keep them in a small container for road trips!)
Tips to keep food fresh and everyone healthy

You don't want to get sick from food on a road trip, yet thousands do each year. A few basic rules and avoiding hazardous food can help keep everyone healthy and free from food poisoning.

Bacteria, yeasts and molds are the three micro-organisms that make us sick - they are all around us, we can not avoid them completely but we can control their growth on our food. Dry foods are safe, moist foods in particular meats and diary products carry bacteria.

Sanitize your cooler box between trips with water and household bleach.
Keep cold foods below 40 degrees Fahrenheit / 4 degrees Celsius or colder. A simple cheap thermometer in the cooler bag will give you peace of mind.
Keep dirty hands out of the cooler box - wash or wipe hands and surrounding areas of the cooler with disinfectant wipes.
Leaving food out on a picnic table for an hour can multiply bacterial growth instantly - placing it back into the cold cooler will cause bacteria to become inactive.
Foods such as meats and egg based dressings that have been in a cooler above 40 degrees should be discarded.
Raw sliced or chopped onions attract bacteria, roast onions beforehand or cut fresh onions for use - discarding left over onions.
Cheese in the original air and moisture tight packaging will keep a long time, even at temperatures above 40 degrees.
Do not keep fish, poultry or ground meat in a cooler for longer than a day.
Need something to pack all your healthy snacks in?

Cooler Boxes, Picnic Bags & Other Handy Gadgets

A Healthy Easy On-The-Go Dessert Treat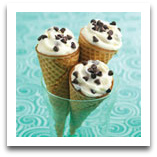 Holy Moly Cannoli Cones - From HUNGRY GIRL 1-2-3

This might actually be the cutest food item in that entire book. But let's put adorableness aside for a moment... the taste.. AWESOME! Try serving these at parties and your events will immediately become 37 percent more enjoyable or tuck this mixture safely away in the bottom of your cooler box for an awesome treat at a viewpoint on a road trip.
Ingredients
(Makes 6 Servings)

1 cup plus 2 tablespoons fat-free ricotta cheese
2/3 cup Cool Whip Sugar Free, thawed
2½ tablespoons Splenda No Calorie Sweetener (granulated)
1 tablespoon sugar-free fat-free vanilla instant pudding mix
1 tablespoon powdered sugar
2 tablespoons mini semi-sweet chocolate chips, divided
6 sugar cones (like the kind by Keebler)

Directions
Place all ingredients except chocolate chips and sugar cones in a medium bowl. Using a handheld electric mixer set to high speed, mix until fully combined and fluffy. Fold in half of the chocolate chips.
Transfer mixture to a large plastic bag, squeezing it down toward one bottom corner of the bag. Snip that corner off with scissors, so that you have a makeshift piping bag.

Gently squeeze the ricotta mixture into the cones, evenly distributing it among them. Sprinkle the remaining chocolate chips evenly on top of the filling in each cone.
GET THE BOOK:
Hungry Girl 1-2-3: The Easiest, Most Delicious, Guilt-Free Recipes on the Planet
Freebie!
Download this on-the-go snack list to make life a bit easier when you have to come up with ideas in an instant, stock the pantry or before school/work.
This free download includes produce, whole grains, nuts and proteins/dairy, individually listed.
PB stands for Peanut Butter :)

MORE FUN:


Back to HOME PAGE from Healthy Snacks


SOCIAL FUN

FUN PRODUCTS

Our recommendation lists makes it easier to find the perfect products to have some retail therapy and fun. There are more than 30 categories. Click on any image below to view.

RANDOM FUN
More than 25 000 fun ideas posted over the years, including but not limited to: free printable goodies, party ideas for old and young, fun games, amazing arts and crafts, funny stuff, free templates and so much more - LOOK HERE! + follow us!

Want to know what we create next? Sign up for our monthly newsletter!