Road Trip Activities
Fun things to do with Kids
Amuse the kids with the following road trip activities below.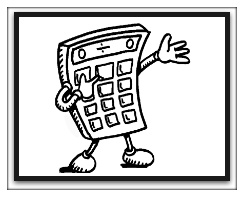 SPEAKING CALCULATOR ROAD TRIP GAMES

Take a calculator along on the trip - not for work, for fun.
Enter figures into the calculator which when turned upside down would show a word.
Make words up from: H=4, E=3, L=7, I=1, O=0, B=8, G=9 or 6, S=5
Punch a decimal point after an 0 if the word ends in O or a decimal point between two words to make the gap.

Tell your kids the calculator wants to speak to them they must punch in: 0.7734 Turn the calculator upside down for 'hELLO'
The calculators name is: 7718 = BILL 7719 = GILL 808 = BOB
The calculators job is: 5508.918 = BIG BOSS
He works for: 710.77345 = SHELL OIL
The building he work in is: 4614 = HIGH
Create your own words.
MAKE ROAD TRIP ACTIVITIES

More great road trip games for kids that will need a little bit of preparation.
A small tray comes in handy for kids on the road - it provides a steady surface to eat, drink and most importantly PLAY on.

The Tangram
7 Shapes to create any picture. The ancient Chinese puzzle that have been entertaining old and young for centuries.

Travel Bingo
Cut, draw, done - great game.

Activity Book
A little diary or 'collectors item' in the end. So much nicer when you make them yourself!

Geometric Shapes
To cut, colour & fold - Learn the fun way. Geometric shapes to print.

Sticky Travel Box
A lovely travel companion for the little ones.

Fold Away Games - The fun is in shopping for your own game pieces when on the road and eating them after the game! You can use any board game for this but replace the usual game pieces with fruits like cherries, strawberries or little sweeties.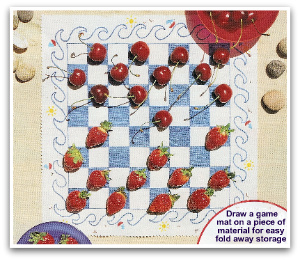 GO TO:
Fun Road Trip Snacks

Back to HOME PAGE from Road Trip Activities