FELT CREATIONS
Make A Sticky Travel Play Tin
One easy little portable travel toy box to make with felt creations, magnets, games, letters, and so much more, the possibilities are endless... Create art scenes with shapes, play fun games, play with alphabet and number magnets and tangram shapes without losing any pieces... and a quick plastic wrap over the lid and you can even EAT on it or build picture sandwiches! Great for travel... slip 'em under the seat. Easy and neat storage at home and away from home.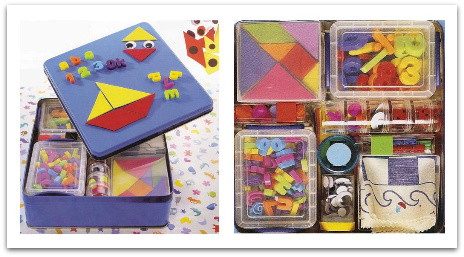 What you need:

A metal cake tin
Felt
Glue
Scissors
Small containers
Additional:

Letter and number magnets
Foam shapes
Wiggle/Shaky eyes
Dice
White board marker (Non-permanent)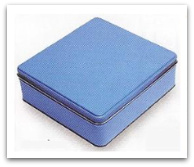 Why use a Tin Container?

Magnets will stick to the lid of the tin. You can make pictures, write messages, play word games and they won't slide around.

Felt sticks to felt. Glue a square piece of felt to the inside of the tin lid, use felt shapes or tangram shapes to create pictures and scenes.

Tin provides a solid surface to write on, use a non-permanent marker to play games like knots & crosses on the outer lid - wipe it clean easily.

The tin lid provides the perfect surface to eat on, wrap a sheet of cling/plastic wrap over the inside of the tin lid - no mess, fold up and discard.

The inside of the lid with a felt insert also provides a great surface to play games with dice or other pieces on.

INSIDE THE TIN LID - FELT CREATIONS
Felt do stick to felt. Glue a square piece of felt in a neutral color, the size of the lid to the inside of the lid. Cut additional shapes in different colors and sizes to create pictures with or play dice on the inside of the lid. You can also draw fold-up game boards on other felt squares, stick it on and play.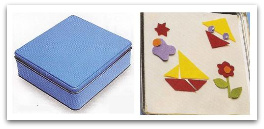 CUT SHAPES FROM FELT
Visit the Geometric Shapes To Print page for some ideas and patterns to cut.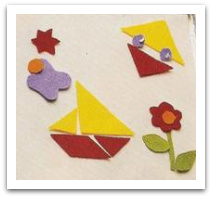 MAKE A TANGRAM
Make some tangram shapes for the tin. In all the colors of the rainbow! You can also cut these shapes from foam sheets and glue magnets to the back; they will stick to the top of the tins lid. Tangrams provide hours of entertainment while creating all types of interesting shapes, like animals, people, boats and much more.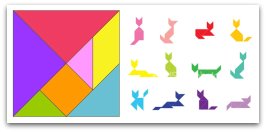 PACK YOUR PLAY TIN
Keep your bits and pieces together in small see through boxes and containers. They will keep your tin neat and tidy. Add animal shapes, magnetic letters, numbers and all other types of interesting creative items you can find.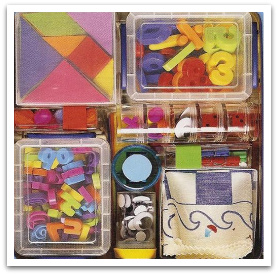 START YOUR PLAY TIN NOW

Need Some Materials? Well priced and Instant delivery.
Go to: Tangrams
Go to: Geometric Shapes To print
Back to: EASY CRAFTS
Back to: HOME PAGE from Felt Creations
SOCIAL FUN

FUN PRODUCTS

Our recommendation lists makes it easier to find the perfect products to have some retail therapy and fun. There are more than 30 categories. Click on any image below to view.

RANDOM FUN
More than 25 000 fun ideas posted over the years, including but not limited to: free printable goodies, party ideas for old and young, fun games, amazing arts and crafts, funny stuff, free templates and so much more - LOOK HERE! + follow us!

Want to know what we create next? Sign up for our monthly newsletter!