Travel Bingo Cards - Free Printable -
Create Your Own Bingo Games
Create a bingo game with our free printable travel bingo themes for every occasion. Make traveling more fun with printable bingo games and don't forget to have a look at our other fun road trip games.

You will find many different themes of free printable game cards with instructions here, created especially for you by Fun Stuff To Do, as well as some others we love!

Plus we've made it easy for you to create your own free games with our clear printable bingo grid, create any theme you wish! Have fun, enjoy your trip and we hope you enjoy playing and creating these games as much as we do!

Bingo Cards
Select one of the ready-made printable cards and print the clear grid below to create your own! Read the instructions on the printable cards and create as many cards as you wish for the number of players that will play with you. Remember: The pictures of each card for each player must be in a different order. Full instructions for this below and on the free printable pages.

How To Use The Printable Travel Bingo Cards
Print the number of clear grid cards below for the number of players.

Choose one of the themes: Nature, Seaside, Traffic, Countryside or Transport and print one each for the number of players. Also print one theme card for the person who will navigate the game and call out the blocks - cut out and set aside.

For the players: Cut the theme cards out and glue to the clear grid, you can do this before hand or each player can make their own. Each clear grid must have the theme pictures in a different order.
The game navigator now takes his/her set, mix them up and call out the cards one by one. These are pictures so the navigator can simply hold the picture up for all to see. The navigator place the cards called out one side to verify the winning line at the end.

Have a prize ready for the first person who manage to get a straight line, up, down or across.

Ready, set, go!

Countryside Bingo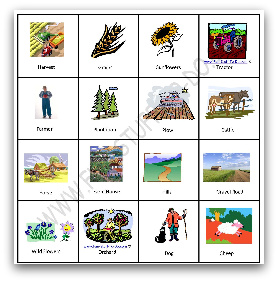 Nature Bingo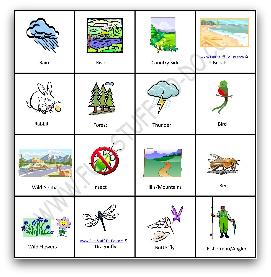 Seaside Bingo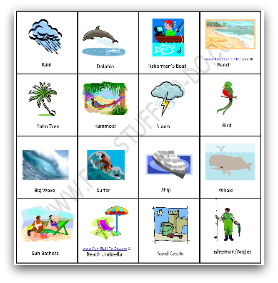 Traffic Bingo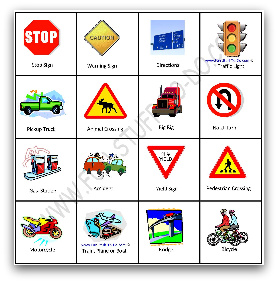 Transport Bingo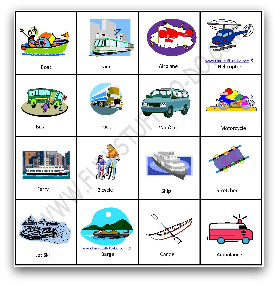 Create Free Bingo Games
Use this printable clear grid to create as many bingo games as you wish!
It is very simple; all you need is 16 different pictures! Once you have your 16 pictures you can copy them with a photo copier for the number of players to create cards that have the same pictures, but in a different order. You simply cut them out and glue them to the clear grid - each card in a different order (your players can do this themselves).
You can also choose the easier route, by simply writing letters, numbers or simple words in each block. Tell each player to start in a different line when starting to fill their blocks, left to right, right to left, across, up or down etc.
Make Your Bingo Play More Fun
To make your games more fun, let players use interesting objects to mark off the items in their blocks. You can use Jelly beans at Easter, Wrapped round chocolates at Thanksgiving, Heart shaped candies on Valentines, M&M's for Birthdays and so forth. Be original, fill a bowl with your favorite treats and players get to eat them once the game is done!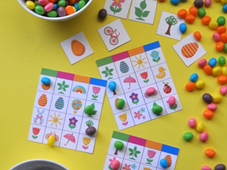 Search For Cheap Bingo Games
- From as little as $4.98
Bingo Coloring Pages
Super for those l-o-n-g trips! Crayola comes to the rescue with travel bingo cards to color in!
Go to: CRAYOLA - or click on the image below and simply print 4 different sets of these little beauties right now!

---
ENJOY YOUR GAMES!
SOCIAL FUN

FUN PRODUCTS

Our recommendation lists makes it easier to find the perfect products to have some retail therapy and fun. There are more than 30 categories. Click on any image below to view.

RANDOM FUN
More than 25 000 fun ideas posted over the years, including but not limited to: free printable goodies, party ideas for old and young, fun games, amazing arts and crafts, funny stuff, free templates and so much more - LOOK HERE! + follow us!

Want to know what we create next? Sign up for our monthly newsletter!

RETURN TO:  FUN GAMES
RETURN TO:  PARTY GAMES
RETURN TO:  HOME PAGE