Easy Crafts For Kids - Project 7
How to Make a Scrapbook
So how 'DO' you make a scrapbook?
EASY CRAFTS FOR KIDS want to show you!
The easiest way to learn how to make an amazing 'MEMORY BANK' is to make one about your favorite HOLIDAY!
WHY? Because we tend to collect a lot of little things and memorabilia during our favorite holiday! That is exactly what you need when you make a scrapbook!
After that you will be able to make a scrapbook about every trip you ever go on - knowing what to collect and what to do with it once you return!
A scrapbook will provide you with loads of great memories about all your fun times years from now! Do make them!

In this project we show you how easy it is to make a great scrapbook that will capture all your special holiday moments!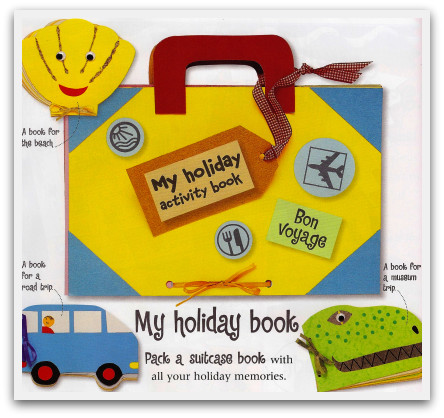 YOU WILL NEED:
Cereal Box or 3 Sheets of thick cardboard, 7-12 Sheets of colored paper or thin cardboard, scissors, glue, paper punch, string or ribbon
OPTIONAL ITEMS:

Decorations for the front of the book or make them yourself.
OTHER IDEAS:

Use this same scrapbooking idea to make other themed scrapbooks about road trips, museum, zoo and other interesting outings! You can also make scrapbooks about Birthdays, Christmases and Family Reunions!

FOLLOW THESE VERY EASY STEPS BELOW TO MAKE YOUR FIRST SCRAPBOOK:
(Can't read the fine print, don't worry the instructions are below)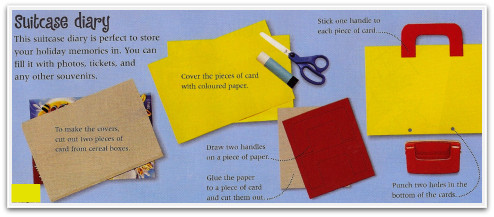 How to Make a Scrapbook
This suitcase scrapbook or diary is perfect to keep all your holiday memories in.

Make the covers from two pieces of cardboard from a cereal box.
Cover the pieces of cardboard with colored paper.
Draw two handles on another piece of colored paper. Glue the paper to a piece of cardboard and cut the handles out.
Stick one handle to each piece of cardboard.
Punch two holes in the bottom of the two cover cardboards. Remember to find the centre before punching.

Next...
Cut pieces of colored paper or thin cardboard to the same size as the cover.
Cut triangles of paper in a different color to stick to the corners of the covers of the book.
Punch holes in the bottom of all the pieces of colored paper that you have cut to size. Remember to do this in the centre of the pages as well.
Slip the paper between the two covers.
Thread string or ribbon through the holes and tie a bow or a knot.
Your suitcase is ready to decorate with labels, stickers and then to PACK with all your great memories!







What goes inside?

Tickets, tags, photos, leaflets, pictures from leaflets, postcards, postage stamps, take-away menu's, roadmaps, rail and buss routes and tickets and brochures and other memorabilia of places that you have visited on your holiday!
Even samples of sand in little plastic bags, seashells and any other little things that you would be able to glue into your scrapbook!
Collect a few things each day as you go on each outing while on your holiday and name your pages accordingly.

Did you enjoy making your First Scrapbook? If you had FUN with Project 7 of Easy Crafts for Kids, we want to know about it! YES and we want to see what you have made! Please let us know if you think this specific craft and the instructions were useful to you!

Contact us at EASY CRAFTS FOR KIDS ... we want to hear from you!







~~ MORE EASY CRAFTS FOR KIDS ~~

Emboss | Make Pretty Paper | Create Craft Toolbox For Kids |
Make Shiny Fish | Cute Pebble Crafts | Easy Picture Frames |
Easy Owl Mask | Potato Prints | Adorable Ladybugs |
Pebble Jewelry | Eraser Prints | Fingerprint Fun |
Fun Fingerpaint Recipes | Fun With Felt Creations |
Objects With Shapes | Fun With Shapes |
Free Craft Templates | Party Decorations



Return to EASY CRAFTS
Return to FUN STUFF TO DO from Easy Crafts for Kids