Easy Crafts for Kids - Project 1
We learn: How To Emboss

At Easy Crafts for Kids we explore a technique called: EMBOSSING
In this project we show you how easily you can make a great embossed work of art with everyday items found in an around the home.
We learn to emboss on paper which makes this project a Paper Craft.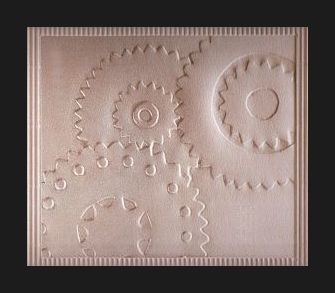 WHAT YOU WILL NEED:
2 x A4 sheets of thin cardboard

One sheet of art paper in silver, gold or a metalic color (available from art shops - buy a few sheets, they are great to have around for all types of paper crafts) alternatively practice on tin foil.

A pair of compasses (or any type of objects to draw different sizes of circles)

Craft knife, paper punch, glue and a teaspoon.

OPTIONAL ITEMS:

A sheet of corrugated or textured paper for a frame.

If you are too young to handle a craft knife, ask someone older to do the inside bits of the template with a craft knife for you. The outer areas can be cut with a pair of scissors. Should you be fortunate enough to have a pair of ZIG-ZAG scissors, these would come in handy!
OTHER IDEAS:

Use this easy crafts for kids technique to make Valentine's, Birthday, Christmas, Mother's or Father's Day cards with hearts, balloons, a chrismas tree or any other simple shapes that you can find.

Use different simple flower shapes to make striking crafts that can hang together in pairs.
FOLLOW THE EASY 9 STEPS BELOW:

| | |
| --- | --- |
| | 1. Use a pair of compasses to draw three circles on a piece of thin cardboard. Make each one a slightly different size. |
| | 2. Draw a zig-zag edge around each circle and a plain circle in the middle of each one. Cut around the zig-zag lines. |
| | 3. In the middle of the largest circle, draw curved shapes. Then, carefully use a craft knife to cut them out. |
| | 4. Use a hole puncher to punch holes in some scraps of cardboard. Open the puncher and glue the punched circles around the edge. |
| | 5. Cut the middle out of one of the other circles and cut a zig-zag line around it. Then, cut a circle out of its middle. |
| | 6. Glue another zig-zag edge circle onto the remaining circle. Cut out a ring of cardboard and glue it in the middle. |
| | 7. Lay all the pieces onto some paper or cardboard. Arrange them in an overlapping pattern, then glue them on. |
| | 8. Tape a piece of art paper over the circles. Use the end of a teaspoon to press and rub around the cardboard shapes. |
| | 9. Continue pressing around the shapes until you have revealed all the shapes. Your piece is ready to frame. |
---
Did you like EMBOSSING? These are EMBOSSING TOOLS, if you like this craft you might want to purchace some the next time you visit your local Arts & Crafts Store.
www.Ebay.com and www.Amazon.com are great places to shop for craft supplies. Not only will you find craft supplies at very competitive prices but you also find the latest products available on the market! There are some amazing Craft Supplies Over Here!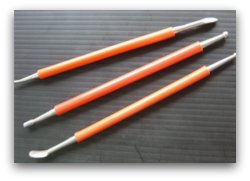 OTHER EASY CRAFTS FOR KIDS
Did you have FUN with Project 1 of Easy crafts for Kids? We value your opinion please let us know if you think this specific craft and the instructions were useful to you at the link below!

Contact us with your Ideas to improve this Easy Crafts for Kids page!


~~ MORE EASY CRAFTS ~~
Easy Owl Mask | Make Pretty Paper | Create Craft Toolbox For Kids |
Make Shiny Fish | Cute Pebble Crafts | Easy Picture Frames |
Kids Scrapbook | Potato Prints | Adorable Ladybugs |
Pebble Jewelry | Eraser Prints | Fingerprint Fun |
Fun Fingerpaint Recipes | Fun With Felt Creations |
Objects With Shapes | Fun With Shapes |
Free Craft Templates | Party Decorations


Return to EASY CRAFTS from Embossing
Return to FUN STUFF TO DO from Easy Crafts for Kids