FINGERPRINT FUN

Quick, easy fingerprint fun in minutes. If you can imagine a picture in the sky formed by the clouds, then you can master finger and thumbprint art. It is one of those amazingly simple fun things to do that will keep the imagination flowing and creativity going without much effort.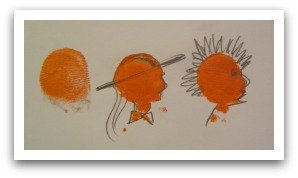 All you need is:
A piece of paper, some paint or an ink pad and a pencil.
The easiest way to start is to drop a few colorful blobs of paint on a separate piece of paper. Flatten the paint out with the thumb and start making random prints on another piece of paper. Stay with the solid colors at first, then mix colors if you like. Acrylic paint works well, will dry fast, and this type of paint will also give great texture and superb color tones when you use more than one color at a time.
Your prints SHOULD NOT be perfect, in fact the worse they look the easier it will be to imagine all types of things they can eventually become! Do not be concerned about this either while you are making the prints.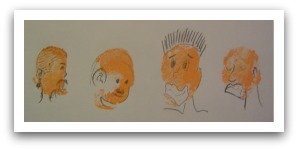 Once done making thumbprints and finger prints, it is time to give your imagination free reign, exactly like you would when you imagine the clouds to be different objects. The only difference is, you will do it with a pencil in hand, as you imagine these objects, allow your hand with the pencil to draw in the outlines of the object you see in your imagination. It is very simple and do not be overly concerned if a thumbprint face or object don't turn out to look to great, simply move on to the next one. You will have some "booboo's" and some great looking thumbprint images.


For the little ones, what could be easier and more fun than a colorful thumbprint or fingerprint caterpillar! Yes you will be tempted to create your own little worm and the face is super easy to draw. Here is our "WONDER WORM" made with different colors and a few different sizes of fingerprints, see, it should not be perfect: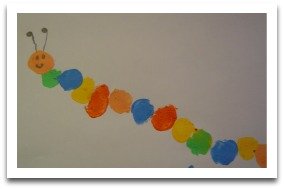 Wondering how to make safe paints for kids? Make your own 100% natural ingredient finger paints at home! Homemade Finger Paint!

Here are a few more thumbprint art ideas:
The Thumbprint Turtle and Frog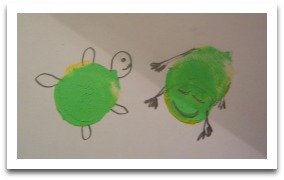 Sweet Colorful Fish
Little bit of blue and a dash of green and you get that real tropical look!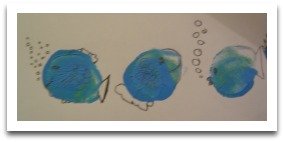 You can also create "real works of art" ;-) or objects with thumbprints, try a few flowers, it is easy and fun!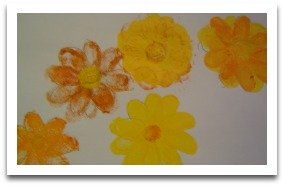 Last but not least, one of my favorites: The Thumbprint MOUSE! The colors came out very original and this thumbprint had the perfect "flaw" for a pointy nose: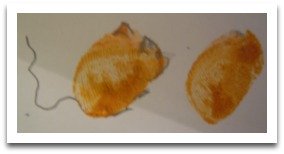 SHOW OFF YOUR CREATIONS!
Did you create a fingerprint or thumbprint masterpiece;-)? Share it!
WHAT OTHER VISITORS HAD TO SHOW!
Click below to see contributions from other visitors to this page...

Pretty Parrots Not rated yet
First, I used green paint and made fingerprints. Then I drew a beak. Then, I drew wings. Then I got a Parrot! Fun Stuff To Do Wrote: Sounds great, …
Go To: Finger Paint
Back To: Easy Crafts
Back To: HOMEPAGE from Fingerprint Fun
SOCIAL FUN

FUN PRODUCTS

Our recommendation lists makes it easier to find the perfect products to have some retail therapy and fun. There are more than 30 categories. Click on any image below to view.