Easy Crafts For Kids - Project 11
Make Pebble Jewellery
This is a GIRLS & MUM'S page with more fun stuff to do from 'Easy Crafts for Kids' and free craft supplies from nature! (No one stopping the boys from making this for us!). As we've said before there is no better place to look for craft supplies than in good old Mother Nature herself! Take a stroll down a pebble beach or to your nearest nursery, you'll be amazed when you take a closer look at those small, tiny pebbles. All the different colors, shapes and sizes are truly beautiful and you'll be even more amazed when you see what you can make with them!

Let's take a sneak peek...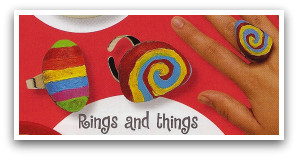 PEBBLE JEWELLERY
Pebble jewellery must be one of the easiest, most fun kid's crafts around - especially for the girls and the moms!
We are laying down our beading hats for a moment or a "moanment" and moving to something equally awesome, only much quicker and easier!
The pebbles in the picture above have interesting painted patterns on - create your own OR leave the pebbles and seashells in there natural form without painting them as shown in the picture below!
WHAT TO LOOK FOR
Colored small flat pebbles make pretty rings while egg shaped pebbles and pointy seashells are ideal for pendants. Claws for pendants can also be attached to larger flat round pebbles if you like bulkier pendants!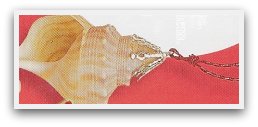 WHAT YOU NEED
Pebbles or Seashells
Strong Glue
Acrylic paint & paintbrush if you choose to paint the pebbles or seashells
Jewellery bases - available from Craft Stores and most Beading Shops (shown in the picture below)
OTHER IDEAS
Have you ever seen how wet pebbles 'glow' - it is as if the colors come forth ten fold and they are shiny! To create this look with your pebble jewellery you can simply paint your pebbles with clear varnish.

Having a 'Girls Night' sleepover - why not make some Pebble Jewellery? The girls will love it! Create before supper - assemble after supper - ready to wear the next day - super mom & little hostess! Make a matching set - ring, pendant, earrings and a brooch if you like.
The picture below show different types of jewellery bases that you may want to look for before you start! Earring bases are also available and the super tiny little pebbles available from nurseries are great for those.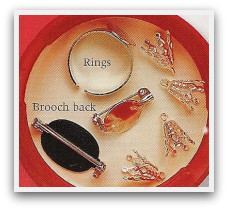 It is great fun to paint pebbles, especially the dull ones! The picture below gives some tips on painting pebbles! The instructions for making pebble jewellery is simple - find, decorate and glue one! How easy is that? We give ideas, you get creative!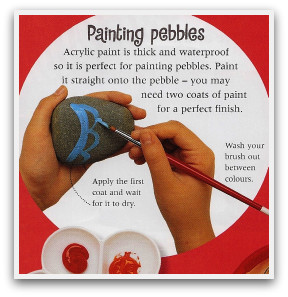 The picture below gives ideas on how to attach a claw to a pebble or a seashell.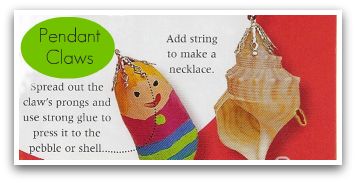 If you enjoyed learning how to make 'Pebble Jewellery' with Easy Crafts for Kids - there are loads more great craft ideas where they come from! Sign up for our free monthly FUN NEWSLETTER to receive more great creations directly via email!


Did you have FUN with Project 11 of 'Easy crafts for Kids'? We value your opinion please let us know if you think this specific craft and the instructions were useful to you at the link below!
Contact us with your Ideas to improve this Easy Crafts page!


~~ MORE EASY CRAFTS FOR KIDS ~~
Emboss | Make Pretty Paper | Create Craft Toolbox For Kids |
Make Shiny Fish | Cute Pebble Crafts | Easy Picture Frames |
Kids Scrapbook | Potato Prints | Adorable Ladybugs |
Easy Owl Mask | Eraser Prints | Fingerprint Fun |
Fun Fingerpaint Recipes | Fun With Felt Creations |
Objects With Shapes | Fun With Shapes |
Free Craft Templates | Party Decorations


Return to EASY CRAFTS
Return to FUN STUFF TO DO from Easy Crafts for Kids