Easy Crafts For Kids - Project 6
Make Picture Frames
It is fun to make picture frames! In Easy Crafts for Kids 6, we show you how to create great looking picture frames for all your beautiful works of art!
It is real quick and easy!

WHAT YOU WILL NEED:
A piece of corrugated cardboard from an old box, 1 sheet of plain cardboard, paint & paintbrush, piece of sandpaper, ruler, craft knife and pencil.
OPTIONAL ITEMS:

None, only colors of choice to match your artwork!
OTHER IDEAS:

Use this technique to make photo frames or to frame arts and crafts!

Make a few picture frames in different sizes and colors to frame a collection of matching pictures.
A FEW SIMPLE STEPS: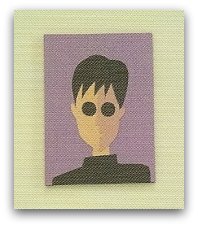 Cut a piece of PLAIN thin cardboard the size you want your framed picture to be as in the picture above. Glue your picture in the middle of it.
Then, cut a piece of the corrugated cardboard from the old box exactly the same size as the previous plain cardboard.
Now, draw a slightly smaller window than the exact size of your picture on the corrugated cardboard. Cut the window out with a craft knife.
Press with your hands on the corrugated cardboard frame a few times (this will allow the lines to show through when you sand the frame).
Your corrugated cardboard frame with window is now ready to be painted - paint with white acrylic paint and let it dry.
Once dry, rub lightly with a piece of fine sandpaper over the corrugated lines of the painted area to let bits of the color of the box come through.
Now, draw a line around the window of the frame with a ruler and a gold felt-tip pen.
Glue the frame onto the plain cardboard square with the picture on.
Put a heavy pile of books on top until the glue has dried.
The collage inside the white picture frame was made with pieces of TEXTURED PAPER

Ideas for Hanging and Standing Picture Frames


For a loop hanger, cut a piece of thin string and use a piece of strong tape to attach it to the back of the frame.
For a metal hanger, unbend the end of a paperclip. Use several pieces of strong tape to attach it to the frame.
To make a stand, cut a triangle from cardboard and fold it in half. Cut a piece of the top of the triangle off. Then, cut the bottom edges at a slight angle. Glue one half of the folded triangle onto the picture.
Did you enjoy Making Frames? There are loads more where these come from! Sign up for our free monthly FUN NEWSLETTER to receive these great creations directly via email!
Did you have FUN with Project 6 of Easy crafts for Kids? We value your opinion please let us know if you think this specific craft and the instructions were useful to you at the link below!
Contact us with your Ideas to improve this Easy Crafts for Kids page!

~~ MORE EASY CRAFTS ~~
Emboss | Make Pretty Paper | Create Craft Toolbox For Kids |
Make Shiny Fish | Cute Pebble Crafts | Easy Owl Mask |
Kids Scrapbook | Potato Prints | Adorable Ladybugs |
Pebble Jewelry | Eraser Prints | Fingerprint Fun |
Fun Fingerpaint Recipes | Fun With Felt Creations |
Objects With Shapes | Fun With Shapes |
Free Craft Templates | Party Decorations


Return to EASY CRAFTS
Return to FUN STUFF TO DO from Easy Crafts for Kids