Easy Crafts For Kids - Project 8
How To Make Potato Stamps &
How To Create Potato Prints
In Easy crafts for Kids 8 we show you step-by-step how you can create great looking prints with stamps made from potatoes. Just 4 very easy steps, that's all it takes. We also showcase a selection of truly impressive potato prints, yet still very simple, for you to try once you have gained some confidence with this craft.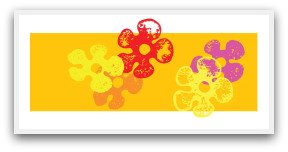 The picture above was created with one very simple flower motif that was turned in different directions and printed in different colors over a complimenting solid color inlay - stunning isn't it? This technique can be used on fabrics as well.

YOU WILL NEED:
Paper or fabric, a few potatoes, metal cookie cutters, craft knife, normal kitchen knife, paper towel, sponge cloth or roller, acrylic or fabric paint.

OPTIONAL ITEMS:

A creative mind, patience and a steady hand for carving.
If you are too young to handle a craft knife or a kitchen knife, ask someone older to cut the patterns into the potato for you.
OTHER IDEAS:

Use this technique to make Valentine's, Birthday, Christmas, Mother's or Father's Day cards and gift wrapping paper!

Once confident with this technique, print a T-shirt or table cloths and napkins with beautiful patterns on!

See: Textured Paper for more 'Easy Crafts for Kids' ideas if you are working on paper.

CREATE POTATO STAMPS IN 4 EASY STEPS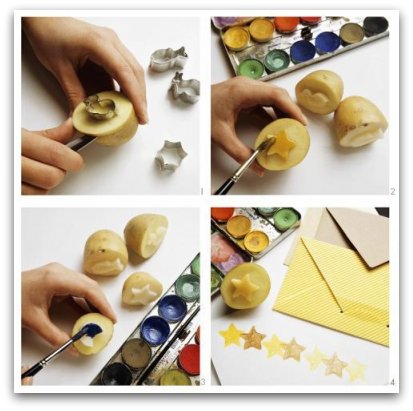 Cut a large potato in half. Press the cookie cutter into the center of the potato. Then, leaving the cookie cutter in the potato, slice a rather thick slice around the pattern of the cookie cutter. Remove the outer layer of potato and then the cookie cutter from the shape.
Let your potato dry or use a paper towel to remove excess moisture from the potato. (A very wet potato may prevent the paint from attaching properly.)

Apply paint to the pattern. This can be done with a paintbrush, small paint roller for more even distribution or by following the technique with a kitchen sponge shown in this tutorial.  You can also spread a thin layer of paint on a glass cutting board or dinner plate and cover your potato pattern with paint by simply pressing onto the paint.

Keep a scrap piece of paper on the side to test your print on and to remove excess paint if applied with a brush. Simply press your potato stamp down on the paper you want to decorate. A few prints and you will know exactly how hard to press to get the effect you desire.
POTATO PRINT TIPS

Use a separate potato stamp for each color, unless you want the colors to mix.
Any type of potato will work, even sweet potato if you want larger prints.
Hold the stamp on the paper or cloth for a few seconds to get the best effect and blot off excess paint on a separate sheet of paper or clean plate before you start (paper plates work great).

Draw some pattern inspiration from these two pages:

POTATO PRINT INSPIRATION AND IDEAS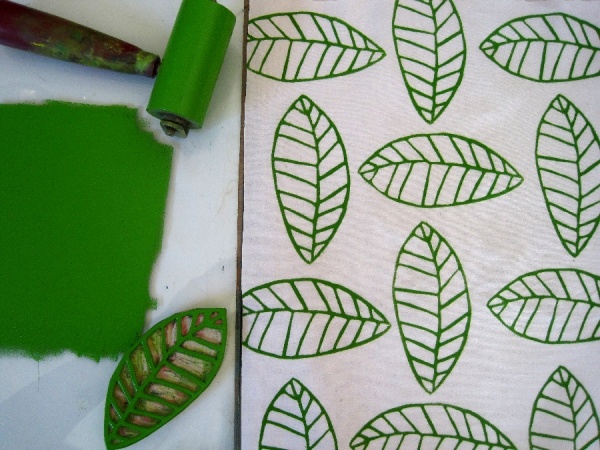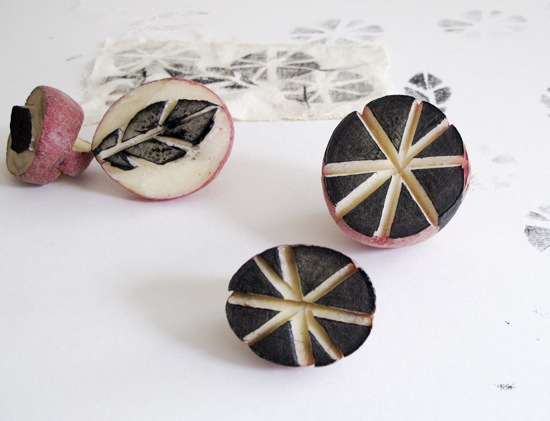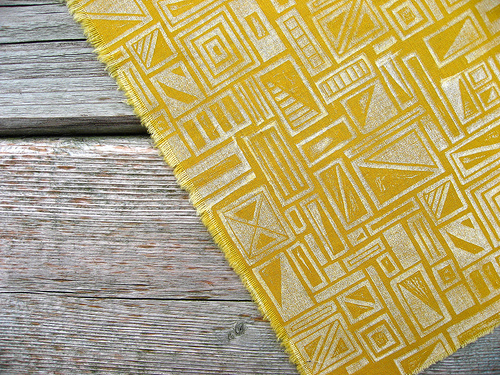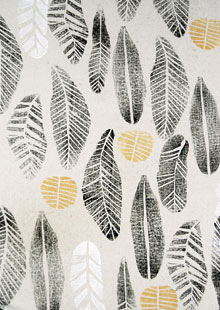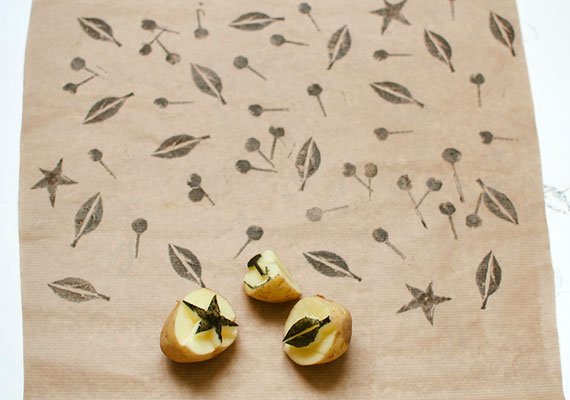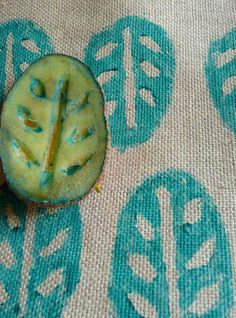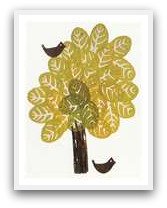 A simple oval shape is used, cut a few thin v-grooves into the oval shape to resemble the texture of a leaf and you are ready to build a stamped tree with different shades of green and yellow leaves. You can paint the trunk of the tree.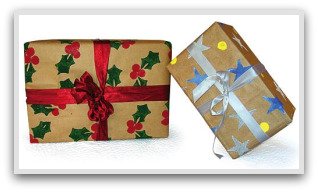 Making gift wrapping paper for Birthdays, Christmas and other special occasions using these very simple shapes is a super fun and easy craft for kids that will turn ordinary paper into beautiful decorated artsy paper. Also see THIS SPECIAL PAGE filled with ideas for printing patterns.
Once you have mastered this technique on paper, why not try fabrics? Start with a cheap plain T-Shirt or simply a piece of plain cloth. The dress in the center was decorated only using a triangle! Plain skirts and pants instantly receive a whole new dimension with a few strategically placed prints.

The samples of material above are from Kudhinda Fabrics. These fabrics are all printed with potatoes. One meter of fabric can have up to 900 potato prints on! Exquisitely beautiful creations. Each day in this factory starts with making fresh potato stamps to ensure the best quality prints. An amazing factory in Zimbabwe (Africa) to visit if you like potato printing!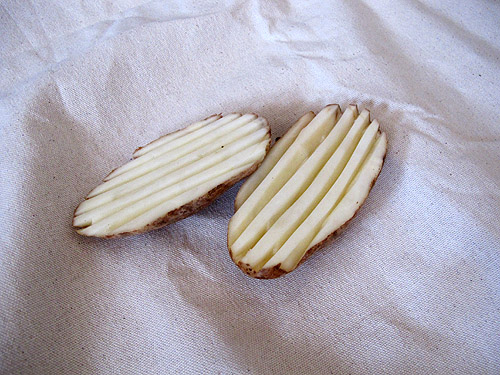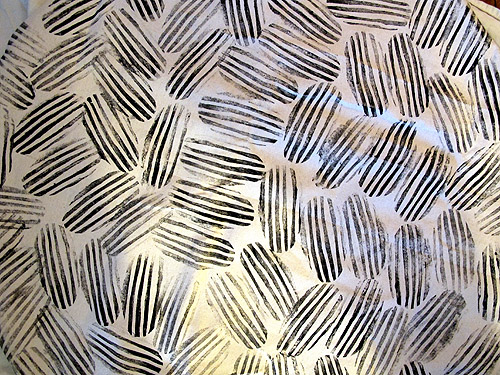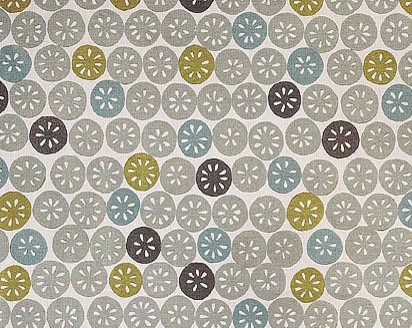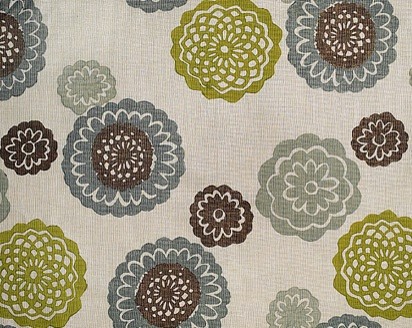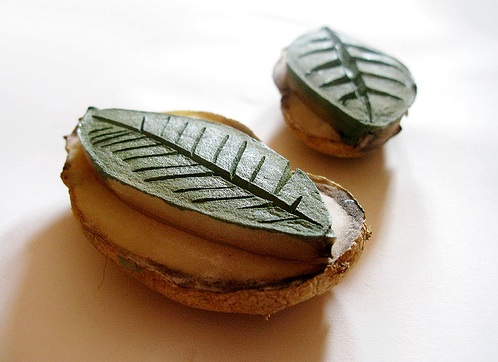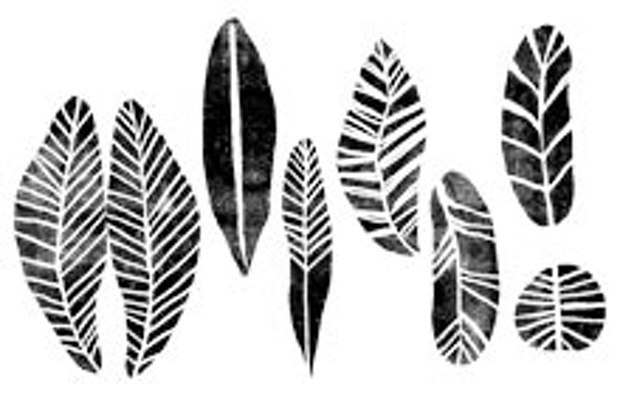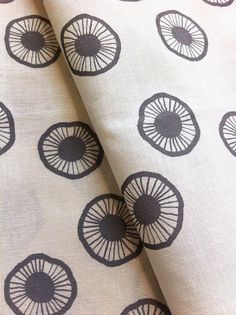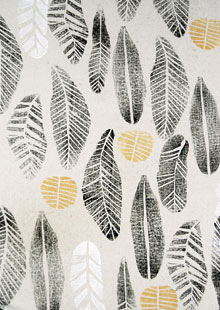 MORE PRINTING AND STAMPING

If you enjoyed 'Potato Prints' you may like Eraser Printing too!
You can easily combine these methods of printing for stunning results.


SOCIAL FUN

FUN PRODUCTS

Our recommendation lists makes it easier to find the perfect products to have some retail therapy and fun. There are more than 30 categories. Click on any image below to view.

 MORE EASY CRAFTS FOR KIDS & THOSE WHO PLAY
Emboss | Make Pretty Paper | Create Craft Toolbox For Kids |
Make Shiny Fish | Cute Pebble Crafts | Easy Picture Frames |
Kids Scrapbook | Easy Owl Mask | Adorable Ladybugs |
Pebble Jewelry | Eraser Prints | Fingerprint Fun |
Fun Finger Paint Recipes | Fun With Felt Creations |
Objects With Shapes | Fun With Shapes |
Free Craft Templates | Party Decorations


Return to: EASY CRAFTS
Return to FUN STUFF TO DO: HOME PAGE