Basic Geometric Shapes, Sequences, Designs and Patterns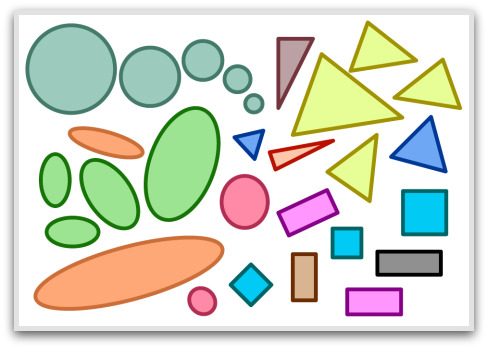 Look at the shapes above, can you see how you can create a flower with long or short leaves, round or oval leaves or perhaps a cat, rabbit or a bird. These very basic shapes not only forms the basis of learning to draw; they are also the solid foundation of the most incredible prints, patterns and sequences used by a vast number of artists and designers in a wide variety of design fields worldwide.
33 Examples of Geometric Patterns & Sequences with Basic Shapes

The graphics above show how these basic shapes can be applied to create amazing geometric sequences and patterns. They can be used to print on paper, clothing, artwork, walls, tiles, floors and just about any other flat surface you can think of. Below are some more examples of geometric figures used to create beautiful geometric sequences: Note the geometric distribution of the shapes to create interesting designs.


Very basic shapes can be positioned to create world class geometric art. The black, white & red example above - far right - is a work of art by Richard Killeen of New Zealand. Below are more great geometric prints and sequences.


In the examples above basic or 2D shapes were used to create flowers. Different color squares and circles of the same size were used to create colourful geometric designs for clothing and upholstery fabrics.

Basic shapes are also used in many modern loose and fixed carpet designs. The very basic shapes are so versatile people the world over use them in designs to create great modern works of art for fashion, decorating our homes and off course we use them in our very own eraser and potato print projects in EASY CRAFTS FOR KIDS! Below are some African prints.


African tradition is rich with these incredible geometric prints. Houses, fabrics, blankets, pots and clothing are often decorated with these striking shapes and patterns.


The iconic Nelson Mandela former freedom fighter and President of South Africa made silk batik shirts designed with these beautiful motifs on a worldwide tendency and fashion statement. He broke the tradition of the very formal suite worn as a Statesman with beautifully designed silk shirts with African prints and motifs on. His shirts are now known throughout the world as "Madiba Shirts" or "Mandela Shirts".

These designs often focus on a single square or circle. The design is then built up with more squares and circles to create these exquisite patterns and sequences which are then used as a main design or simply as a border on plain silk, fabric, walls, pots, cups, dishes and plates.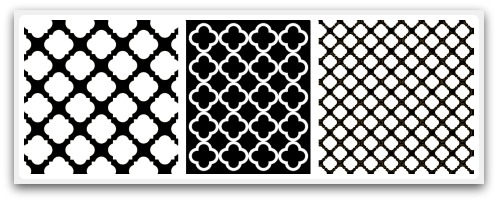 The quatrefoil is a geometric shape made up of interlinking circles as seen in the designs above. This design is often used in architectural and interior designs. A very popular design in both patterns and as a stand alone shape to emphasize a particular object.
Below are the two interlinking shapes that are often used for this purpose: The quatrefoil and the trefoil.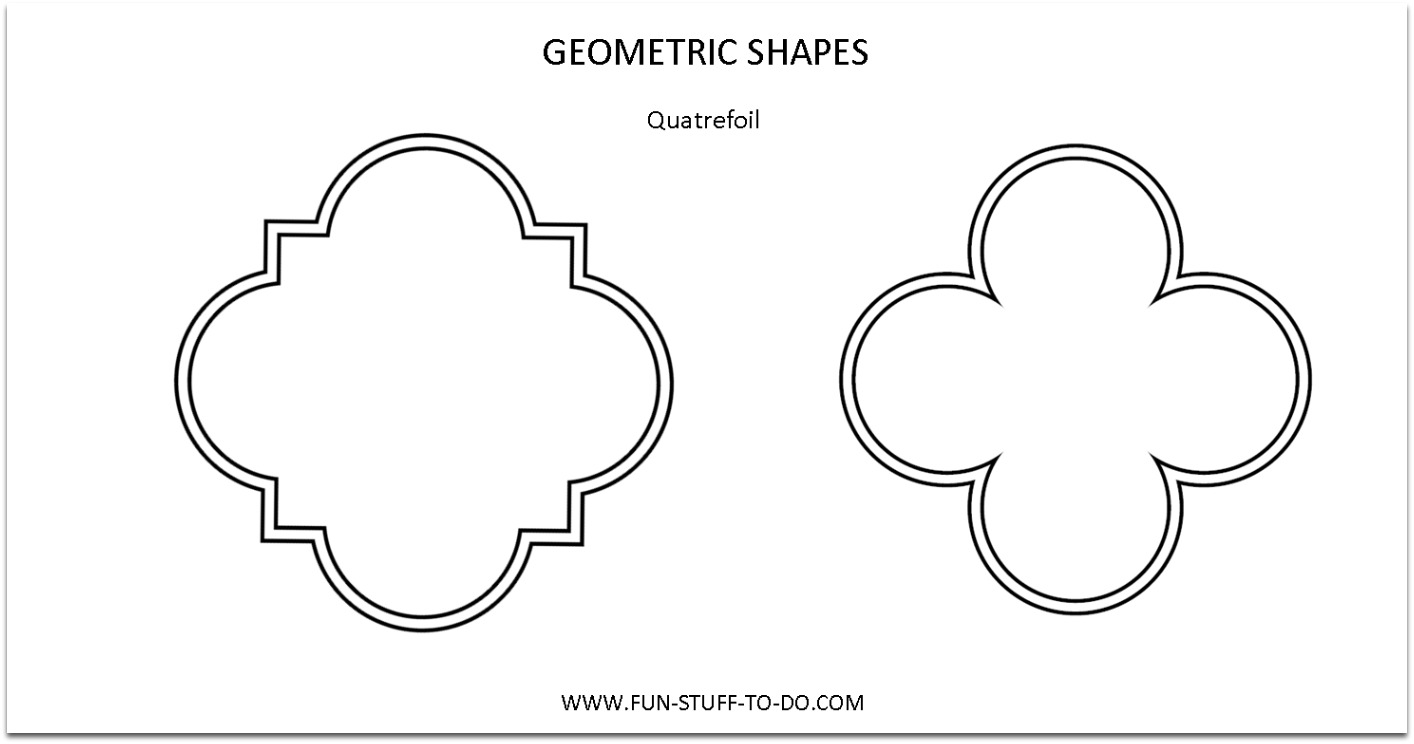 Quatrefoil Shapes
PRINT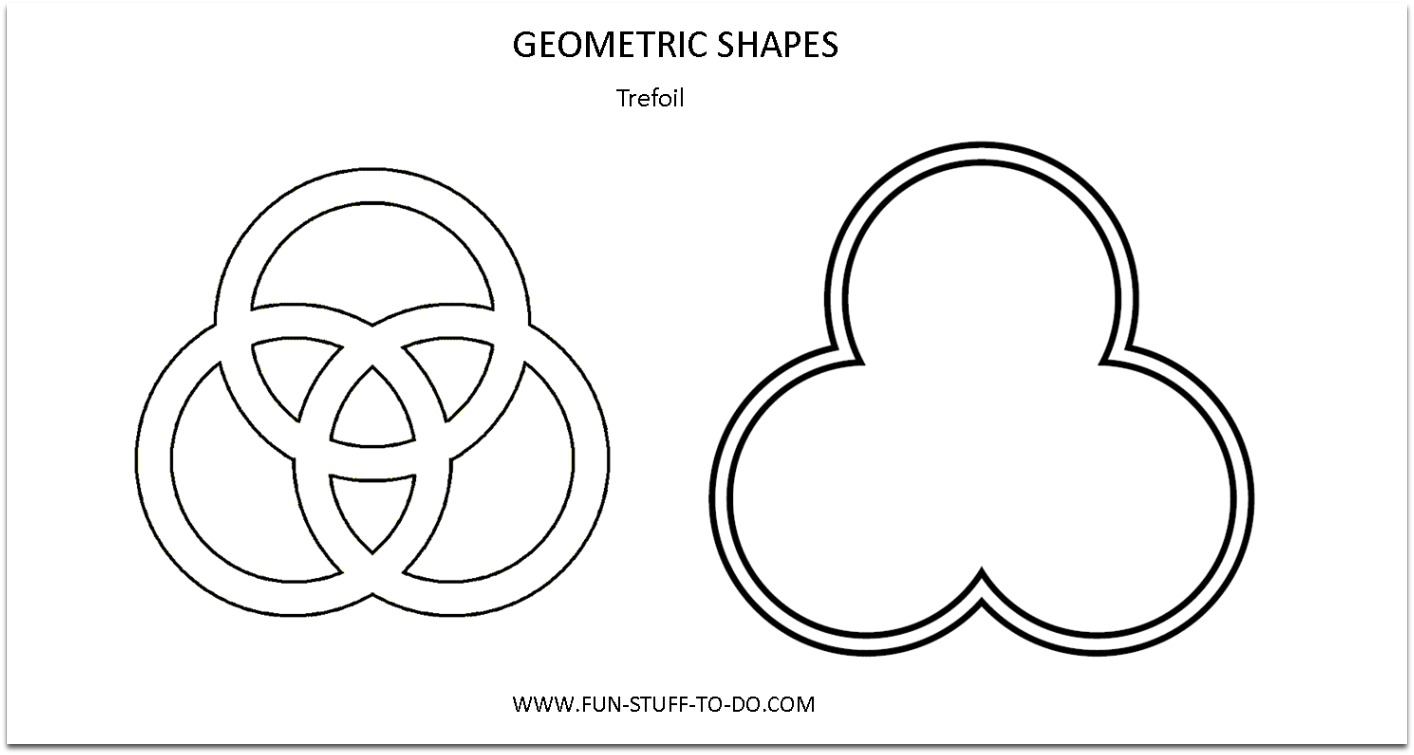 Trefoil Shapes
PRINT
3D or Solid Geometric Shapes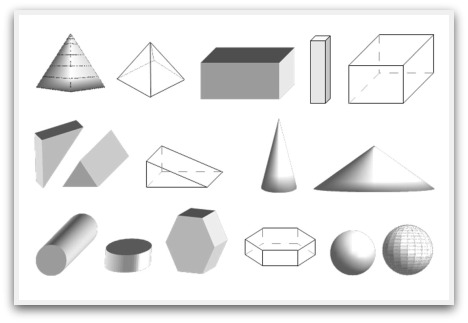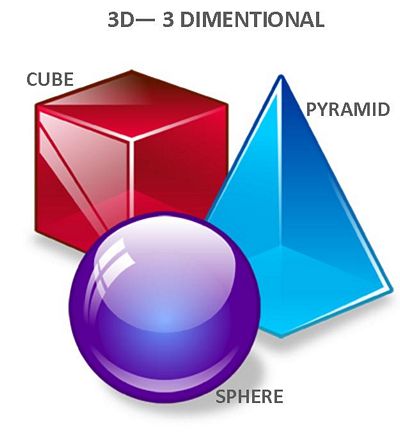 Solid or 3D geometric shapes with colors either blended or faded or in different shades are used in many designs as a central object. This type of shape is used with much success in the art of stenciling. Stenciling is a craft used for placing motifs and designs on walls, furniture, fabrics and more. To make a 3D stencil, you would only use the outline of the shape. When stenciling you would stencil the outline in a darker shade and fill the remainder with a lighter shade, blending the two shades in the end.
How to make your own stencils - craft tools with shapes and patterns.

---
Patterns & Design - Each unique volume in the Images Series of ready-to-color pattern books stimulates the visual imagination with infinite numbers of shapes and abstract angles within complex geometric patterns + designs. Choose from the linear, circular, illusion, optical and botanical designs. Click on pic's for info.
If that is not enough, explore a collaboration of creative works from one of today's top surface and textile designers - Jenean Morrison. Fifty (50) fresh, modern, intricate designs in each volume - you add the color! Click on image and look inside each volume!
---
If you enjoyed learning about geometric patterns and sequences or if you have suggestions to improve this page please CONTACT US!

Or sign up to receive our monthly free E-zine directly via email.
Go to: 2D & 3D Shapes to Print * Cut * Color * Fold
Go to: Geometric Shapes Worksheets
Return to Fun Stuff To Do from Geometric Shapes
SOCIAL FUN

FUN PRODUCTS

Our recommendation lists makes it easier to find the perfect products to have some retail therapy and fun. There are more than 30 categories. Click on any image below to view.

RANDOM FUN
More than 25 000 fun ideas posted over the years, including but not limited to: free printable goodies, party ideas for old and young, fun games, amazing arts and crafts, funny stuff, free templates and so much more - LOOK HERE! + follow us!

Want to know what we create next? Sign up for our monthly newsletter!