Easy Crafts for Kids - Project 5
Pebble Crafts - Faces with Pebbles
Easy crafts for Kids - 5 is a great fun way for the little ones to pass the time on the beach when they are not swimming!

In this project we turn ordinary pebbles and seashells into FUNNY FACES - no hassles, no preparation - just quick, easy FUNNY fun!

The beach gives us plenty of fun things to play with. Try instant art on the beach or collect some beach bits and create art at home!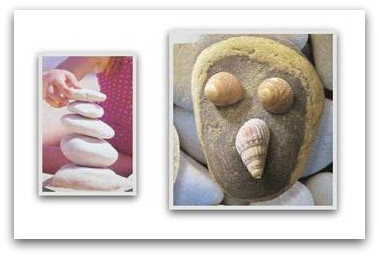 YOU WILL NEED:
Pebbles and seashells and preferably the seaside where there are many of these to choose from!
OPTIONAL ITEMS:

Toggle / Goggle or Shaky Eyes (whatever you wish to call them) they are little plastic stick-on eyes that can move and are available from Craft Stores. Or you can print some free eyes here.
A black permanent marker.
OTHER IDEAS:

This technique makes interesting paperweights and doorstops!

Collect pebbles and seashells while on holiday and use this technique to create gifts for friends after your sea-side holiday.

View all the possibilities in the pictures below and create your own. Don't forget to send us pictures!

Pebble Crafts - How easy are these cute faces!
Instructions for this craft are self-explanatory in the "Pebble Face" Pictures. So we only give a few tips!
Select larger pebbles with face or body shapes.
Any pebble can become a face or a body if you use your imagination.
Pebbles not large enough for your face - create a sandy face with pebble nose, eyes, mouth and ears.
Collect all types of seashells, seaweed & pieces of coral for hair, ears, eyes, noses and mouths.
Create faces on the beach and let the sea wash them away or take your collections home to glue together or play with.
If you can't find a nose or eyes or mouth, do not worry - toggle eyes or a black marker is the answer!
Have you tried Pebble Stacking? Collect pebbles and see how high you can go!
Try these faces!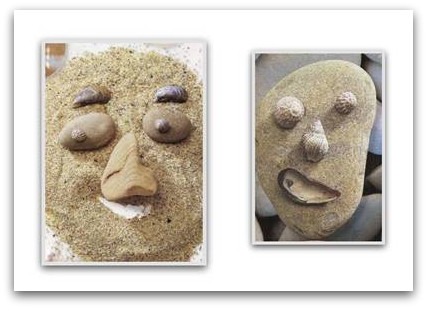 How to make a 'Sand Face'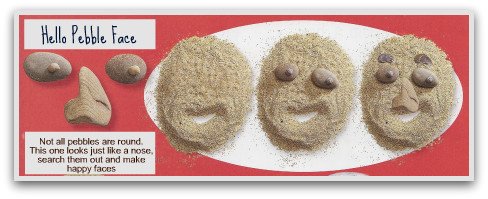 How about an instant pebble pet with this little 'Mouse Face'?
Did you enjoy Pebble Crafts? There are loads of great crafts where these come from! Sign up for our free monthly FUN NEWSLETTER to receive these great creations directly via email!


Did you have FUN with Project 5 of Easy crafts for Kids? We value your opinion please let us know if you think this specific craft and the instructions were useful to you at the link below!


Contact us with your Ideas to improve this Easy Crafts for Kids page!

~~ MORE EASY CRAFTS ~~
Emboss | Make Pretty Paper | Create Craft Toolbox For Kids |
Make Shiny Fish | Easy Owl Mask | Easy Picture Frames |
Kids Scrapbook | Potato Prints | Adorable Ladybugs |
Pebble Jewelry | Eraser Prints | Fingerprint Fun |
Fun Fingerpaint Recipes | Fun With Felt Creations |
Objects With Shapes | Fun With Shapes |
Free Craft Templates | Party Decorations


Return to EASY CRAFTS
Return to FUN STUFF TO DO from Easy Crafts for Kids