Easy Crafts For Kids - Project 10
Making Bugs & An Owl Mask
Want free craft supplies for your 'Easy Crafts for Kids' Projects? No better place to look than in good old Mother Nature herself! Take a stroll in nature with us, you'll be amazed at what you will find and what you can create with it!

Let's take a peek at what we are about to create...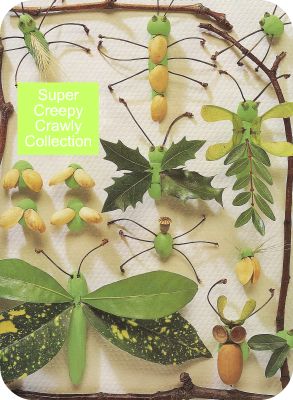 THERE IS ONE GOLDEN RULE
We try to collect things that have fallen from trees and are on the ground! We do not disturb our free craft suppliers! We do not break branches, trees, scrubs or pick wild flowers! There are more than enough supplies on the ground to collect!

WHAT TO LOOK FOR
Colorful, shapely and different sizes of leaves. All kinds of seeds, grasses, sticks, twigs, fir cones, nutshells, acorns, bird feathers and little pebbles and stones. Grab a little basket and off you go to collect!

Lay out your collection and see your creativity come alive!
HOW TO CREATE A BUG:
Roll out a clay head and body, stick them together and ...
Add cherry-stalk or twig legs
Give it a grass or nutshell back
Tiny seed eyes
Leaves for wings
Twigs as antennae
...and what do you have? A BUG!!
Cherry stalks do make great bug legs!
Use different types of leaves, twigs and seeds to create different types of wonderful little bugs!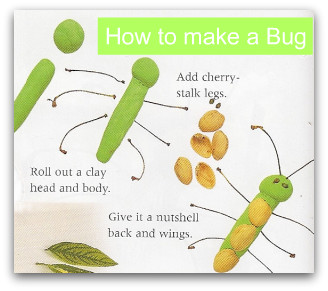 So you DON'T like BUGS and crreeeepy CRAWLIES!
Make this awesome OWL MASK from all kinds of leaves! It's great for concerts and dress-up parties too!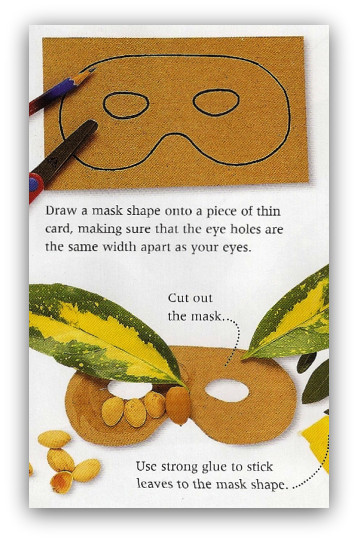 You can also use some bird feathers that you have collected from the ground to add that special feathery touch to your owl mask!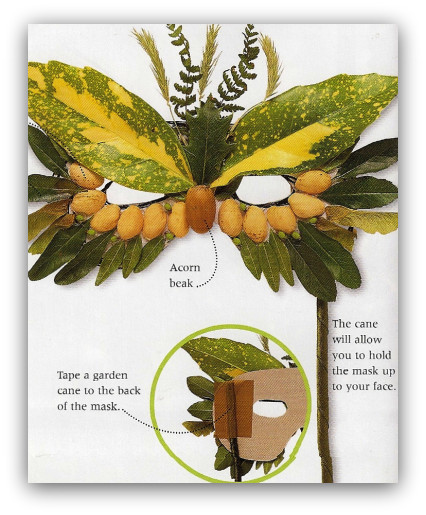 Did you enjoy 'Making Bugs' or an 'Owl Mask' from natural resources? There are loads more where they come from! Sign up for our free monthly FUN NEWSLETTER to receive more great creations directly via email!


Did you have FUN with Project 10 of 'Easy crafts for Kids'? We value your opinion please let us know if you think this specific craft and the instructions were useful to you at the link below!

Contact us with your Ideas to improve this Easy Crafts For Kids page!


~~ MORE EASY CRAFTS ~~
Emboss | Make Pretty Paper | Create Craft Toolbox For Kids |
Make Shiny Fish | Cute Pebble Crafts | Easy Picture Frames |
Kids Scrapbook | Potato Prints | Adorable Ladybugs |
Pebble Jewelry | Eraser Prints | Fingerprint Fun |
Fun Fingerpaint Recipes | Fun With Felt Creations |
Objects With Shapes | Fun With Shapes |
Free Craft Templates | Party Decorations