Easy Crafts For Kids - Project 10
Making Bugs AND An Owl Mask FROM NATURAL RESOURCES

Free craft supplies for Easy Crafts for Kids 10! Take a stroll in nature with us, you'll be amazed at what you will find and what you can create with it! There is really no better place to look for craft supplies than in good old Mother Nature herself, yup right off the floor that's where she leaves us more creative supplies than we can ever use!

Let's take a peek at what we are about to create today...
THERE IS ONE "GOLDEN" NATURE CRAFT RULE
We try to collect things that have fallen from trees and are on the ground! We do not disturb our free craft suppliers! We do not break branches, trees, scrubs or pick wild flowers! There are more than enough supplies on the ground to collect!
WHAT TO LOOK FOR
Colorful, shapely and different sizes of leaves. All kinds of seeds, grasses, sticks, twigs, fir cones, nutshells, acorns, bird feathers and little pebbles and stones. Try to find plenty of matching pieces. Grab a little basket and off you go to collect!
Lay out your collection and see your creativity come alive! I find it easier when I sort them a bit to find matching sizes, lengths and shapes, especially if you want two sides to match. 

HOW TO CREATE A BUG FROM NATURAL SUPPLIES - EASY CRAFTS FOR KIDS

 LET'S CREATE BUGS:  (Image below)

Roll out a clay head and body, stick them together and ...
Add cherry-stalks or twigs for legs
Give it a grass or nutshell back
Tiny seed eyes
Leaves for wings
Twigs as antennae
...and what do you have? A BUG!!
Cherry stalks do make great bug legs!
Roll a variety of shapes and sizes for clay bodies and heads. Air dry clay works best, you can get this from craft stores or make your own. I have an air dry clay 'play list' on YOUTUBE, with plenty of ideas and air dry clay recipes if you want to check it out. Normal play dough can also be used as a substitute.

Use different types of leaves, twigs and seeds to create many types of wonderful little bugs. Basically, the leaves are what creates the different wing types, the small seeds are wonderful for eyes, while the bigger ones, as well as their shells are great for the bodies and different grass types and twigs make great antennae and legs. These are also great to create some texture on the bodies.
So you DON'T like BUGS and creepy CRAWLIES!
Make this awesome OWL MASK from all kinds of leaves! It's great for carnivals, concerts and dress-up parties too!
HOW TO MAKE A NATURE INSPIRED OWL MASK - EASY CRAFTS FOR KIDS

MAKE THE OWL MASK:
Draw a mask shape on a letter size or A4 size page and cut out.
Use any sturdy cardboard, the image says thin but I find that the thicker brown shoe or packaging box types cardboard works best. Trace your shape on the cardboard and cut out.
Decorate your mask any way you like by using your nature collections, attaching bits and pieces with strong glue. I find it easier to start from the middle, working outward, creating one side and matching the other side.
Finally you'll use a longer stick, garden cane or wooden dowel, attach this to the back of the mask with strong tape, to hold your mask in front of your face.
You can also use some bird feathers that you have collected from the ground to add that special feathery touch to your owl mask!
If you are not much of an artist and drawing your own mask or creating your own mask template won't be part of the fun, the outline of this mask template from First Palette will work fine. I would only cut the eyes more oval, as in the images above. You can download this mask template here print and cut out, then outline onto your cardboard.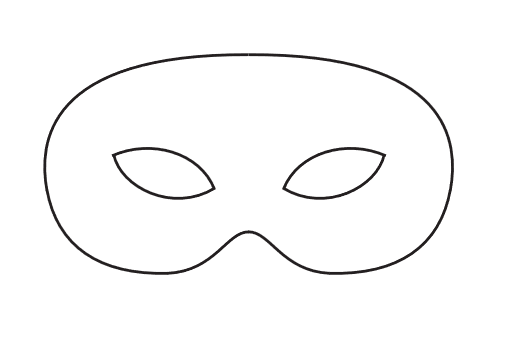 STAY IN TOUCH FOR MORE EASY CRAFTS



Did you enjoy making 'Bugs' or the 'Owl Mask' from natural resources? There are loads more where these came from! Sign up for our free monthly FUN NEWSLETTER at the end of this page to receive more great ideas directly via email!



Did you have FUN with Project 10 of 'Easy crafts for Kids'? We value your opinion please let us know if you think this specific craft and the instructions were useful to you at the link below!

Contact us with your Ideas to improve this Easy Crafts For Kids page!
  PREVIOUS EASY CRAFTS FOR KIDS PROJECTS

Easy Owl Mask | Make Pretty Paper |
Create A Craft Toolbox For Kids |
Make Shiny Fish | Cute Pebble Crafts |
Easy Picture Frames | Kids Scrapbook |
Potato Prints | Adorable Ladybugs |
Pebble Jewelry | Eraser Prints |
Fun Paint Recipes | Fun With Felt Creations |
Objects With Shapes | Fun With Shapes |
Make Beads For Jewelry Making |

RANDOM FUN
More than 25 000 fun ideas posted over the years, including but not limited to: free printable goodies, party ideas for old and young, fun games, amazing arts and crafts, funny stuff, free templates and so much more - LOOK HERE! + follow us!

Want to know what we create next? Sign up for our monthly newsletter!