Make Beads for Jewelry Making
Make Beads for Jewelry Making
by The Fun Team - Edited and Expanded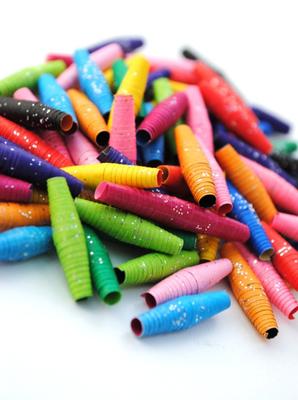 Paper Beads
There are many ways to make jewelry for example you buy beads at a craft store and string them together with string. Well that's making jewelry but instead of the plain old same old you could make beads at your very own home. Read on if you want to learn..........


1. Clay Beads

You can use air dry clay or use flour and water

With air dry clay the first part is done!

What your going to need is air dry clay, paint and a toothpick. Grab a little bit of air dry clay and get a marker or pencil or rolling pin and roll the clay into a rectangle get your toothpick and shape the rectangle around the toothpick. Done! Wait until it's dry, remove the toothpick and paint it.

2. Dough Beads

Do the same thing except mix flour and water together to make dough/clay. You can use food coloring to color the dough. There are a plethora of recipes available on Youtube if you search for homemade air dry clay, and you can see the exact process.

3. Paper Beads

Cut out long thin paper-length triangles in various sizes from paper, decorate your triangles or use scrapbook paper. You can even use pages from magazines. You can make them as wide as you like, 1 inch is nice and half a inch for smaller beads works great.
Use a toothpick and a glue stick.
Place some glue on the triangle's narrowest tip (roughly about 1 inch in length). Then roll the triangles onto the toothpicks starting from the widest side. Smooth the last bit with the glue on over a few times for a strong hold. Place one side, waiting for the glue to dry, then remove the toothpick after a few minutes. Your beads are done, ready to make jewelry!

The blue paper bead pattern in the image above use to be for sale but it's been out of stock for a long time. We will update the links to the sales page once they are back in stock.

You can find the same shape die cut stencils below they work really great both as a die, as well as a stencil to trace onto paper.

Just click on the images:




You can also buy paper bead rollers but I still prefer a toothpick or a thin steel knitting needle, to me the inside just looks neater. Some people have trouble holding the paper to the toothpick, their hands start to cramp. In this instance a paper bead roller is ideal, you just slot the start of the paper into the groove of the pin and start rolling the handle with two fingers. They look like this:




If you want any of your beads all glossy or shiny like the beautiful store bought beads, give them a coat of varnish. Just paint this on with a small paint brush and let them dry on the toothpick, lodging one end of the toothpick into one of those green blocks of florist foam. I use these two makes, but you can use whichever you like!





You can find some paper bead inspiration here, just open the paper beads board:
Paper Beads

Lastly, no paper, no clay, no problem you can actually use fabric cut into strips too!


Hope you have fun making beads!!
SOCIAL FUN

FUN PRODUCTS

Our recommendation lists makes it easier to find the perfect products to have some retail therapy and fun. There are more than 30 categories. Click on any image below to view.

RANDOM FUN
More than 25 000 fun ideas posted over the years, including but not limited to: free printable goodies, party ideas for old and young, fun games, amazing arts and crafts, funny stuff, free templates and so much more - LOOK HERE! + follow us!

Want to know what we create next? Sign up for our monthly newsletter!