Make Beads for Jewelry Making
Make Beads for Jewelry Making
by Anonymous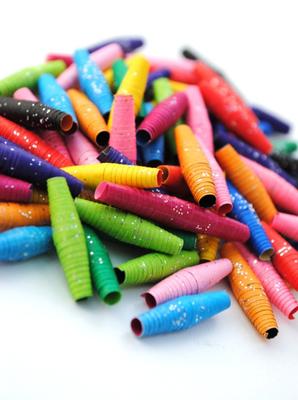 Paper Beads
There are many ways to make jewelry for example you buy beads at a craft store and string them together with string. Well thats making jewelry but instead of the plain old same old you could make beads at your very own home. Read on if you want to learn..........


1. Clay Beads

You can use air dry clay or use flour and water

With air dry clay the first part is done!

What your going to need is air dry clay, paint and a toothpick. Grab a little bit of air dry clay and get a marker or pencil or rolling pin and roll the clay into a rectangle get your toothpick and shape the rectangle around the toothpick. Done! Wait until it's dry, remove the toothpick and paint it.

2. Dough Beads

Do the same thing except mix flour and water together to make dough. You can use food coloring to color the dough.

3. Paper Beads

Cut out triangles in various sizes out of paper, decorate your triangles or use scrapbook paper. Use a toothpick and a gluestick and glue some glue on the triangle. Then roll the triangles onto the toothpicks starting at a corner. Wait for the glue to dry, then remove the toothpick. Your beads are done, ready to make jewelry!


SOCIAL FUN

FUN PRODUCTS

Our recommendation lists makes it easier to find the perfect products to have some retail therapy and fun. There are more than 30 categories. Click on any image below to view.

RANDOM FUN
More than 25 000 fun ideas posted over the years, including but not limited to: free printable goodies, party ideas for old and young, fun games, amazing arts and crafts, funny stuff, free templates and so much more - LOOK HERE! + follow us!