Fun Idea - Moustache Drinking Straw Decoration For Parties
Fun Idea - Moustache Drinking Straw Decoration For Parties
by Mari
(NY)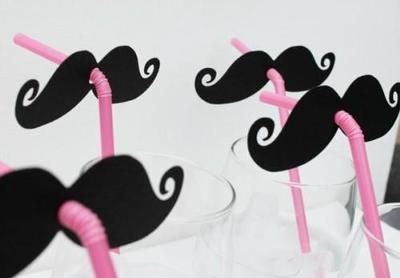 Drinking Straw Moustache
You have all seen the cute moustaches on food skewers that are normally used for party photo props. A moustache on a straw is the latest super cool fun idea. When you sip on the straw, you have a moustache!

What you need:

Straws that can bend
Picture of a moustache

I'm attaching a picture of a moustache that you can use plus four other moustache shapes or patterns, there are many other fun shapes, sizes and colours if you do a "moustache images" search!

Print the moustache picture on card, cut it out, use a black marker to colour the other side black as well (if you wish).

Use a paper punch to make a hole in the moustach, then place the top part of the straw through the hole. Done.

A super cute, very quick fun idea. Expect lots of laughs, girls with moustaches do look very funny!


FUN STUFF TO DO:

To print the moustaches, click on the thumbnail image to enlarge the picture, then right click on the large picture and select print or save the picture to your computer if you like.


DON'T HAVE TIME TO MAKE THEM, GET THEM HERE:






SOCIAL FUN

FUN PRODUCTS

Our recommendation lists makes it easier to find the perfect products to have some retail therapy and fun. There are more than 30 categories. Click on any image below to view.

RANDOM FUN
More than 25 000 fun ideas posted over the years, including but not limited to: free printable goodies, party ideas for old and young, fun games, amazing arts and crafts, funny stuff, free templates and so much more - LOOK HERE! + follow us!

Want to know what we create next? Sign up for our monthly newsletter!