Ladybug Party Decorations
Super cute little ladybug party decorations for small girls. Ideal for 1st Birthday Celebrations (but not age limited). Especially for those mums who like to make their own unique, pretty party decorations these look beautiful printed on white card stock and what's more... It's a FREE download in true fun stuff to do style!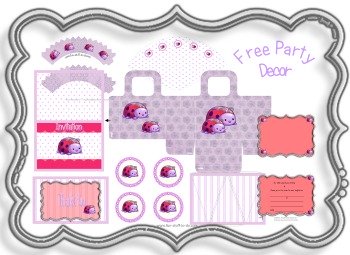 What's in this cute ladybug party pack?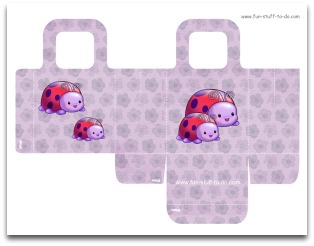 Easy to cut and fold purple floral gift/favor bag with little ladybugs. If you don't have a square paper craft punch for the handles, cut them right off, punch two holes on either side of the bag and attach ribbon for handles.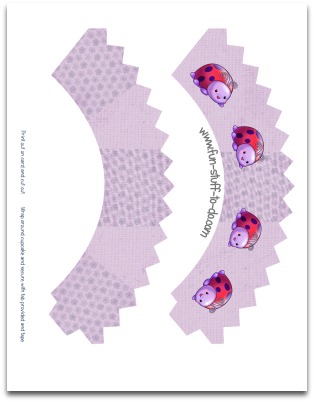 Small cupcake sleeves for small cupcakes and tiny hands. Pretty purple floral cupcake wrappers with sweet little lady bugs on one and only flowers on the other. One of the favourite ladybug party decorations.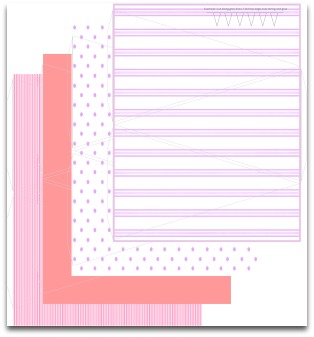 Bunting flags in the four different colours will compliment the party theme. Alternate the four colours or choose your favourites. There are two ways to make these, include the tab at the top when cutting, fold over string or ribbon and glue. Or exclude the tab when cutting, punch a hole in the two top corners and thread ribbon through.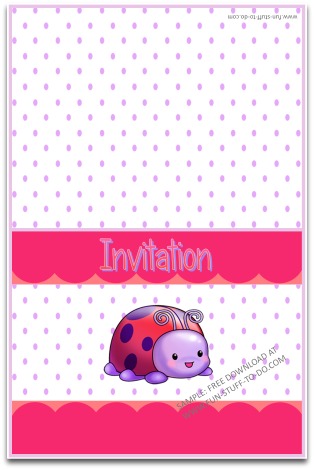 Invitation card with tiny purple polka dots. Cut, fold in half and include the invitation wording bracket below.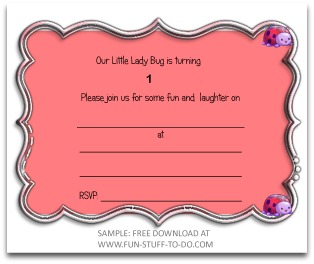 There are two invitations. The first inviation is for a 1st birthday party, the second can be used for other age groups. Cut out and glue to the inside of the invitation card above or use as is. We have also included a Thank You card to attach to favor bags or to use after the party.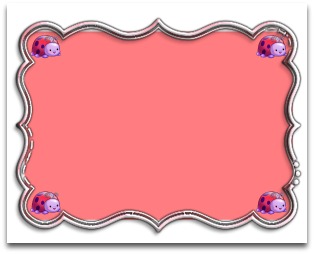 Use these labels to label food dishes, favor bags, water bottles and anything else that needs a label.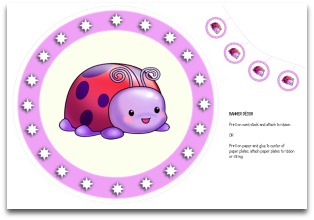 This large round ladybug can be used as a banner decoration or as cute small lady bug table place mats or wall decals.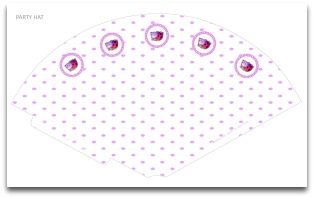 There are two different coloured party hats in the free download. Cut out, fold the tab in to the slit, punch two holes on either side of the hat and attach a string of elastic to keep the hats on the heads.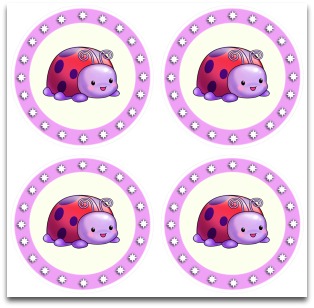 Small tags or cake toppers. Use these on gifts or cupcakes. For cupcakes, glue a foodpick to the little label, for gifts, attach a little ribbon.


You will need a pdf viewer like Adobe Reader to view the files. Get the latest FREE DOWNLOAD of Adobe Reader here.


DOWNLOAD THE FREE LADYBUG PARTY PACK (3.06 MB)

New Ladybug Party Decorations Shop

BRAND NEW! LADYBUG SHOPPE
Before you continue along this page where you will find more FREE ladybug goodies: Don't forget to visit our brand new ladybug shoppe with over 2000 items and JUST LADYBUGS! We have gathered the cutest ladybug party decorations and merchandise available on the internet, all in one place, for your convenience!
Check out and shop for fun ladybug party goodies, party favors and toys!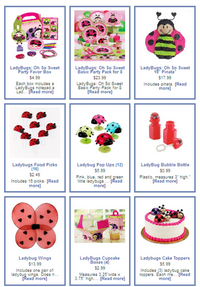 New Ladybug Extra's

MORE FUN STUFF TO ADD TO THE LADYBUG PARTY DECORATIONS

FUN PARTY GAMES - A free cute ladybug party game!

POLKA DOTS - Mix and match with fun polka dots, add your own flair!

PURPLE DOTS - Mix and match with elegant purple pearly dots!

FREE TEMPLATES - Add a cake slice box!

LADYBUGS - Create fun ladybugs to compliment the theme.

LADYBUG CRAFTS - Very cute and easy ladybug craft ideas.

FREE TAGS - Need some fun tags for favors?

FREE LABELS - Free labels to add to anything else you want labelled!

PARTY DRINKS - Delicious Fun Fruity Punches



NEW FUN ADDITIONS TO THE LADYBUG PARTY DECORATIONS
LARGER PARTY BAGS
The tiny party bags are cute but sometimes you want to add a few more things! The size of the existing bag increased to the full size of an A4 page.
We have also added a completely new bag, which is even bigger, this bag do not have any handles, you add string or ribbon by treading it from the inside out and knotting the pieces of string or ribbon on the inside, then for the second hole thread the ribon from the outside back to the inside, making another knot on the inside of the party bag.
PLEASE NOTE: You may have to set your printer margins to zero for these party bags to print correctly.
CLICK ON IMAGE TO DOWNLOAD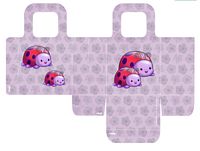 LARGE CUPCAKE WRAPPERS
Again the tiny cupcake wrappers for little hands are super cute but adult cupcakes need to be "sweet" too! Our new signature cupcake wrappers are perfect for this party. We have them ready to download in 4 matching colors with a ladybug on plus a brand new one with just purple flowers.
CLICK ON IMAGE TO DOWNLOAD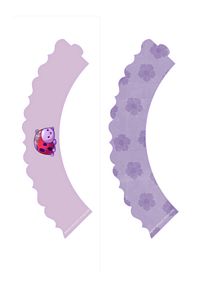 SOCIAL FUN

FUN PRODUCTS

Our recommendation lists makes it easier to find the perfect products to have some retail therapy and fun. There are more than 30 categories. Click on any image below to view.

RANDOM FUN
More than 25 000 fun ideas posted over the years, including but not limited to: free printable goodies, party ideas for old and young, fun games, amazing arts and crafts, funny stuff, free templates and so much more - LOOK HERE! + follow us!

Want to know what we create next? Sign up for our monthly newsletter!

Return to: HOME PAGE from Ladybug Shoppe