CRAFT KITS
PROJECTS AND IDEAS

Craft kits are a fun way to explore new crafts. Here you will find a fine collection of fun craft kits and project ideas for Kids, Teens and Adults to make.

150 CRAFT PROJECTS FOR TEENS AND ADULTS
THE BIG-ASS BOOK OF CRAFTS 
The Big-Ass Book of Crafts is packed with ideas for sprucing up your living space; concocting fabulous, all-natural body products; designing your own unique stationery; and creating countless other crafts that will convince your friends and loved ones that you're the secret love child of Martha Stewart (only much, much cooler). Forget crocheted doilies and itchy knit sweaters. Top designer Mark Montano has created stylish and imaginative projects that range from an Ultrasuede iPod case to photo-adorned boxer shorts to African mask patio chairs to wooden night-light boxes. The book is divided into sections that include Outdoorsy (ideas to enhance your backyard), Dishing It Out (decorating plates using different techniques), You've Been Framed (innovative picture framing ideas), and Can I Have a Light? (creating and decorating lamps, lanterns, and chandeliers). The book is as entertaining to read as it is endlessly inspiring. With more than one hundred and fifty inventive and fun projects, The Big-Ass Book of Crafts is the perfect activity book for readers of every mood, budget, and skill level. This book was so cool, Volume 2 is out now!
Click on Image.
This book is rated as one of the top craft books on the market! Get The Big-Ass Book of Crafts Collection from Amazon and also see The Big-Ass Book of Home Decor for Cool Homes.
MAKE BEAUTIFUL TOTE BAGS
THE BAG MAKING BIBLE 
In this book you will find a very cute spring tote bag to make in pink and white polka dots and zebra stripes or any other funky pattern or color you choose. These fashionable tote bags and purse patterns are perfect for carrying all sorts of items and so easy to make! An endless array of totes to sew up quickly and easily. The first book and resource of it's kind with a technique-led approach to sewing your own designer bags and purses.  It explains in detail how to create and construct the component parts of the bag.  From adding styles of bag pockets to inserting zips and closures, using interfacing and reinforcement tricks, fitting linings and various styles of bag handles, and much, much more.  It also introduces and demonstrates the myriad  materials, hardware, and tools and techniques available to the modern crafter, including using the sewing machine.
Click on Image.

MAKE BEAUTIFUL BOWS - CRAFT KIT

BOW MAKING KIT 
Easily make your own professional hair bows and bows for all your other crafts and gifts with this bow making kit!

BOW MAKING KIT – This Bowdabra bow tool has everything needed to create your own unique bows, including: The Bowdabra, Bowdabra wand, 30-minute project DVD, instruction book and 10 yards of Bowdabra bow wire.
EASY TO USE – This bow maker is simple and easy to use and makes bows in seconds. It's a fun and creative hands-on activity for all ages, and even makes a great gift!
VERSATILE – When you use your Bowdabra bow maker, you can make beautiful bows not just for gifts – use them for party or holiday décor, party favors, wreaths and much, much more!
Click on Image.
BUILD A CHARMING DOLL HOUSE
CREATE A VICTORIAN DOLL HOUSE
A beautiful half-scale stately dollhouse that delivers full-sized fun to construct! This Victorian house is detailed in every aspect, loads of gingerbread and Victorian charm, an elegant curved staircase, and so much more. This beautiful dollhouse will be a joy to build and customize with or for your child! Also see all our other dollhouses, projects and ideas.
Click on Image.
GLASS ETCHING FUN - CRAFT KIT

Glass Etching Kit

Everything you need to create professional quality permanent dishwasher safe etched glassware and mirrors in 3 quick and easy steps.You will get a deluxe etching craft kit that includes: Armour Etch cream. Illustrated booklet. Over 75 assorted glass etching stencils. Glass cleaner concentrate. Camel hair brush. Reusable gloves. Applicator stick. Hobby knife. Custom stencil, vinyl and practice glass.
Click on Image.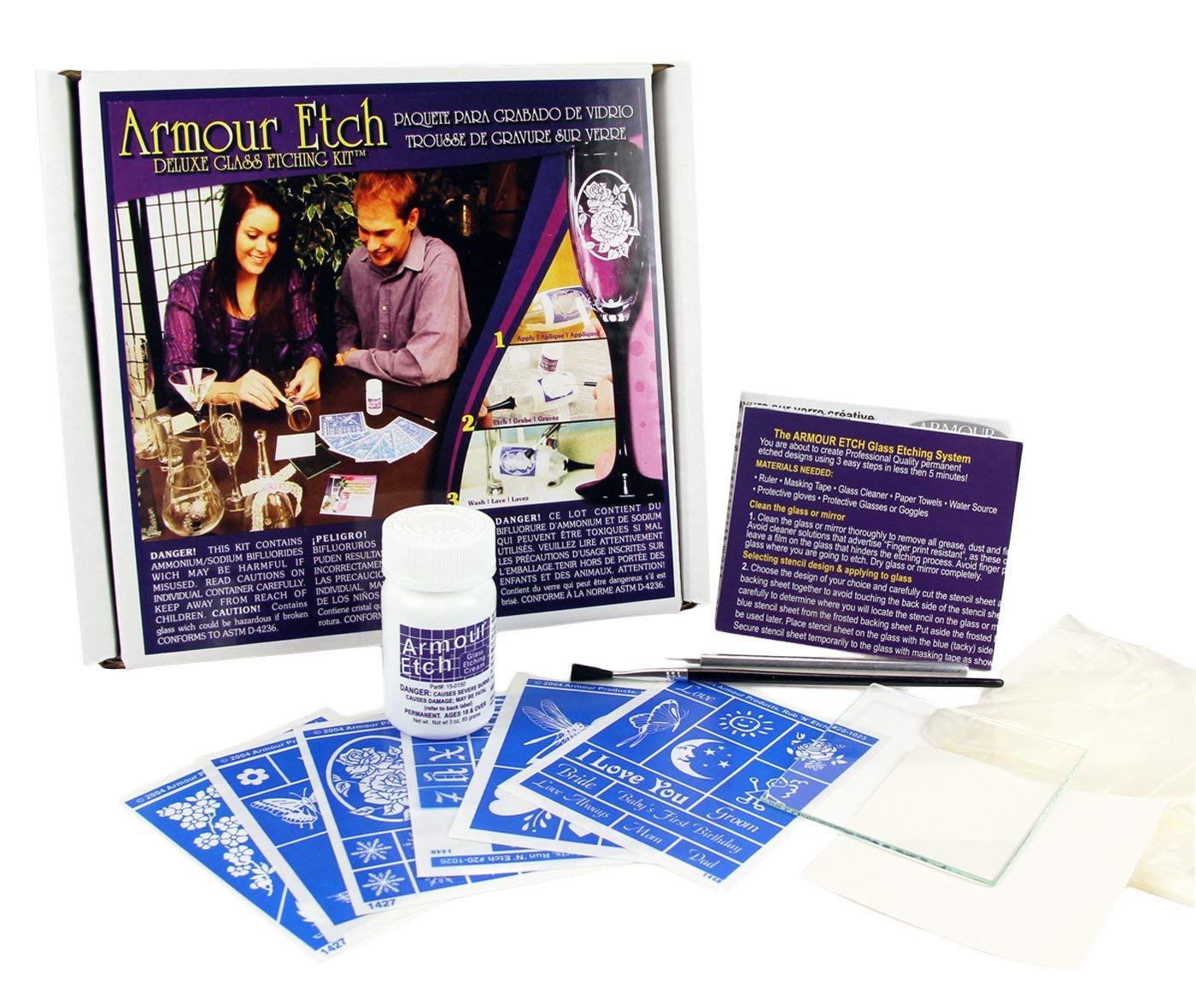 CREATIVE WOOD BURNING - CRAFT KIT

Wood Burning Kit

This set has all a beginner needs to learn wood burning. Decorate  the plaque or decorate wood furniture for a personalized look including trunks, chairs, boxes benches and bed frames.
The craft kit includes: 950F/510C degree Wood Burning Pen with Universal Point Pen Stand; 2x Wood Plaques: Basswood Country Round (small); 6x8in Basswood Rectangle Plaque; 8 Patterns; 2 alphabet/number sets; Stand; Transfer Paper and Instructions Sheet.
Click on Image.

Wood Burning Kit 2 
This updated wood burning craft kit includes: Plenty of new projects and patterns and is as popular as ever before. A 75 Piece wood burning kit with an assortment of essential tools, wood boards, stencils and so much more, all in one neat bag. Also included 1× LCD digital display engraver pen,15× assorted wood burning and soldering tips,10× assorted wood carving tips,5× assorted wood embossing tips,1× hot knife chuck,1× blade,12x color pencils,12× mold,10x carbon paper,6x wood chips,1x pencil sharpener,1x soldering holder with cleaning sponge,1x carry bag and 1x user manual. You can build and decorate your own beautiful birdhouse, gazebo, mobile, rocking horse, cork board, leather embossing master piece, coasters, nameplates and more, the ideas are endless.
Click on Image.

MAKE RECYCLED PAPER BEADS
Paper Beads Kit
Learn how to turn simple strips of paper into beautiful beaded jewelry. Creative, imaginative, inspiring and most of all fun! The 4M recycled paper beads kit let's you recycle newspapers and magazines into beads. Add a plastic bottle to the tool, insert strips of paper you have ripped from magazines or newspapers, turn the handle and beads that you have created will fill the bottle. Beads are fun and decorative and you can tons of projects with these craft beads. Just add your own plastic bottle, instructions and all other parts are included.
Click on Image.

METAL EMBOSSING
Metal Craft Kit 
Emboss, detail and decorate soft metals. Tool Kit II includes a paper piercer stylus. The piercer is used to make small holes and the stylus is used for embossing and setting rub-on's. The hammer craft knife setting base features a metal base with magnetic interchangeable tips and is used for setting eyelets snaps and more. The tips include anywhere hole punches and setting tips in 1/16" 1/8" and 3/16" sizes. The tweezers are for picking up small or hard to grab objects. Scissors and universal glue are ideal for scrap booking and paper crafting by being non-toxic and archival safe. The emery board is perfect for distressing paper cards and more. Also included is a 4x4 setting mat for use to protect surfaces when hole punching, cutting, or setting eyelets snaps and more. A 6 inch metal ruler features a straight metal edge for easy cuts with the craft knife. This 18-piece kit in a convenient storage tin will help you with almost any craft project. Tool Kit I includes: eyelet setter, hammer, 2 paper needles, round-ended pliers, interchangeable hole punch, reverse-action tweezers, paper piercer and case
Click on Image.

GLASS FUSING PROJECTS
Fusing Kit

Learn to fuse the most beautiful glass pieces right in your microwave oven. Create stunning pendants, fashionable earrings, snazzy bracelets, beads and much more. This is the easiest how-to-fuse kit you will ever find. A great kit for young adults and grown-ups who want to learn a craft they will enjoy for a lifetime! The kit includes: Fuseworks microwave kiln; (7) 90COE Fusing glass assortment; one ounce Dichroic bits and pieces; one ounce Millfiori glass; one ounce Confetti glass; one each: silver and gold earring set; one each: large and small silver and gold bails; two pieces of kiln paper; glass cutter tool; one pair of hot mitts; and easy to follow instructions.
Click on Image.

LEARN THE ART OF PAPER FILIGREE
Paper Filigree Starter Craft Kit

Paper filigree is the art of creating designs with narrow strips of paper that have been rolled shaped and arranged. Easy to learn nearly all quilling is done with just a few variations of basic rolls and scrolls. Papers are acid free and safe for scrapbook pages. The starter kit for beginners includes detailed basic instructions in rolling paper and shaping the rolls and scrolls plus other special techniques that add interest and variety to quilling. Kit includes quilling paper in 3 widths, metallic quill trim needle, slotted quilling tool, cork work board, glue, ruler, quilling chart and material for the gift tags, card and gift bags plus patterns and instructions for 15 designs. Other supplies needed are straight pins and scissors (not included).
Click on Image.

CANDLE MAKING
Candle Craft Kit

The perfect way to introduce candle making: Make Your Own Candles (DIY). 100% beeswax candles with cotton wicks - has a slight natural honey scent. Actual colors may vary from the colors shown due to variations in monitor settings. Beeswax candles provide a pure and clean-burning flame that produces very little smoke. The kit includes enough wax and wick to roll up to 10 pairs of 8" tall x 1" wide taper candles. Or use your imagination and create something unique!
Click on Image.

Craft kits are great gifts for old and young.
Most suppliers deliver Internationally.
GO TO:
Kids Craft Kits -  Click Here!
Dollhouses for Girls - Click Here!

Model Building for Boys- Click Here!
More craft kits will be added to this page, check back regularly.
HAVE YOU FOUND A GREAT CRAFT KIT?
Did you find a super craft kit somewhere lately?
Please share it here! Tell us what kind of craft it is, what it contains. Then give us your overall fun and quality rating of the product. Perhaps you want to include some tips!
SOCIAL FUN

FUN PRODUCTS

Our recommendation lists makes it easier to find the perfect products to have some retail therapy and fun. There are more than 30 categories. Click on any image below to view.

RANDOM FUN
More than 25 000 fun ideas posted over the years, including but not limited to: free printable goodies, party ideas for old and young, fun games, amazing arts and crafts, funny stuff, free templates and so much more - LOOK HERE! + follow us!

Want to know what we create next? Sign up for our monthly newsletter!