The Top 5 Dollhouses For Kids
These dollhouses are the top sellers in a few stores. What makes a house for your dolly a top seller? The fun factor, it is sturdy - can handle lots of play and no-nonsense accessibility of course!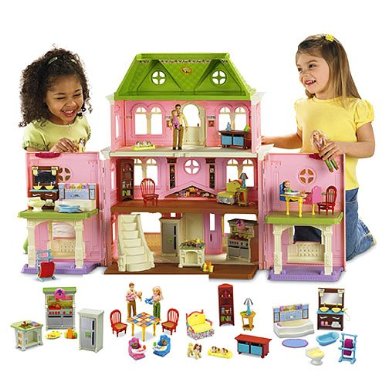 Add tons of fun components, accessories or compatibility with other accessories, and you have a best seller! Yes Barbie and Princess Castles are still ever so popular and the biggest dream of most little girls.
Click On Images To View
The Top 5 Dollhouses for Girls

Barbie's 3 Level Dream Townhouse
When you include a pink personal elevator, and lights and sounds on every level! A crackling fireplace and pop up flat screen tv. An ultra-luxurious Barbie signature bathroom. Sounds that include a doorbell, kitchen timer, crackling fireplace, humming shower, and flushing toilet. Then you have pink glam house winner that will steal any little girls heart. Yes Barbie do fit into this 3 level townhouse and off course there are many other glam fun factors like the Barbie Glam Pool and the pink Barbie Glam Convertible to add to get the perfect full picture.

The Fisher Price Loving Family Dollhouse
A beautiful house that will ensure hours of fun play. This Grand house is even grander when it comes with lots of furniture! This Super Set is complete with Living Room, Bathroom and Kitchen sets, so it's move-in ready for the family of four to enjoy. There are loads of other fun items to add, like the loving family mini-van, loving family nursery and loving family everything for baby items, the loving family parent's room, laundry items and much much more. Every little girls dream-come-true to play house in this sweet little home!


Melissa & Doug Fold-Up Wooden Castle Dollhouse
Ready to rule a kingdom with this castle! Beautiful play castle with solid, fold wooden construction. Features hand-painted accents, two removable turrets, balconies, flying buttress, flag and a working drawbridge! Castle opens fully for hours of engaging play! This castle will keep every Princess-to-be happy and playing! There is a Royal Family to add and of course sets of furniture fit for a queen.

The Fisher Price My First Dollhouse
My first house is for dolly's and their owners of 2+ years who would like to move into their first little home. They will have hours of fun exploring the rooms, balcony, patio and extended living room.

Open the sides for 360 degrees of interactive play!
Press the Discovery Buttons in the playroom and bathroom for songs, sounds, and phrases
Press the button in the kitchen to activate light, sounds & phrases
Kids can practice helping around the house! "Feed" the dog, "make" the bed, "put away" the toys and more!
Includes Emma, Jack, and Dog figures, bed, dog bowl & 2 bar stools
Please have a look at these adorable dollhouses for tiny people too!


The Dollhouse Loft Bed
A truly fun dolly house bed for children. This will make any little girl eager to go to sleep and provide fun surroundings for when she's awake. Features a headboard with "shingled" roof and a bookshelf behind shutters. Holds a standard size twin mattress with box springs. Wooden mattress supports are included and the bunk bed support board or plywood is not included. You have to assemble this bed yourself.
Fun play houses for children

Here are a few equally fun playhouses for kids for inside and outside that will also provide hours of fun and entertainment!
Click on image to view all the indoor and outdoor play houses.
Furniture for dollhouses

These are some popular furnishings for little homes and their owners.
Click on the image to view hundreds of sets including this one.

WHAT'S NEXT?

 
View: Our Dollhouse Board on Pinterest
SOCIAL FUN

FUN PRODUCTS

Our recommendation lists makes it easier to find the perfect products to have some retail therapy and fun. There are more than 30 categories. Click on any image below to view.