Jelly Bean Party Decorations
Yummy jelly beans to celebrate candy party time! The jelly bean party pack is perfect for Easter celebrations and as a SWEET 16 treat too! This party printable is designed in such a way that you can add to it by using items from the rainbow party pack or mix and match with the candy stripe party pack.
Fun free party decorations ready to download and print on card stock.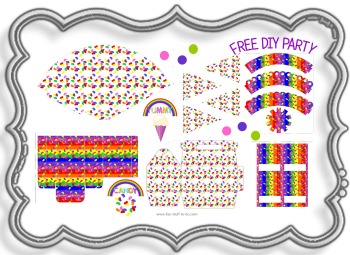 WHAT'S IN THIS PARTY DECORATING PACK?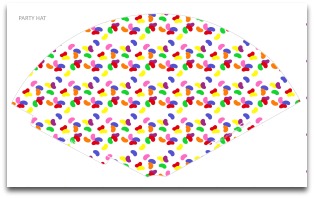 Easy to make cone shape birthday party hat. Cut, fold, insert tab in slit, make two holes on either side of the hat and tie a string of elastic on to fit around the face.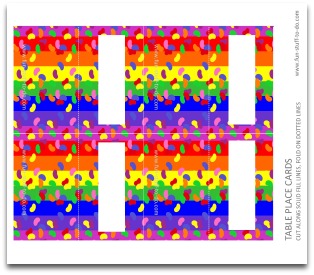 A small card ideal for table place names, thank you messsages, labels for the food table and more.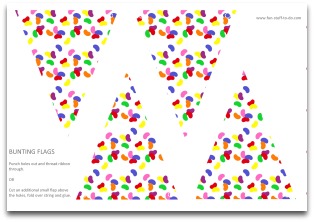 Simple to make banner or bunting flags. Just cut them out, punch a hole in each top corner, thread ribbon through and they are ready to hang.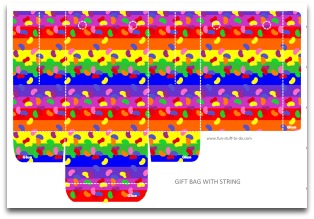 The perfect little party favor bag to fill with loads of JELLY BEANS or small toys, stickers, lollipops and other small fun goodies. Super easy to make - cut and fold as indicated, attach ribbon, rafia or string as handles.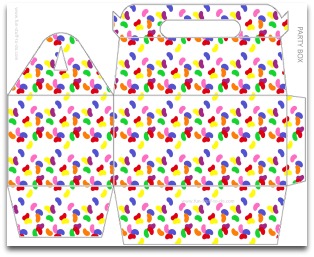 Need a bigger party box box? Print TWO of these to make one box. Cut out, fold on lines indicated and cut the inner handle area out. To do this use a craft knife and ice-cream stick as guide, it will help to keep the fingers out of the way.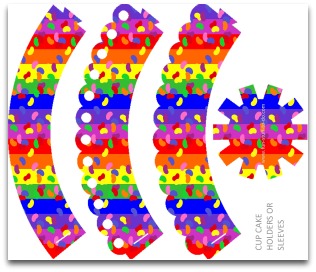 Cupcake sleeves or complete cupcake holders, you choose how much effort you want to put in. The sleeves are easy, cut and insert the tab. The circle with tabs on the right is the bottom of the cupcake holder. Cut out, fold the tabs upwards and glue to the inside of the sleeves.


DOWNLOAD THE JELLY BEAN PARTY DECORATIONS PACK (2.75 MB)



ADD MORE FUN STUFF
FUN PARTY GAMES - Two free rainbow theme related party games!

SWEET FUN - Make some fun jello!

FUN IDEAS - Make cool drinking straw decorations!

KIDS FUN - Play a game of charades!

FUN CRAFTS - Add fun craft kits for kids!

POLKA DOTS - Mix and match with fun Polka Dots, add your own flair!

FREE TEMPLATES - Add a cake slice box and fun invitation card!

FREE TAGS - Need some more fun tags?

FREE LABELS - Free labels to add to anything else you want labelled!

PARTY DRINKS - Delicious Fun Fruity Punches



FUN JELLY BEAN STUFF