Rainbow Party Decorations
Rainbow party decorations are fun and colourful. A birthday party theme that knows no boundaries. You can decorate and add to hearts content with this idyllic idea. See the rest of the items in this party pack below - it's huge! What's more... IT'S FREE in true fun stuff to do style!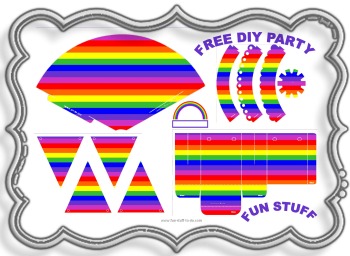 The giant rainbow party pack includes all these goodies below!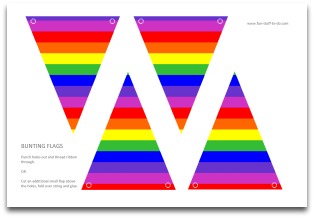 These banner or bunting flags will brighten up a dull corner in an instant and they are super quick to make. Cut them out, punch two holes in the two top corners, thread a piece of ribbon or string through and they are good to hang!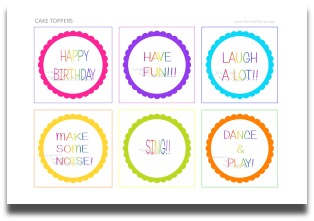 Cute cake toppers to set the mood for fun! You can do other things with these. Make danglers by threading them onto a string below each other. Use them as drink coasters. Simply scatter them on your birthday party table for more colour.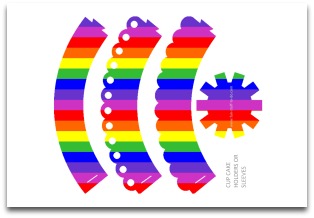 Use only the cupcake sleeves or go all the way and make complete cupcake holders. The circle with glue tags on the right is the bottom part of the cupcake holder, fold the glue tags up and glue them to the inside of the cupcake sleeves.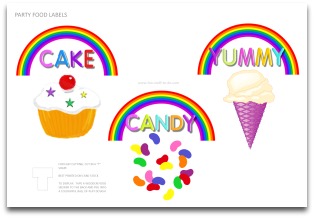 Hang these fun party food labels as danglers from the roof above the food table or pin them into the food with a food skewer / food pick or peg them into a colourful ball of playdough.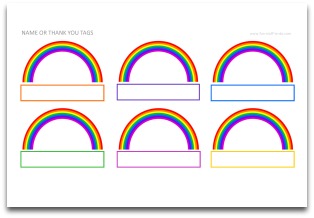 Use these tags as THANK YOU cards on party boxes or favor bags or use them as name tags.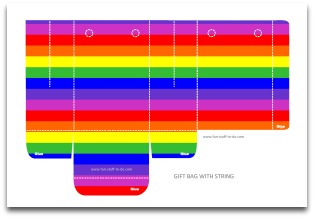 A cute little party bag to stuff a few party favors in. Cut out, fold on dotted lines, glue, add string or ribbon as handles.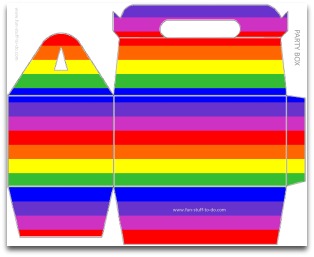 You have to print TWO of these on card stock to make one box. It's very simple to make your own party boxes. Use a craft knife to cut the inside of the box handles out and use an ice-cream stick to cut the round edges, it will help to keep your fingers out of the way!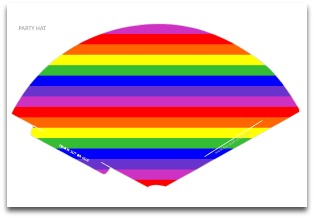 Print on card stock. Cut, fold and insert tab into slit. Punch two holes on either side and add elastic to go around the face to keep the party hats on the heads!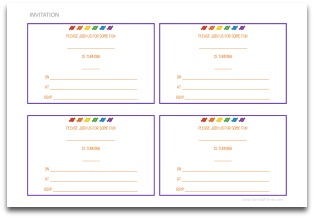 Glue the invitation wording to the inside of the invitation card below.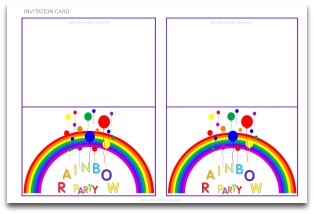 Cut out, fold in half and add your own invitation wording, or glue the invitation wording from above inside.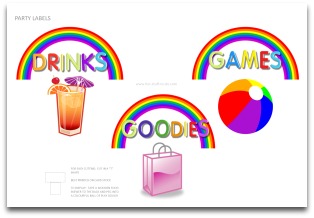 Cute rainbow party decorations. Use these party labels as pointers to your fun games, drinks and goodie bags.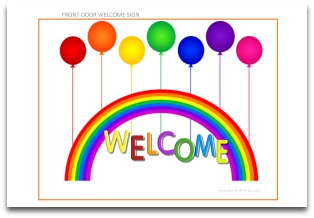 Attach this welcome sign to the front door or attach it to wooden dowels and place in the garden. Punch holes in the top and attach loads of helium filled balloons to it and let it float at the entrance to your party.


DOWNLOAD THE GIANT RAINBOW PARTY DECORATIONS PACK (2.51MB)


ADD FUN STUFF TO THE RAINBOW PARTY!

MORE FREE FUN STUFF TO COMPLIMENT THE RAINBOW PARTY DECORATIONS!

FUN PARTY GAMES - Two FREE rainbow theme related party games!

FUN IDEAS - Make rainbow jello!

CAKE IDEAS - Make rainbow cake in a jar!

POLKA DOTS - Mix and match with fun Polka Dots, add your own flair!

FREE TEMPLATES - Add a cake slice box!

FREE TAGS - Need some more fun tags?

FREE LABELS - Free labels to add to anything else you want labelled!

PARTY DRINKS - Delicious Fun Fruity Punches