Learn How To Play Charades
You can choose to keep score or not when you play Charades, both ways are explained below.
Charades is all about acting out words or phrases - a quick to learn fun game.
The game is usually as fun or funny as the words or phrases on the cards that must be conveyed to team members.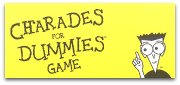 You Need:

Charade Cards with words or phrases on
A Timer
Pen and paper to keep score (if you play competitive)
---
HOW TO PLAY CHARADES WITH A SCORE CARD
A great game to play when you're feeling COMPETITIVE!
Devide into two teams.
Devide the charade cards equally between the teams.
Team 1 - choose an actor.
Team 2 - Show team 1's actor the phrase on a card that they have chosen without the rest of team 1 seeing the phrase.
The timer is set to between 3-5 minutes (choose how difficult you want it - keep the same time frame through out the game).
Team 1's actor must now act out the phrase to his own team in the time frame given.
Team 1's gets the clue correct - they score 1 point. If they don't - no score!
Team 2's turn - Team 1 hands a clue card to the chosen actor of team 2.
Continue the game giving each team a turn - they get the clue they score! They don't - no score!
You can also:
Choose to give each team a turn - if they score, they continue to act out the next round with a different "actor", until they are out of time or can't guess the correct answer. Then it is the next teams turn, until they are out! Keeping score of correct answers!
---
HOW TO PLAY CHARADES WITH NO SCORE CARD
A great game to play just for fun!
No teams. No timer.
Place all the charade cards in a hat or a bowl.
No words, no pointing at objects in the room.
You are the host, you go first. Take a card, perform the first act, using your acting skills, imagination and CLUES to explain what is written on your card without using any verbal communication!
First player to guess the clue correctly goes next!
READY TO PLAY CHARADES!!
'LIFE'S A GAME, ALL YOU HAVE TO DO, IS KNOW HOW TO PLAY IT.'
Adult Charades | Kids Charades | Silent Charades | Water Charades | Rules for Charades | Charades Gestures | Free Charades Cards | Fun Games | HOME from Charades