CHARADE CLUES AND GESTURES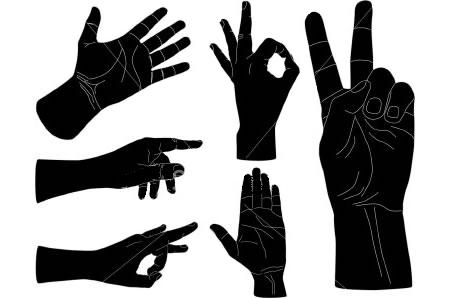 TWO WORDS... 1st WORD... SOUNDS LIKE...


Here are some charade clues and gestures that are commonly used to make the acting part a whole lot easier. If the words or phrases are related to the following main topics, these signs and signals are the best place to start your act from...
CHARADE CLUES FOR MAIN CATEGORIES
Book - Unfold your hands as if you are opening a book
An Event - Point to the wrist as if wearing a watch. Past event - point thumb backwards over shoulder. Future - point forefinger ahead.
A Location - Make a circle in the air (representing earth) and point to as if pointing on a map
A Movie - Pretend you are using an old fashioned movie camera
A Person - Stand with your hands on your hips in a pose
A Play - Place both hands out, palms facing team, touching at the thumbs and forefingers, draw them apart like a theater curtain.
A Song - Pretend to sing on one knee or over a microphone.
TV Show - Draw a rectangle in the air representing a TV screen or make a square with your fingers using both thumbs and index fingers
Quotation or Phrase - Make quotation marks in the air with index fingers and middle fingers.
Another Language - See Tash's French post right at the bottom of her page for ideas.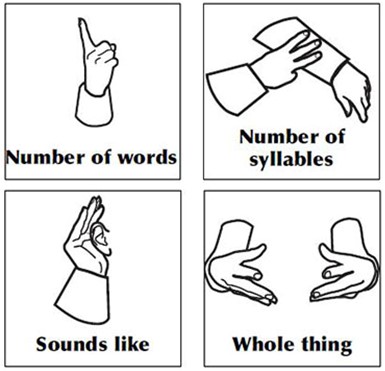 CHARADES GESTURES FOR WORDS
Indicate number of words - hold number of fingers indicating the number of words up in the air.
Indicate a small word - hold index finger and thumb together - not touching.
Indicate a big word - hold index finger and thumb as far as possible apart.
Indicate a word sounds like another word - point index finger at earlobe or hold hand behind ear.
Indicate number of words in a title - Hold up the correct number of fingers.
Indicate the number of syllables in a specific word - Hold the correct number of fingers against your forearm.
Indicate the word or syllable you are working on if there is more than one - Put up the correct number of fingers, for instance, two fingers for the second word.
Indicate "Plural" - Hook your little fingers into each other.
Indicate "Past Tense" - Point with your thumb backwards over your shoulder.
CHARADE SIGNALS FOR LETTERS OR VOWELS
"A" - Place the index fingers together to form an "A" frame.
"I" - Point at the corner of the eye with the index finger.
"O" - Middle finger and thumb touching to form an "O".
"U" - Hold hand palm facing up with thumb facing the team, form a "U" with index finger and thumb, fold the other remaining three fingers inward towards the palm.
CHARADE CLUES AS INSTRUCTIONS
A correct guess - Tap your index finger against your nose and point to the person who is right.
Show the team they are getting warmer - Wipe your hand over your forehead / eyebrow as if wiping away sweat.
Show the team they are getting colder - Fold your arms and shiver.
PRINT THE CHARADE CLUES ON THIS PAGE:
Need a printable version of this page for play? There is a round grey button with a printer icon to your far left on this page.  <--  Just click the icon and print.
HAVE FUN WITH CHARADE CLUES & CREATE YOUR OWN TOO!
TRY THE CLUES YOU'VE LEARNT:
A Fun Printable Charades Game:

Camping? Or Not! This printable game of charades is fun to print and play on any day! There's an adult version too!
SOCIAL FUN

FUN PRODUCTS

Our recommendation lists makes it easier to find the perfect products to have some retail therapy and fun. There are more than 30 categories. Click on any image below to view.

More Charades Clues, Gestures & Ideas

 

Adult Charades | Kids Charades | Silent Charades | Water Charades | Rules for Charades | Charades Gestures | Free Charades Cards | Fun Games |