Adult Charades
No different than the other fun games of Charades... Adult Charades is just a little more mature!
Simple, but huge fun charades games and free charades cards for you to print on this page. Adult friends and parties will never be the same! Not sure how to play? Quickly visit this all inclusive CHARADES page for instant help and all the charades ideas you could possibly need.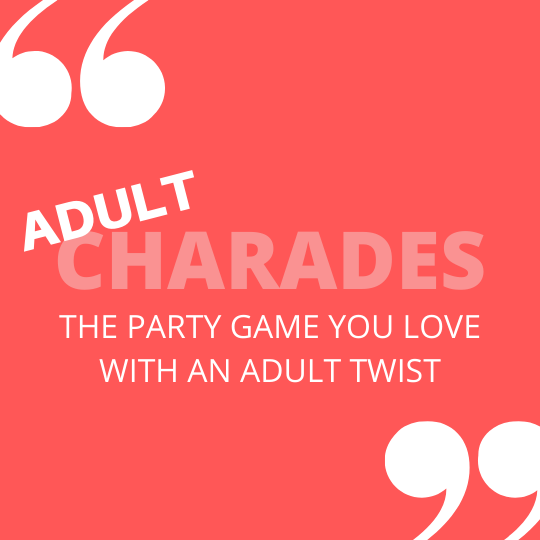 NO, adult charades is NOT "dirty", it's more difficult. We did however, throw in the odd word or phrase that can give your acting-imagination wings and that my friends... I'll leave up to you.
Players: Six and More
The Aim: To guess words or phrases correctly before time runs out by observing the acts of one of your team members.
Need: Charade cards, timer, scorecard
Did you know? There are loads of fun commercial games for adults that are all based on the original game of charades. Play adult charades here with our cards, if you enjoy it, you'll enjoy the latest adult charades games!
Play Charades

Here you'll find all the goodies and information you need to play adult charades and to make your charades nights fun and exciting:
Printable Cards for Adult Charades (View below!)
Keeping score is easy teams get 1 point for a correct guess before time runs out.
Free Charades Cards For Adults

These charades cards are a bit more difficult and more fun to act out!

READY-TO-PLAY printable cards, completely free, no strings!


All you have to do is: Print, fold the paper and cut along the folds!


If you use the CLEAR CHARADE CARDS, guests can write down their own fun VERBS, NOUNS OR PHRASES or you can select words for your cards from the CHARADES GAME WORD LIST. For non-stop fun games, pick and choose words or phrases from this list or mix them up to suite your crowd.

Other Great Adult Games Like Charades
There are so many other amazing games like charades.
The all time popular favorites are:
- A Hilarious party game packed with innuendo and double meaning

- A very popular game like charades, there is also an electronic version.
- The Classic Game of 'Who Said What' with More than One Million Sold!
- There's a whole series! Some of the most fun games out there at present!
The Game Men Are From Mars Woman Are From Venus
- Designed for couples to play against other couples. A fun exploration of what players know about their partners and the opposite sex!
- The electronic version of the most popular Cranium game - it's not what you know but how you show it fun!
- Everybody knows but you!



Add a Splash of Taste, Color and Fun To Your Adult Charades Night

Cocktails & Drinks


Cherry Liqueur
Add these super delicious FRUITY CHERRY COCKTAILS to you adult charades night:

Not too sweet, not too overwhelming...just right. Always served in martini glasses!
Mix together cherry liqueur, a dash of tequila, pink grapefruit juice, a squeeze of honey and some lime juice. Serve with ice.
Just add a dash of cherry liqueur to the standard martini in a martini glass (of course!).
Cherry Vodka, lemonade and a splash of grenadine (optional) for a highly glamorous drink with a twist. Add the grenadine slowly to allow it to sink to the bottom.
Prefer NON-ALCOHOLIC?
Use normal cherry soda, orange soda or ginger ale and mix with soda water or lemonade, chop up berries and/or pears and cherries and add to the mix for a refreshingly new taste sensation.

'We don't stop playing because we grow old; we grow old because we stop playing!'
Search Here For More Adult Games


MORE FUN GAMES
Adult Party Games | Kids Charades | Kids Party Games | Teen Party Games | Silent Charades | Water Charades | Rules for Charades | Charades Gestures | Free Charades Cards | Fun Games 




SOCIAL FUN

FUN PRODUCTS

Our recommendation lists makes it easier to find the perfect products to have some retail therapy and fun. There are more than 30 categories. Click on any image below to view.